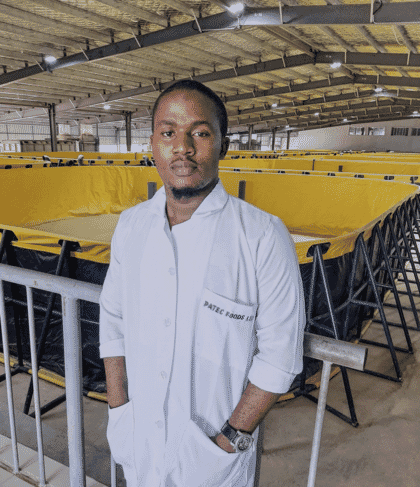 How long have you been farming for?
Seven years.
What size is your farm and what species do you produce?
I work with Patec Foods Limited - a subsidiary of Patec Group. We are operating a vertical integrated fish farm with the capacity to produce up to 2,500 tonnes of African catfish (Clarias gariepinus) per annum and also pioneering the commercial production of Pangasius hypothalamus in Nigeria. Even though we aren't at our maximum capacity yet, our new African catfish hatchery and nursery facilities can produce up to 5 million African catfish juvenile per annum. Part of our production integration is the fish processing and cold storage facilities. We are currently into hot smoking of African catfish and erecting facilities for cold processing, such as fish filleting, vacuum packaging and storage, which will be commissioned by 2023.
What sort of production system do you operate?
We operate recirculating aquaculture systems (RAS) using indoor collapsible production tanks. Production has four stages: hatchery, nursery, grow-out and harvest. We are operating separate RAS for nursery and grow-out production, with different filtration capacity compensating for different waste volumes. Our RAS components include a drum filter, sand filter and protein skimmer for mechanical filtration; UV disinfection, combined with a bio-filter and oxygen cone. A trickling filter and media-filled submersible bed is integrated to serve bio-filtration and increase efficiency. Due to this filtration efficiency, our stocking density is up to 200 kg/m3. Each grow-out production tank has a volume of 150 m3.
Why did you decide to embark on a career in aquaculture?
Aquaculture wasn't my initial career ambition, but I knew I'd love to be in any field related to applied sciences. I'm a graduate of aquaculture and fisheries management and, during my studies, I developed the desire to practice fisheries management because of my love for fish diversity and nature. Having understood that I wouldn't be a good fisheries manager without aquaculture, I needed to manage fish resources through aquaculture. This made me develop an avid interest in fish farming. Considering the growth of aquaculture globally, I am optimistic about playing a bigger role in its development.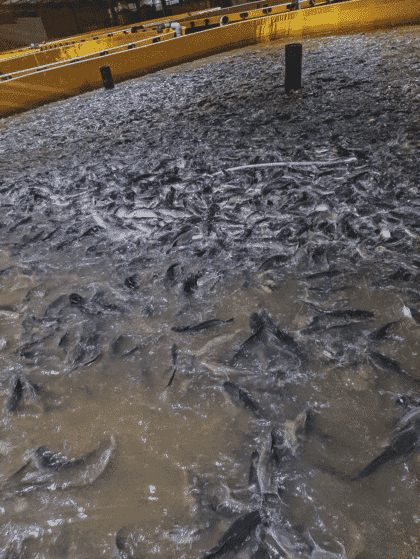 What's your ultimate ambition in the sector?

My ultimate goal is to join at an apex institution where global aquaculture regulations can be made. Based on my knowledge of the potential of aquaculture for economic growth and food security, I'd like to influence the growth and development of small- and middle-scale fish producers, to improve fish husbandry techniques and reduce environmental hazards.
What's your top challenge at work?
Understanding my fish has always been my priority. Keeping the fish in their best condition all the time is my responsibility and challenge, because maintaining fish and keeping the system running is a mix of interdependent activities that gives no room for error.
What's your greatest achievement to date?
When I had my first field experience, I met a lot of African catfish farmers who weren't professionals. The practice wasn't innovative and was unsustainable. At that time, I was lost because the sector isn't regulated and resources were being wasted. Fortunately, I later gained employment with one of a few start-up RAS farm in Nigeria, where I could develop personally on the job, and was able to understand the nitty-gritty of intensive fish farming and its challenges.
This experience has allowed me to develop solutions for other farms and my passion for sustainable fish farming, knowledge of traditional farming and high-tech RAS makes it possible for me to integrate into any production system and make sustainable changes. At a time when global aquaculture is adopting more technology, I believe I can play a huge part in this development.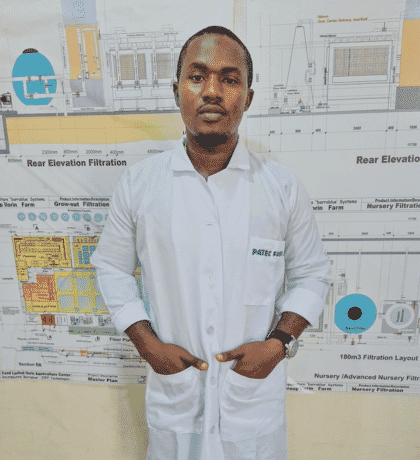 What piece of equipment would you most like to have on your farm?
Our RAS is state-of-the-art. Since we are operating these systems using electricity 24/7, we depend mostly on fuel powered generator. This increases our carbon footprint, so I'd like to see the facility switch to solar-powered electricity.
How are fish farmers viewed in Nigeria?
Most people have a stereotype of fish farmers as being a bit backward. This is because most fish farmers in Nigeria aren't professional and utilise little or no technology. Small-scale fish farmers produce 80 percent of Nigeria's aquaculture output and the majority employ traditional farming approaches. I believe that, with the adoption of technology like RAS and aquaponics in food production and related professional training, fish farming could lead the evolution of new-look farming sector in Nigeria.
How would you like to see your country's aquaculture sector developing?
We must adopt sustainability in all level of production. The farms must be driven by sustainability and transparency and be conservative with water resources. Farmers need to understand that every decision they make can impact the nation's food security.
I'd to see more technological involvement and regulations to control the involvement of quacks in the industry. Nigeria is adding tonnage every year, even though it still falls short of the million tonnes needed to meet domestic demand. To produce more, we have to maximise resource use efficiency.
What's your favourite seafood dish?
Seafood okra soup.