Meet the farmer: Ananda Arrieta
Ananda Arrieta is helping to pioneer the use of bioremediation in Australia's aquaculture sector and sees her work as an essential part of the evolution of land-based aquaculture systems.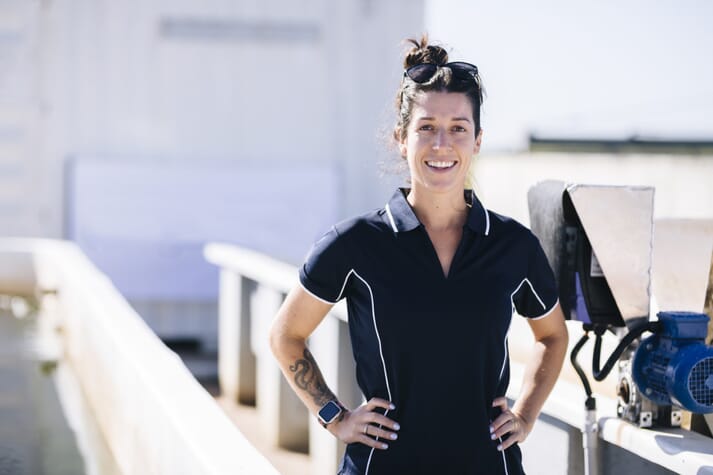 Can you briefly describe your aquaculture career?
I am an oceanographer with MSc in aquaculture. I first started my aquaculture career in 2016 in Brazil, when I developed a bioremediation project during my master's. Before entering the market, I also focused on getting tertiary qualifications that I knew would align with my future goals, so I learned about environmental legislation and data analysis. In 2018, my husband and I moved to Australia, and that gave me the opportunity to migrate from academia to a business-focused career. In 2019 I joined Tassal to be one of the first water quality technicians on their recently acquired prawn farm in Proserpine, North Queensland. I've since broadened my experience by working for a barramundi nursery.
In 2020 I joined Pacific Biotechnologies Australia, initially hired as a scientist to provide technical support at the research phase of their seaweed production. The project evolved to a commercial-scale, and I began supervising the operation, managing bioremediation systems and the seaweed production. I've recently returned to Tassal, now as a senior technician, collaborating with their recently developed seaweed production programme and other in-progress bioremediation projects.
What inspired you to join the aquaculture sector?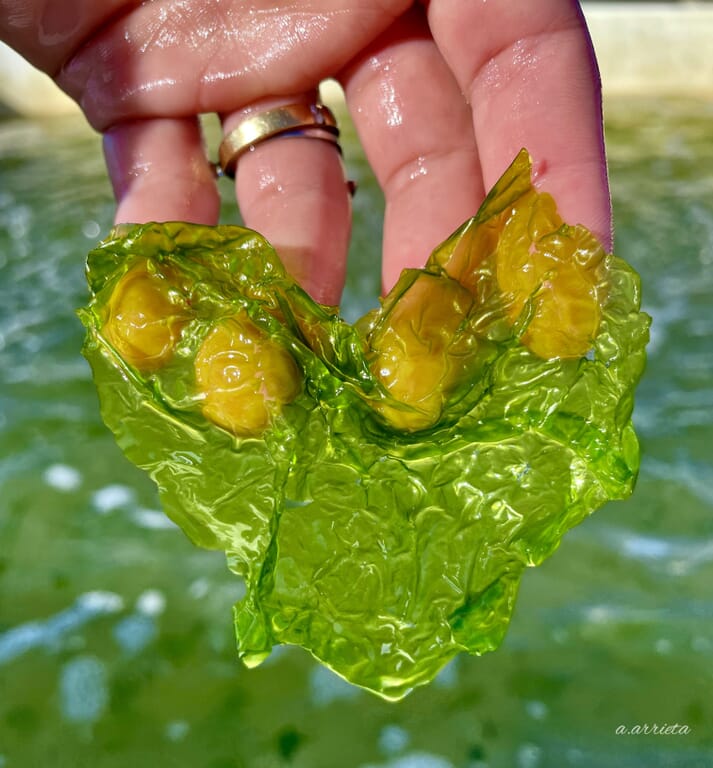 The capability of growing marine species in land-based production systems, increasing the potential to alleviate overfishing and expanding the seafood supply to meet growing global demand makes aquaculture attractive to me. Being part of this evolving story inspires me to constantly learn more and develop new skillsets.
I like the challenge of expanding those systems, of complying with new guidelines and obtaining licences. It is pivotal to understand how feasible it will be to commission or expand operations when access to basic resources like salt water and land become limited. Bioremediation becomes one of the least expensive solutions when compared to traditional wastewater treatment plants. It can guarantee and sustain production in the long-term. Demonstrating the potential and implementing those systems is what motivates me when working with traditional aquaculture crops.
What is your role at Tassal?
I'm currently in the position of bioremediation senior technician, applying my know-how around the Australian seaweed market, technical knowledge and past operational expertise supporting the seaweed and bioremediation initiative. That involves liaising with several different departments, participating in meetings, conversations and trials in an inspiring array of projects – all working towards consolidating a meaningful and impactful bioremediation system. I quickly learned that in Tassal – as it should be everywhere – bioremediation involves much more than seaweed. I am fortunate to be working with a company that values science as a baseline for successful ventures, which means I can apply all my background to the role I'm currently in.

Can you give a brief overview of how the company's bioremediation system works?
In 2021, Tassal initiated new R&D partnerships and trials to explore nature-based solutions, aiming to solidify the Blue Agtech strategy to further protect the local environment and biodiversity. One of those initiatives involved testing seaweed farming to abate nutrient outputs. The first step was converting 13 hectares of settlement pond area into seaweed production at the Proserpine Prawn Farm, in North Queensland, under the collaboration of the University of the Sunshine Coast Seaweed Research Group. Due to the success of the trial, this project has now evolved and scaled up. This opened the opportunity to join the company on this exciting venture.
How can bioremediation be incorporated into the farms of existing aquaculture producers?
Bioremediation is a versatile tool that can promote significant improvements to a variety of aquaculture farms, with benefits ranging from increased biosecurity within the production system to a reduced environmental footprint for the farm. It also has great potential to develop a product that stimulates circularity and financial returns for the business. Because bioremediation does not necessarily require seaweed as a target species, other living organisms like bacteria, microalgae, mangrove trees or halophytes (salt-tolerant plants) can be the focus of the project.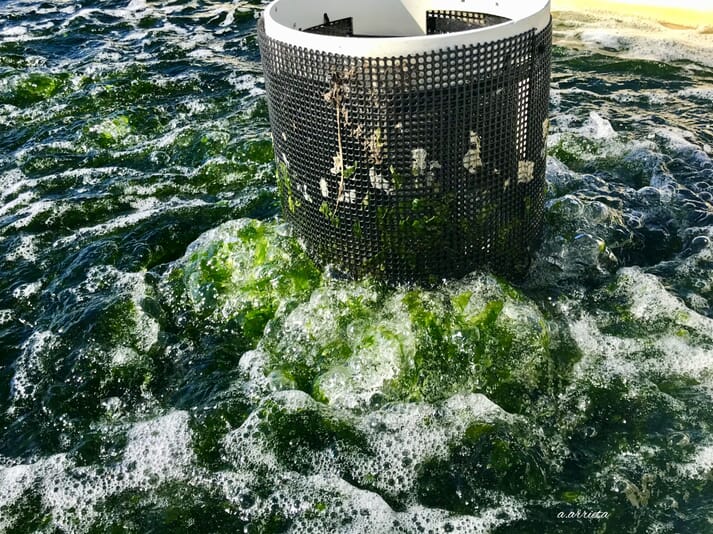 To incorporate bioremediation onto a functional and operating farm, partnering with a local university or research group that offers technical support can simplify the start of the process. They need to assist with aspects like the required regulations, licences and – most importantly – identifying the correct species and basic guidelines that will yield a successful production and align with the business's goals.
Understanding the farm's dynamic and any existing seasonality is, in my opinion, the key point when deciding which crop to target. From a technical perspective, there are several decisive factors to be considered, such as water chemical profile, whether a target species is endemic, how much knowledge exists around that group and the feasibility of "domestication", ie, understanding its entire lifecycle, optimal ranges for growth and maximum growth potential. Finally, essential operational requirements like water and power availability, harvesting system and processing methods will also need to be assessed and streamlined to ensure the right structure is commissioned.
What species have you already used for bioremediation of aquaculture effluent, and which have the most potential?
I had the opportunity to work with halophytes (Salicornia and Spartina), four types of green seaweed - Ulva, Cladophora, Rhizoclonium and Chaetomorpha – and one species of freshwater algae – Oedogonium. Each group has its own application and market, but they also have their intrinsic limitations and associated challenges.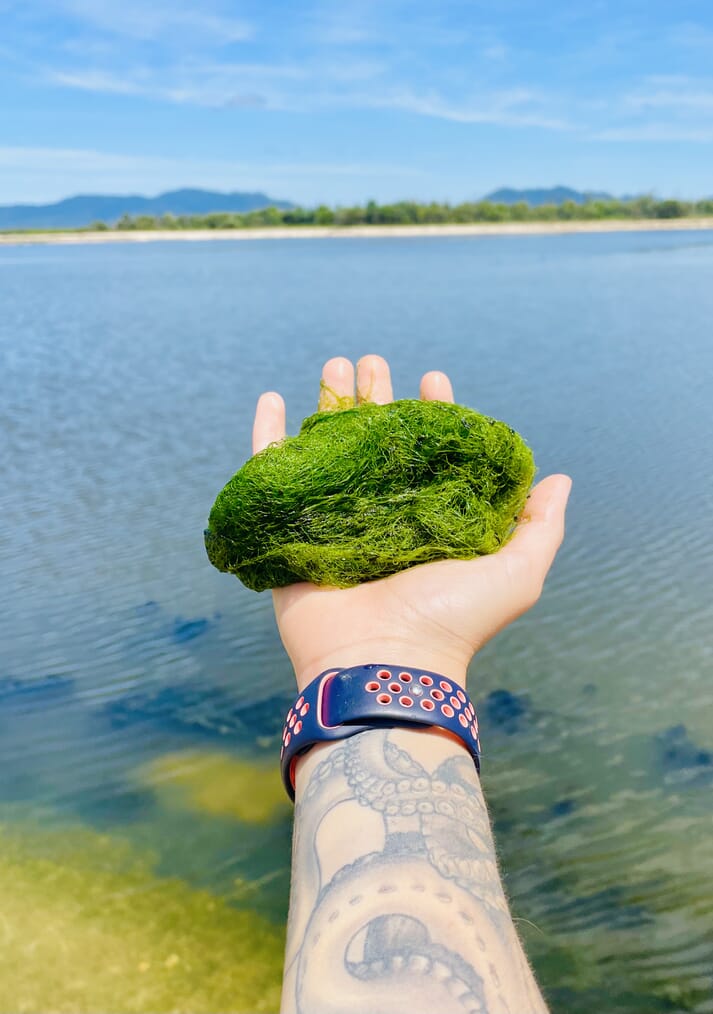 From all the above, Cladophora is the most resilient group to be farmed in an open system and at commercial scale. Its "invasive-like" behaviour – different morphotypes, rapid growth capacity and high adaptability to a wide range of environmental conditions and water quality variation – make it a good bioremediation candidate.
If we're opting to grow seaweed in a closed system with controlled environmental conditions and water flow, my personal choice is Ulva. There's an assorted bibliography and technical knowledge around this species and its chemical profile, benefits and marketability have been widely studied.
Utilising halophytes as an additional bioremediation tool is another promising strategy. They are a versatile and robust group of plants, growing in aquaponic systems or directly on the soil, even under hyper-saline or arid conditions. This makes them ideal candidates for aquaculture farms that target marine species. On top of nutrient absorption and bioaccumulation, they can bring benefits like reduced soil erosion and can control salt build-up when planted around channels and slopes. They also have a high market value, especially in Europe.
What kind of products can be generated from seaweed grown in bioremediation systems?
Seaweed from aquaculture systems doesn't normally contain harmful substances or compounds – unless they are present in the water or sediment. In this case, absorbing and bioaccumulating those contaminants is extremely beneficial, but the harvested biomass may have limited uses. A thorough initial assessment is highly recommended and the chemical profile of the harvested biomass needs to be evaluated. Understanding this profile will help streamline the pathway for product development, market prospection and consequently, processing requirements.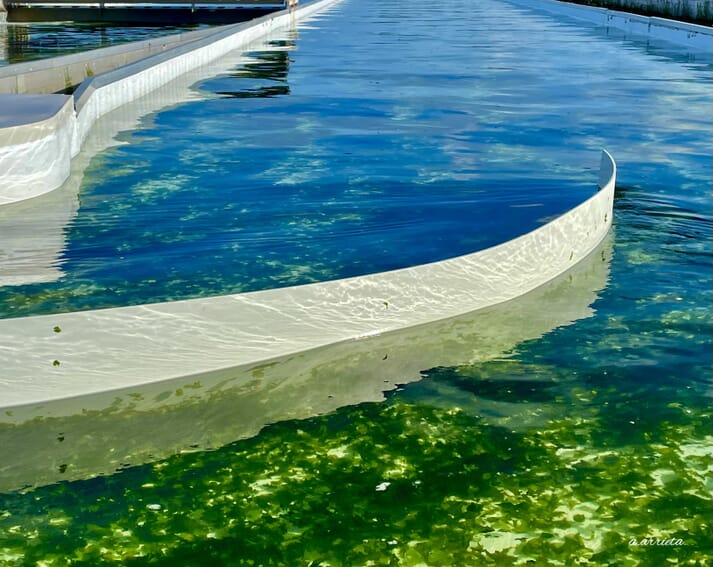 The increased focus on green energy sources, circularity and sustainability, combined with the exponential progress of technology and automation in different industries is resulting in a remarkable development and evolution of the seaweed market.
The most common use of seaweed is human consumption, primarily in China, Japan and the Republic of Korea. However, there's a diversity of products in different niches that can utilise seaweed as a base, substitute or add-on. Depending on the processing level, macroalgae can be used as feed for livestock like cattle and goats, or for aquaculture crops like sea urchins, abalone or sea cucumbers. It can be incorporated in biochar or biofuel production, used for composting or soil, or extracted to manufacture biostimulants and fertilisers. It can work as binders, stabilisers, emulsifiers in the cosmetic, nutraceutical, dentistry, medicine or food manufacturing industries. Startups in Australia are currently exploring bioplastic ventures, "biobricks" for architectural projects or to create artwork and cotton or fibre-like substitutes. There are so many applications for seaweed – and certainly many more that can be explored.
What does a typical day's work consist of for you?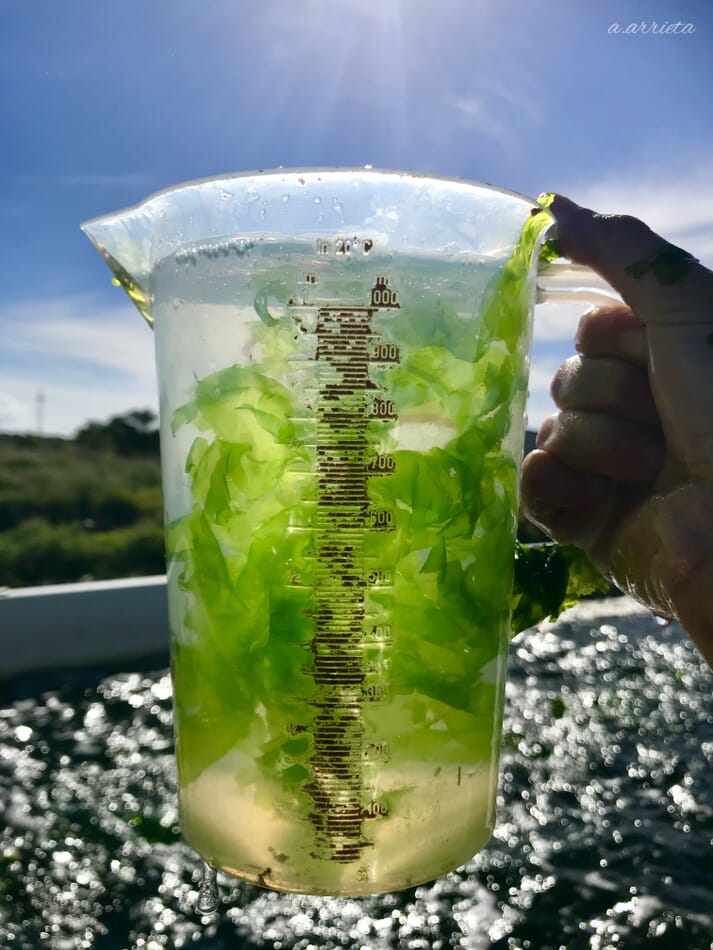 My working day is dynamic and it consists of liaising with our operations department to ensure we are following our production plans and meeting our technical team to ensure the seaweed is healthy. I also catch up with the prawn farm team to understand what type of water profile we should expect over the following days and liaise with the environmental compliance team to understand how we are performing when it comes to water quality and discharges.
Communicating with different people and departments makes our operations more efficient and predictable and I'm in a key position that fosters it. I also work closely with my manager, as we are building a new monitoring system, and this requires basic processes like database development, data analysis and implementing SOPs (standard operational procedures). We are constantly optimising our production system, creating new methods and projections, while focusing on continuous improvement. I am also responsible for carrying out our water quality checks and ensuring that our seaweed and bioremediation system are healthy and performing at optimal levels.
What are your greatest challenges at work?
Living in North Queensland, where winter can be really dry and summer brings the rain, high temperatures and the cyclone season, my biggest challenge is Mother Nature. I need to act proactively to maintain my crop's needs and our business requirements. This can be challenging, considering that weather can be unpredictable, and I can't fight against it. Adaptability and quick troubleshooting capacity are vital in our field.

What advice would you give to others looking to join the aquaculture sector?
Aquaculture is an ever-changing sector, with new technologies being implemented every day. It is also a sector that embraces different talents and encourages transferrable skills. It is an exciting time to be involved, as conventional farming models are evolving and automation and modern techniques are gaining traction. We need ambitious and talented people to join our industry, who are not afraid of trying new things or voicing their ideas. The aquaculture sector is very dynamic and needs people with an eye for continuous improvement. There is always space for fresh eyes and new vision.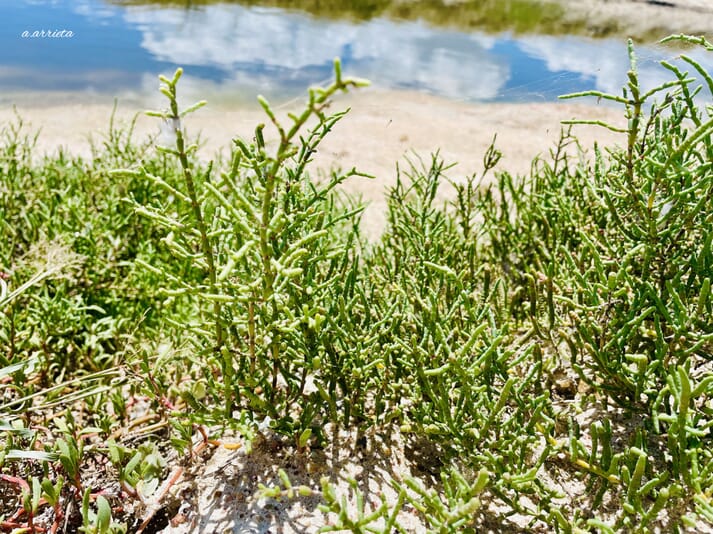 What's your ultimate ambition in the sector?

I want to help to demystify aquaculture, in particular bioremediation: it can only be as complicated as you make it. I envision travelling to other countries and helping small farmers set up small-scale aquaculture systems. If the system's production ends up feeding communities, or if it ultimately generates an income for a family or community in need, I feel that my knowledge would then have made a small difference in this world.
How do you think aquaculture should develop to help feed the growing global population?
I believe that bioremediation has great potential to help aquaculture operators develop more sustainable systems. Reducing the nutrient offset and minimising water consumption, generating more efficient and productive crops, monetising a secondary crop and – most importantly – decentralising aquaculture systems from coastal areas.

Bioremediation is not the cherry on the cake. It should be seen as essential step of a larger system, not an add-on. It aligns with the concept of a circular economy and I see bioremediation being a natural ally of many aquaculture systems since it offers a nature-based solution to offset nutrients and can address other bottlenecks. I agree with the sentiment that "we didn't inherit this earth from our grandparents, we borrowed it from our children." This mentality should help develop a holistic mindset that will increase the sector's sustainability.