Sponsor message
Are you trying to break into aquaculture industry or already working in the field and looking to gain additional expertise for career development?
Maui College expands its aquaponics training
The aquaponics training programme at the University of Hawai'i Maui College has received a $500,000 boost from the US Agriculture Department's Institute of Food and Agriculture (NIFA).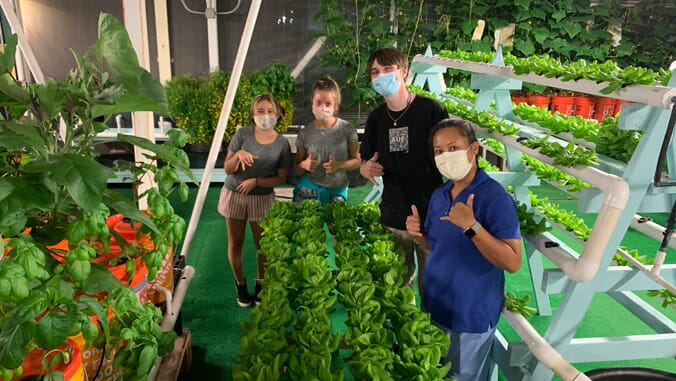 The NIFA grant is one of eight totalling $3.9 million for rural economic development projects and is part of the agency's Agriculture and Food Research Initiative.
"This project will address key community training needs relevant for local agriculture," said Chancellor Lui Hokoana, one of the principal investigators. "The potential impacts of the project include advancing knowledge in the application of precision agriculture technologies in aquaponics production systems and developing sustainable food systems in Hawai'i for food security and community resiliency."
Sponsor message
UMass Sustainable Aquaculture Online Courses
Aquaculture is an increasingly important source of safe, nutritious, and sustainable seafood for people worldwide. Globally, aquaculture production must double by 2030 to keep pace with demand. These increases in demand for aquaculture products, food security considerations, and job creation have generated an increased need for skilled workers.
Discover how you can be part of this rapidly expanding industry.
The Adapting Precision Farming Technologies for Sustainable Aquaponics Systems in Hawai'i project will be conducted at the campus' WaiPono Farm aquaponics and hydroponics greenhouse. The project focuses on the priority area of agriculture systems and technology by expanding workforce training using precision agriculture technologies in aquaponics systems.

This project proposes to create a new programme to enhance the college's agricultural workforce training with a goal of training participants aged 16+ in Hawai'i. It includes a 16-week apprenticeship-based workforce training programme involving 80 hours of paid work-based learning at the WaiPono Farm site, culminating in the award of the Sustainable Aquaponics System Certificate of Professional Development and Aquaponics Apprenticeship Certificate of Professional Development.
The project also aims to assess the effectiveness of integrating locally sourced fish feed and nutritious native plants through student-led projects that integrate remote monitoring devices and data analysis.
Hokoana concluded, "In the wake of the global pandemic and its negative impact on the workforce in Hawai'i, learning precision farming skills and technology in the applied environment of aquaponics systems holds the potential to support effective, efficient and productive agricultural systems for new and established farmers."