Sponsor message
Are you trying to break into aquaculture industry or already working in the field and looking to gain additional expertise for career development?
Marine Aquaculture Innovation Centre opens in Scotland
Agri-EPI Centre, in partnership with Otter Ferry Seafish and Innovate UK, has launched a new Marine Aquaculture Innovation Centre (MAIC) on Loch Fyne.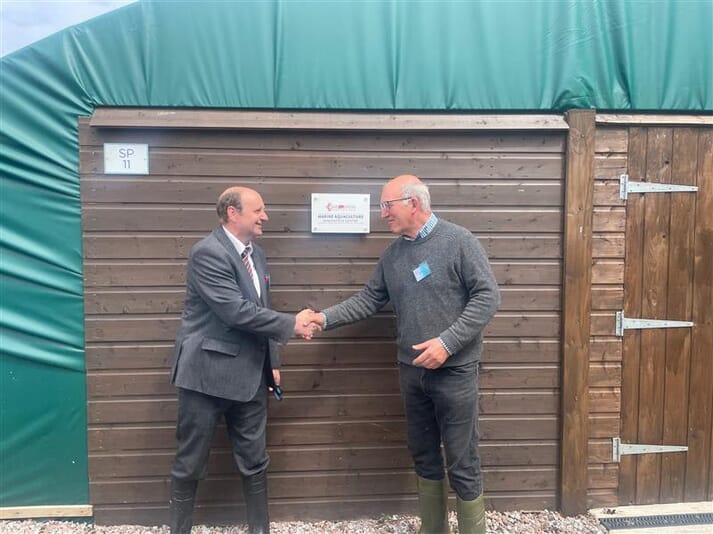 Officially opened yesterday, it aims to help drive sustainable solutions and improve efficiency for the UK aquaculture industry.

Guests of the launch event were welcomed by managing director of Otter Ferry Seafish, Alastair Barge, and CEO of Agri-EPI Centre, Dave Ross, who introduced the new centre.
"The facility is scaled and configured to bridge gaps identified by industry, including testing of instrumentation and validation of operational welfare indicators, and other trials, under controlled conditions with near market-sized farmed fish. The proposed investment is industry-led - responding to industry demand and taking design and direction from that demand," said Ross.
Guests enjoyed a tour of the facilities, a networking lunch, and the witnessing of the formal opening of the centre.
In conjunction with independent aquaculture company, Otter Ferry Seafish – and jointly funded by Innovate UK and Agri-EPI Centre – the Marine Aquaculture Innovation Centre offers fully serviced research and development facilities to aquaculture producers and technology providers and is aimed at helping to drive sustainable solutions and improve efficiency for the UK aquaculture industry.
Sponsor message
UMass Sustainable Aquaculture Online Courses
Aquaculture is an increasingly important source of safe, nutritious, and sustainable seafood for people worldwide. Globally, aquaculture production must double by 2030 to keep pace with demand. These increases in demand for aquaculture products, food security considerations, and job creation have generated an increased need for skilled workers.
Discover how you can be part of this rapidly expanding industry.
As Alastair Barge, managing director of Otter Ferry Seafish, explained: "Research has been at the heart of the company since day one, but our recent collaboration with Agri-EPI has added new impact and a new species in salmon. We have a great mix of industry and research, and together we can forge the way as innovators in sustainable aquaculture."