The 5m Publishing Prizes for Swansea University's best undergraduate dissertations on aquaculture and fisheries were presented on 26 July as part of the university's graduation ceremony.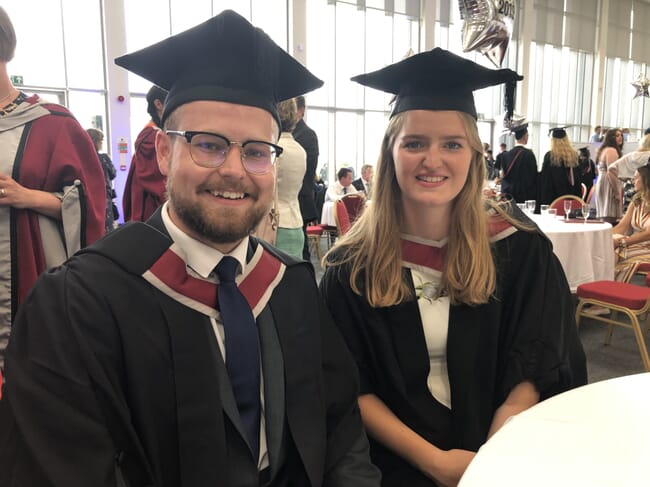 The winner, Charlotte Spreadbury, told The Fish Site that she has long believed in the importance of the development of a sustainable aquaculture industry. And her choice to concentrate on lumpfish for her dissertation followed on from a review of sustainable lice control on salmon, during the second year of Charlotte's marine biology degree programme.
Cultured lumpfish are increasingly deployed as cleaner fish, an important component in the biological control of sea lice on farmed Atlantic salmon. However, mortality in lumpfish can be high and their welfare may be compromised. Information on welfare indicators for lumpfish has so far been scant and Charlotte's dissertation 'The development of operational welfare indicators for lumpfish (Cyclopterus lumpus L.)' focused on the creation and use of five-point scoring scales to measure eye darkening and fin and sucker condition as indicators of welfare in hatchery-reared lumpfish. The results from Charlotte's work show that the scoring scales used have promise as a measure of welfare, with further work needed across a larger range of samples to develop a full welfare index. Based on Charlotte's work, a standardised index for use in monitoring lumpfish health and welfare on salmon farms, could lead to a decrease in mortalities.
The runner-up in the annual award ceremony, which is now in its third year, was Ellis Larcombe, for his dissertation on 'The effects of Spirulina supplementation and density on aggression, welfare, and growth in Nile tilapia (Oreochromis niloticus)'.
He looked at the impact that supplementing feeds with Spirulina (an aquatic cyanobacterium, or blue-green algae) had on the growth, social stress and aggression of tilapia reared at high and low stocking densities.
He found that tilapia reared at high density showed signs of increased stress, with potential adverse effects on welfare, although neither stocking density nor diet had a significant effect on aggression. Further, more extensive trials are needed, but in this study, the inclusion of 20 percent of Spirulina within feed had no adverse effect on tilapia growth, suggesting that it could be used as an effective feed ingredient, possibly replacing other non-sustainable feed ingredients currently in use.
"I am impressed by the quality of the undergraduates' work and its potential for application to increase sustainability in the aquaculture industry," said Nigel Balmforth, 5m's director of publishing, who presented the award certificates and prizes. "It is a pleasure to support these awards, and the continuing cutting-edge work of Swansea University and their Centre for Sustainable Aquatic Research".