With its bulging eyes and toad-like complexion, Cyclopterus lumpus might not quite be an obvious Hollywood hero, but it is now seen as having a key role in the growth of Shetland's salmon aquaculture industry.
These hopes have been intensified by the establishment of the islands' first commercial-scale production facility for the creature more commonly known as the lumpfish or lumpsucker. While a lone lumpsucker might not make much of a difference, having a hatchery that aims to produce several million of them a year raises expectations considerably. For it's not just the outlandish looks of the lumpfish that attract attention: it also has an ability to help the salmon sector overcome its biggest problem – thanks to its taste for picking parasitic sea lice off their salmonid hosts.
Mothballed since the collapse of the islands' cod aquaculture industry in 2008, the former No Catch hatchery at Broonies Taing, in Sandwick, is once more full of life – both human and piscine. Its tanks, long since empty of cod, are now occupied by hundreds of thousands of the lumpfish, which are being looked after by a team assembled by FAI Aquaculture – the newest addition to the archipelago's impressive fish farming sector.
"FAI and our sister company Stofnfiskur supply lumpfish across Scotland and Iceland and – through Iceland – to the Faroe Islands," explains Ben Perry, technical director of FAI Aquaculture. "These are grown from eggs harvested from fish caught by Iceland's lumpfish caviar fishery – it's MSC certified, so highly sustainable.
It's a project that FAI, which is committed to sustainable food production, has devoted considerable resources to in recent years.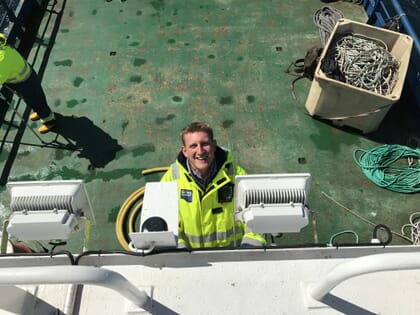 "We have the capacity to produce just over 3 million lumpfish a year in Scotland. We started the project in January 2016 and put our first fish out to sea that autumn," Ben continues. "This year our target is to produce 1.3 million lumpfish across our two sites – Sandwick in Shetland and Aultbea in Wester Ross – and we have aspirations in 2018 to produce over 2 million."

Although it might have accounted for almost a quarter of the salmon produced in Scotland in 2016, salmon harvests in Shetland have tailed off in recent years. With 27 sites currently dormant or mothballed, it's no surprise that volumes fell from a ten-year high of 46,000 tonnes in 2014 to closer to 40,000 tonnes last year. However, lumpfish could be key in helping to reverse this trend.
Grieg Seafood Shetland (GSS), is one of three firms – along with Cooke Aquaculture Scotland and Scottish Sea Farms – who are currently producing salmon in Shetland, and all three are now beginning to invest in lumpfish as one of their key means of combatting lice.
As Grant Cumming, managing director of GSS, reflects: "We see from examples in parts of Norway and Scotland that cleaner fish can be used successfully over area management zones to keep sea lice infection pressure low throughout the cycle".
However, he is also aware that such a strategy will only be truly effective if it's pursued in earnest by all of the archipelago's salmon producers and he hopes that the initiative will encourage greater collaboration between the competing firms.
"We see no reason why it should not be possible by knowledge transfer and working closely with our neighbours that we cannot repeat that success in Shetland," Grant adds.
Proving their worth
The move towards lumpfish is gaining momentum for a number of reasons, not least because of the decreasing efficacy of many of the medicinal treatments available to farmers.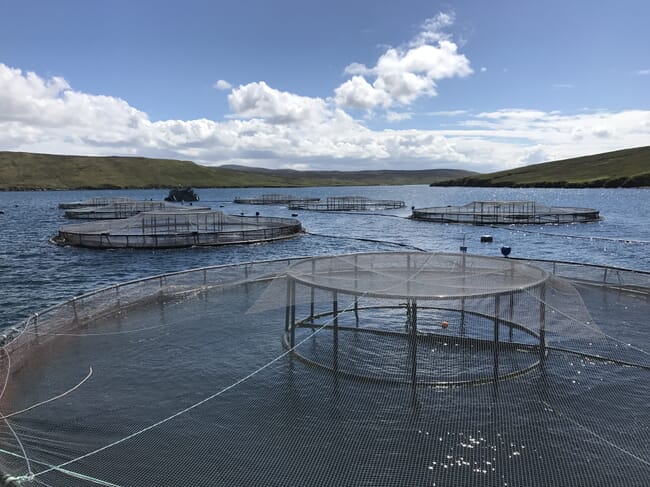 "Lumpfish are not a barrier against sea lice but a biological control mechanism which buy us more time between [medicinal] treatments," explains Adam Rainsden, cleanerfish operations manager for GSS. "While, potentially – if you have enough lumpfish on the site – they can keep lice to a low enough level that you don't have to treat at all."
Adam's aquaculture career coincided with Grieg's decision to start using lumpfish, and he has seen their use evolve considerably over the last three years.
"We started working with lumpfish in 2014 and we had a lot of trouble with bacterial problems, but recently we've had very good results," he reflects, "and at one site this year we stocked half the cages with lumpfish and half without. Those that had the lumpfish experienced a 70 percent reduction in lice levels within eight weeks – and have managed to keep the lice levels consistently lower – so it was definitely not down to chance."
Such good results have inspired many farmers to reconsider their initial opinions about cleanerfish.
"On site we struggled to find buy-in. Farmers didn't see it as something that was going to work… It was voodoo," recalls Adam. "But now, after a couple of years and several generations, we've managed to get them onside. It took a lot of work, management and farmers working together, but now we see the results everyone's on-board."
"I was pretty sceptical about using lumpfish," agrees Laurie Manson, GSS's assistant site manager at Papa Little. "The first time we used them here we probably overlooked them slightly. This time, however, we've prioritised looking after the lumpfish more. I didn't think we'd see a difference so quickly but they've already saved us a treatment or two.
"I don't think it's going to be a cure, but they will play a big part in keeping down lice levels, which is obviously our biggest challenge here," he adds.
Room for improvement
Such a promising performance at a single site is not enough to suggest that lumpfish can be a panacea against lice, but – given the fact that there is still a great deal to learn about their behaviour – it seems likely that their efficacy as louse eaters can be improved.
"I think we have a lot of the production challenges dealt with; the real challenge now is getting consistency in performance once they've been deployed in marine sites," Ben explains. "Now we need to work with our clients on training and in-cage handling systems to try and get the best out of these cleanerfish."
And, although the lumpfish do require a certain amount of onsite attention, improvements in feeds, enhanced feeding mechanisms and the provision of a suitable habitat for them within the cages are all helping to boost their performance without too much hassle.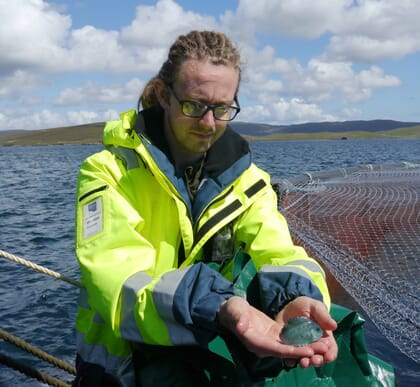 "They do create more work, with feeding and keeping the nets clean [to prevent the lumpfish from grazing on the growth on the nets and ignoring the lice] but it's fairly steady," Laurie explains, "and the day-to-day work of feeding and checking the hides isn't any great hardship."
Selection of treatments
One of the advantages of using lumpfish rather than other treatment methods is that their deployment is neither stressful for the salmon nor does it interrupt the host fish's daily routines.
"They're one of the only strategies that allow you to leave the salmon alone to grow naturally; you're not having to handle the fish, which is a fantastic advantage," reflects Ben.
Adam agrees with this sentiment. As he explains: "Any medicinal treatment you use, you have to starve the salmon for periods of up to a week before treating, which leads to lost growth, and it can also take a long time for the fish to recover and get back on to the feed. However, the lumpfish are a constant barrier against the lice and when they're working effectively they can keep the lice burden low enough not to affect the growth rates of the salmon and to lessen the needs for treatments."
This not only saves on the costs of treatments, but also helps promote growth – both of which impact the bottom line of the operation. As a result, the expense of deploying lumpfish, while considerable, can be justified – especially at a time when many traditional treatments are losing their potency.
"The truth is that medicinal treatments are working less and less, and it will get to a point when they are no longer cost-effective," says Adam.
"Every time we have to treat the fish for sea lice we have to stop feeding them for up to a week," says Laurie, "so they stop growing. If stocking lumpfish means we have to treat just one time fewer each cycle, it will pay for itself."
Nevertheless, they are unlikely to be the only method to use against the perennial parasite problem.
"Of course, we would love to produce salmon without the use of medicines," Grant explains, "and we hope the use of lumpsuckers, together with the addition of sea-lice skirts and upwelling systems, is a step along the road to achieving this, but it is too early to put a date on going medicine free."
"While there's going to be a move towards cleanerfish, there's going to have to be a balanced approach," agrees Ben, "and there will still be a requirement to use targeted pharmaceuticals as well, and also mechanical treatments – because you're up against a challenge that is quite substantial."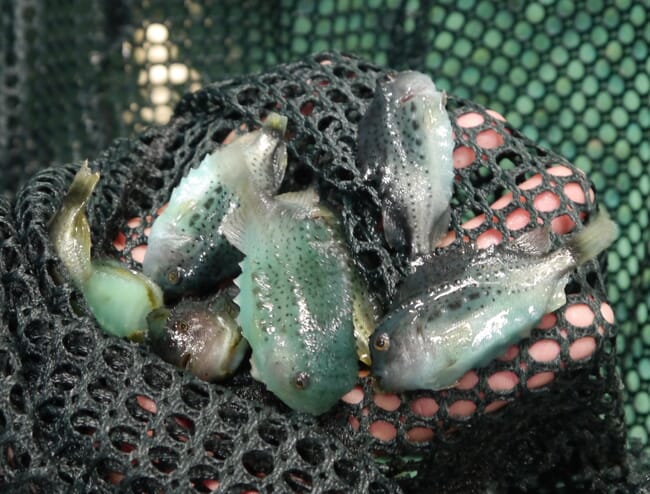 Indeed, the scale of the lice challenge in Shetland means that, according to Adam, it is wise to have a relatively high ratio of lumpfish to salmon – perhaps about twice the accepted industry standard of around 1:10 (ie one for every ten salmon).
"The last site we stocked had ten cages and the ratio of lumpfish to salmon varied – from about ten to 20 percent. We found those stocked with 15 to 20 percent were the most effective," says Adam. "As a result, I think it's best if we aim to stock all our sites at 20 percent [ie one lumpfish for every five salmon] initially, and then look to bring this down gradually, as they have an impact on lice levels over time."
Local stocks, for local people
Adam hopes that all the company's sites in Shetland and Skye will contain lumpfish by the end of 2018, and having a local source should not only increase the quantity but also the quality of the lumpfish available – with the salmon producers benefitting from the possibility of rapid deployment, and the lumpfish from the short transport time required to get from Sandwick to other parts of Shetland.
"It's good to have access to a local source of lumpfish – we originally imported lumpfish fry from Norway, which involved chartering an entire wellboat for only a few kilograms of fish, which was ridiculous," Adam recalls.
The cleanerfish expert is also pleased with how the first few batches from the Shetland facility have performed.
"The quality of the fry from Sandwick has been the best I've ever seen," he reflects, "and there has been very, very minimal mortality when we've added them to the cages."
"The Shetland stocks have also been much more even [in terms of size] than the shipments we've received from Norway, which makes them a lot easier to manage too," he adds.
"We are delighted to have a lumpsucker hatchery on our doorstep," agrees Grant. "We know that transportation is stressful to fish and minimising transport time and distance is always our aim. It also will allow us to develop a closer relationship with the producer and to share knowledge throughout the lifecycle, which we hope will allow both FAI and ourselves make better decisions for the cleanerfish."
And building this relationship between the salmon producer and the lumpfish supplier is an element that Ben sees as being crucial for the success of any cleanerfish project.
"I think that being able to offer our customers support once they've taken the cleanerfish is key – we're all still learning how best to use and look after lumpsuckers and our involvement doesn't stop when they leave the hatchery door. We're here to help with training and the deployment of the fish, as there's so much to learn about how to get the most from these cleanerfish. It's still virtually a brand-new species for aquaculture," he points out.