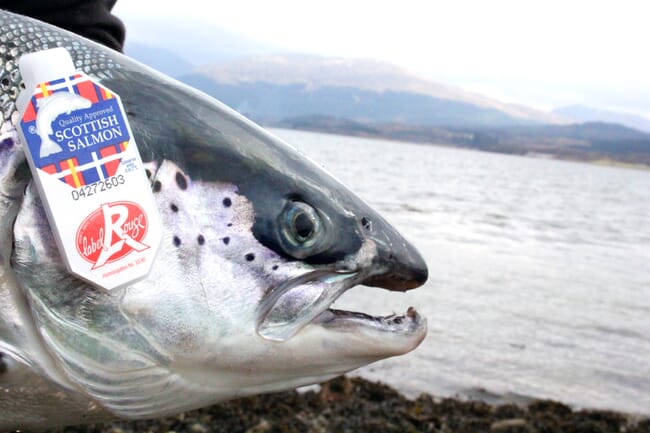 The endorsement contributes to France being the top export destination for Scottish salmon, with new figures showing that a record 53,500 tonnes of whole, fresh salmon – worth more than £304 million – was exported to the country last year. This accounts for 50 per cent of the value of all UK salmon exports.
The French market for Scottish salmon has boomed in recent years, up from £185 million in 2020 and £221 million in 2019. Around 10,000 tonnes of exports to France come under the Label Rouge quality mark – which is the official recognition by the French authorities of the superior quality of a food or farmed product with a very stringent set of standards prepared by a group of producers.
Scottish salmon was both the first fish and first non-French product to be awarded the accolade in 1992, and the anniversary will be marked this weekend with a high-profile visit to Scotland by leading importers and processors from Boulogne-Sur-Mer and Rungis market.

"For Scottish salmon to achieve three decades of Label Rouge is a significant milestone and I would like to congratulate everyone involved in securing and retaining this quality mark," said Scottish Rural Affairs Secretary Mairi Gougeon in a press release.
Su Cox, chair of Scottish Quality Salmon, reflected: "For three decades, our farmers have worked hard to deliver the exceptional quality that meets the strictest standards required to achieve this certification.

"When you choose Label Rouge Scottish salmon you are getting the best of the best in terms of taste and quality with an incomparable story of Scottish provenance."

Tavish Scott, chief executive of Salmon Scotland, added: ""Scottish salmon is an international success story and France is our most important export market, delivering hundreds of millions of pounds for the Scottish economy and generating hundreds of jobs.

"We can help lead the UK's economic recovery, but while the quality of Scottish salmon is unrivalled, other countries are increasing supply and growing their international market share - so we must work tirelessly to maintain Scotland's market competitiveness."