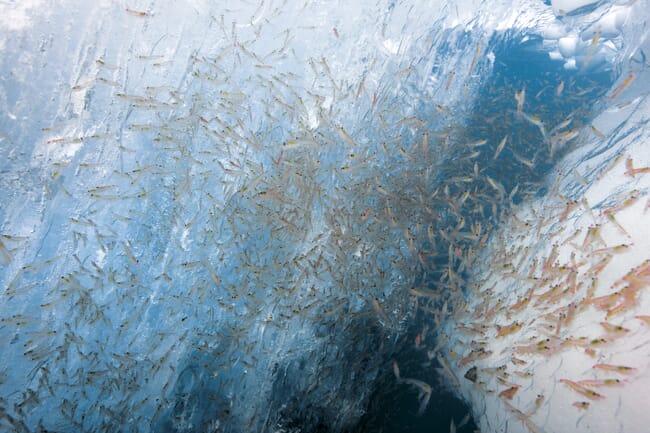 "We have decided to voluntarily close off these areas for fishing because we believe it's the right thing to do. Krill is abundant in Antarctica but we know that global climate change may create unpredictable impacts for predators dependent on krill. The only way to reinforce a sustainable krill management for the future, that allows for increased yield and much-needed marine proteins and nutrients to the world, is for the industry to adapt to the needs of the ecosystem," says Pål Skogrand, sustainability manager at Aker BioMarine.
Krill from the area are processed for a number of reasons, including as feed ingredients for the global aquaculture sector, and the commitment means that ARK members will avoid fishing within the foraging range of the peninsula's penguin colonies during the breeding season. The buffers are based on scientific studies of foraging range and conservation needs of colonies of Adelie, chinstrap and gentoo penguins during breeding and will look like this:
Antarctic Peninsula will be closed to krill fishing (40 km buffer) between 1 October and 1 February.
Gerlache Strait will be closed to krill fishing (30 km buffer) between 15 October and 15 February, and South Shetland Islands will be closed to krill fishing (40 km buffer) between 1 November and 1 March.
The seasonal closure will pave the way for an all-year closure from 2020, of which size and limits are to be decided after a review.
"This is a major commitment with the sustainability not just of the krill population, but the ecosystem depending on it," adds Dr Javier Arata, executive officer of ARK. "This voluntary measure safeguards penguin populations' access to their main food source during their most sensitive time of year."
Krill and the Antarctic ecosystem
Antarctic krill are a key species in Antarctica and are therefore managed in a precautionary manner by The Commission for the Conservation of Antarctic Marine Living Resources (CCAMLR). The commission has limited the krill harvest to 1 percent of the total estimated biomass around the Antarctic Peninsula while waiting for more data and knowledge on the ecosystem to be generated by the international scientific community.
"There is strong scientific confidence that the krill fishery does not have a negative impact on the krill population as such, or the feeding of predator species like penguins, seals and whales. Nevertheless, a fully ecosystem-based krill management – one that also takes into account the impacts of climate change on krill – is challenging," Skogrand explains. "This is why to our mind, not only the regulators but also the industry, has the responsibility to try and avoid concentration of fishing efforts close to penguin breeding habitats."