Karavela to introduce vegan faux fish range to UK and Germany
Over the last two years, Karavela, one of the largest canned fish producers in Northern Europe, has turned to develop plant-based seafood alternatives with great success across several European countries and is now aiming to spread to several new markets in 2023, starting with Germany and the UK.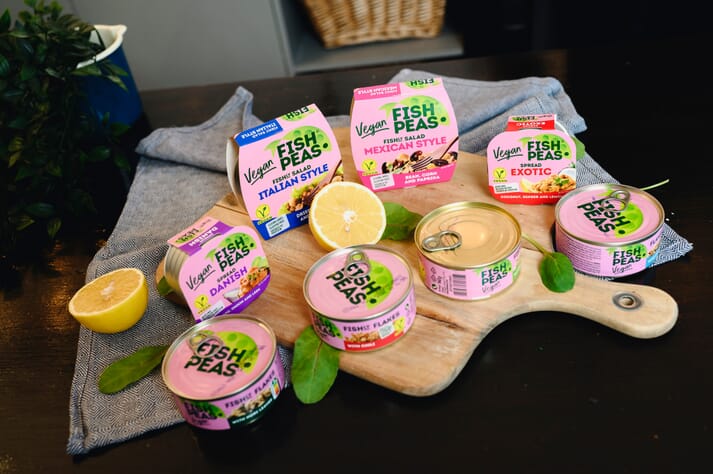 Karavela is one of the fastest-growing fish canning companies in Europe. In 2022, the company produced more than 88 million cans of seafood, and posted a turnover of €72 million. Last year, it introduced the F'SH PEAS product line, consisting of canned spreads, flakes and salads, providing a vegan alternative to canned seafood, whose main ingredient is the protein derived from yellow peas.

The producer, based in Riga, Latvia, has significantly expanded its R&D capabilities by investing approximately €1 million into the development of new vegan products that aim to appeal not only to vegetarians and vegans, but conventional consumers as well. In 2022, the line was expanded with the F'SH PEAS Wheat White Fillet, made of wheat and soya.
As Karavela marketing manager Rolands Romanovskis, explained in a press release, finding the right distributor is crucial for the F'SH PEAS brand.
"The aim of this brand is to become the benchmark in the canned vegan seafood market, and judging by our rapid development in this field, we are nearing the goal of leading other producers by example, showing how canned vegan seafood should taste. It is very important for us to build long-lasting relationships with our partners, as we usually work with only one distributor per country. The UK/ Germany is one of the leading vegan product markets not only in Europe but in the world, therefore the distribution of such a widely acclaimed product line can be seen as a chance for our potential distributors to become the industry leader and to dictate their own rules in the vegan seafood segment. Currently, we are open to collaboration and are actively exploring our options," he said.
F'SH PEAS plant-based ITALIANO salad was awarded as Top Innovation 2021 at ANUGA Taste Innovation Show, while in 2022, F'SH PEAS Wheat White Fillet was included in the innovation selection of the SIAL trade fair in Paris.
As of early 2023, F'SH PEAS products are available in Latvia, Spain, Czechia, Slovakia, Austria, Greece, Belgium, Estonia and New Zealand.