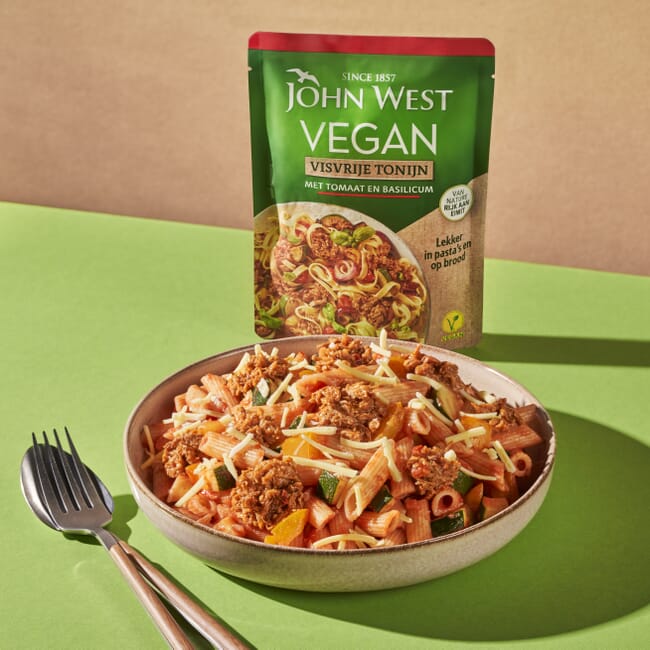 Customers in the Netherlands can now try John West's vegan fish-free tuna with tomato and basil or fish-free tuna with a dash of oil. According to a news release from the company, the fish-free offerings are made from soy protein and wheat and will be available in 1,400 stores around the country. The firm said that the plant-based items were developed and launched to meet rising consumer demand for items that fit into flexitarian and vegan diets, while also expanding the alternative seafood portfolio of its parent company, Thai Union.
Arno Snoey, country manager for John West Holland, said: "The introduction of fish-free options alongside our traditional tuna products gives consumers more choice and provides an alternative, relevant source of protein. There is a huge opportunity to connect with consumers of all ages who pursue a flexitarian lifestyle."
The launch of John West vegan fish-free tuna is Thai Union's response to the increased demand for alternative protein products, and specifically plant-based alternatives in The Netherlands. Consumers are driven by concerns about their nutrition, and those seeking a more varied diet are eating more plant-based meals. "Flexitarianism" is on the rise, with consumers demanding tasty vegan alternatives that enable them to benefit from all protein sources and pursue a meat-free or reduced meat lifestyle.
According to Innova Market Insights, 42 percent of the Dutch population follow a flexitarian diet – the highest rate of all countries in the EU. In addition, recent research from John West found that Dutch consumers are keener to try alternative seafood compared to other nationalities and are more likely to want a product comparable to fish in terms of appearance, taste and texture.
Introducing John West's vegan fish-free tuna is another arm of Thai Union's strategy to unlock the opportunities in the alternative seafood category. The news release says that Thai Union is building a portfolio of alternative protein products and supporting the group's commitment to "healthy living, healthy oceans."

It builds on Thai Union's own alternative seafood offerings. In 2021, the Group launched OMG Meat, a plant-based seafood range aimed at consumers in Thailand. Developed by the Global Innovation Center, the range includes plant-based dim sum, crab dumplings, crab cake, fish nuggets and most recently, shrimp dumplings.
In addition, at the beginning of 2023, Thai Union launched its new marine proteins business unit in Europe, capitalising on the marine protein opportunities through leveraging its global R&D and commercial resources. John West vegan fish-free tuna is the first branded product from marine proteins. The business unit plans to introduce more alternative protein products later this year.
Jon Burton, business unit director, European marine protein, said: "John West vegan fish-free tuna is Thai Union's first branded alternative protein product launch worldwide and therefore a major milestone for us. We will enter other European markets later this year with more innovative alternative protein products to bring game-changing innovation to the ambient category."