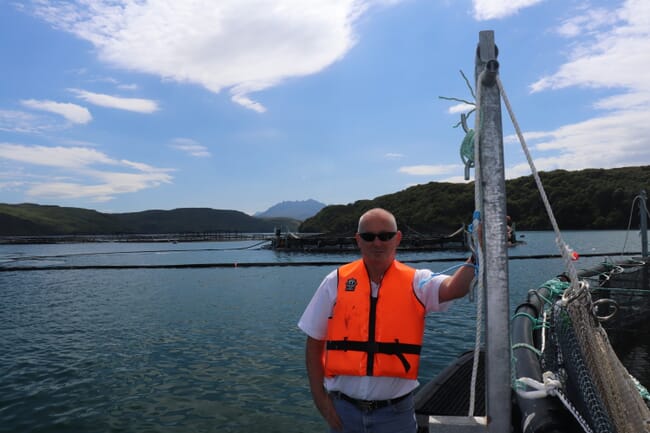 David MacGillivray, one of Mowi Scotland's regional farm managers, has been in the salmon sector since 1989 and has been intent on developing practical ways for farmers to cope with emerging fish health issues ever since.
In the last decade the increase in gill health issues has been one of the major challenges that he's sought to address. And in 2018 he came up with a cunning method that allows farmers to clean the nets in circular pens without hydraulic net cleaners – as he suspected the organic matter dislodged by the cleaners was irritating the gills of the fish.
After numerous trials, some of which took place in his own living room, MacGillivray succeeded in developing a double net, known as an environet, half of which could be air-dried to kill off the biofouling without irritating the gills of the fish, while the other half held the salmon. And Mowi is now looking into patenting part of this system – a special post which he developed to allow the net to be changed manually, with minimal disturbance to the fish.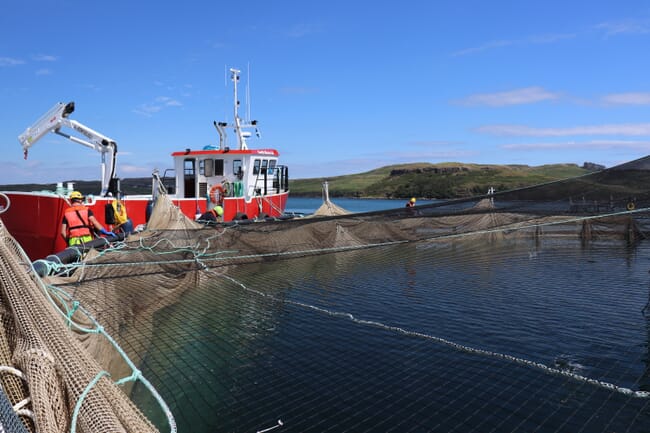 "It is great that Mowi is being considered for a patent specific to the circular environet concept. The invention was a collaborative effort by several colleagues at Mowi. While I came up with the initial idea, it required a lot of hard work from with both Iain Frasers (Faggy and Floppy) to implement the concept and turn it into it a reality," MacGillivray, told The Fish Site.
MacGillivray, who is known to friends and colleagues as "Bodger", won the Innovation prize for his concept at the 2018 Aquaculture Awards, and the system has since proved its worth.
"Maintaining good gill health for our fish is one of our top priorities and our results are clearly showing that the environet model – that allows for air and sunlight to clean nets – is much better for gill health rather than washing nets in situ," he says.
As a result, it's little surprise that Mowi are now looking to take the concept further.
"It was a lot of fun to develop and we had a lot of ups and downs along the way. But in the end it was well worth the effort, as Mowi has invested almost £3 million in this project so far in Scotland, where we will have the system installed on 90 cages across seven sites by the end of 2020. Given the success, there are plans to set up some of our Irish farm sites in 2021 with the system as well as developing an environet for a 160-metre cage! A bold challenge that should keep me busy for a while," he says.
The full story of how MacGillivray developed the environet can be accessed here.