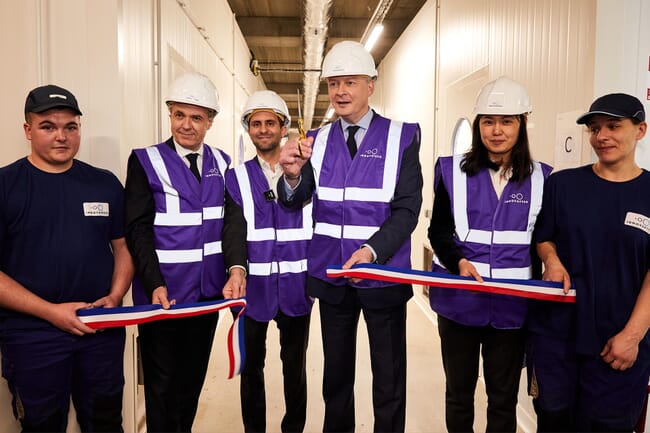 Following the extension, the Nesle site now:

Includes 10,000 sensors specific to insect rearing that measure, control and optimise parameters such as temperature and humidity at all times.
Collects more than 20,000 eggs per second.
Leverages AI to predict production operations, and thus better control them.
The opening ceremony was attended by Bruno Le Maire, France's minister of economy, finance and industrial and digital sovereignty and Christophe Béchu, minister of the ecological transition and territories.
"This day marks an important milestone for Innovafeed and our entire team. Thanks to our breakthrough technology and the active support of our public and private partners, we are creating a French sector of excellence in the territories that illustrates the transition already underway towards a low-carbon industry to meet the challenges of climate change and sovereignty. The presence of Ministers at our side is a real recognition of our success and our ambition," said Clément Ray, co-founder and CEO of Innovafeed.
"Green reindustrialisation is a major lever for strengthening France's attractiveness and competitiveness. In this respect, Innovafeed embodies technological and industrial innovation at the service of ambitious and strategic environmental objectives for future generations. I salute the talent and vision of its teams who work every day for our decarbonised industrial sovereignty," added Minister Le Maire.

The evolution of the flies-for-feed era
Since its creation, Innovafeed has developed a cutting-edge technology for the production of insects for animal and plant feed in order to provide a concrete response to two major challenges: the protein deficit, which is expected to reach more than 40 million tonnes by 2030 for aquaculture alone; and the fight against climate change, since the agro-industry currently accounts for up to 30 percent of global CO2 emissions.
Recent studies conducted by Innovafeed show that by including 7.5 percent of Innovafeed's protein in the feed, shrimp growth is improved by more than 25 percent and mortality is reduced by more than 20 percent.
In January 2023, Innovafeed, alongside its partner and industrial shareholder ADM, one of the world's leading agribusinesses, has begun to lay the groundwork for the implementation of its circular model next to ADM's plant and headquarters in Decatur, Illinois, the largest American agricultural site of its kind. This expansion, that will also deploy Innovafeed's unique industrial symbiosis model, is a further demonstration of confidence and ambition for the industry.