DELOS is developing a pond management system, which they say will help farmers increase their productivity by 50 – 150 percent. Founded by Guntur Mallarangeng, Bobby Indra Gunawan and Alexander Farthing in 2021, it brings together a multidisciplinary team covering aquaculture, marine biology, technology and business.
The funding was led by Arise, a collaborative fund created by MDI Ventures and Finch Capital. MDI Ventures itself participated in the round, along with other investors, such as Hendra Kwik (Number Capital), Irvan Kolonas (JAPFA Executive), and iSeed Asia.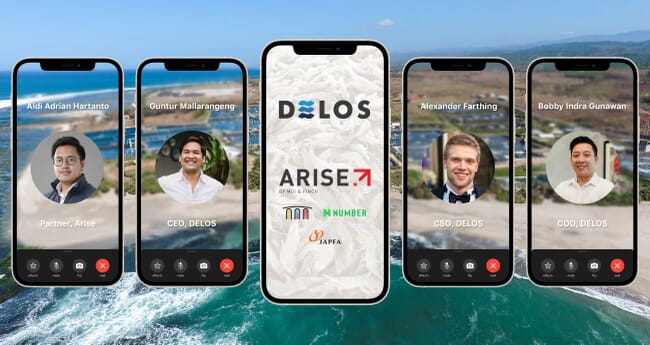 According to Mallarangeng, the platform will "help accelerate the industry by creating value for farmers, increasing the volume of national exports, and enhancing Indonesia's reputation as the world's leading aquaculture producer".
The funds will be utilised by DELOS to upgrade and strengthen its software as well as develop value chain integration and bring more shrimp farm partners on board. The startup is partnered with Alune Aqua*, a leading aquaculture fintech company, and Dewi Laut Aquaculture (DLA), a major aquaculture company in Indonesia. Backed with thousands of hours of research in shrimp farming practices from Alune Aqua and hands-on industry experiences from DLA, DELOS plans to accelerate the development of its shrimp production software in-house.
DELOS comes with a mission to modernise and encourage the growth of the Indonesian aquaculture industry, which is still facing classic problems, including low technology adoption, non-standardised management practices and poor access to finance. These factors have created bottlenecks in the middle of the value chain and limited downstream processor output to an average of 40 percent-60 percent capacity. Less than 5 percent farms are four times more productive than neighbouring farms (40 tonnes vs 10 tonnes/Ha).
It is this productivity gap that has kept the $2 billion industry from fulfilling its potential to becoming a $4 billion industry, according to Indonesia's Ministry of Fisheries and Marine Affairs. DELOS's interdisciplinary team and cutting-edge technology will be critical to supporting the national agenda to promote this growth while maintaining economic, social and environmental sustainability.
Farthing is excited with how DELOS can help with not only increasing shrimp farm productivity but also making shrimp farm operations more calculable, which would help increase the access to finance. Up to now, shrimp farming is seen by financial institutions as a highly risky business with a large variety of factors affecting the success of a production cycle. Additionally, financial institutions lack the necessary knowledge and framework to assess risks in shrimp farming, making them avoid the industry altogether.
"DELOS's technology solution combined with Alune Aqua's connection in the finance sector could be the dot-connector between the financial institutions and shrimp farmers which would bring a huge impact to the industry," Farthing said.
In an official statement, Arise Partner Aldi Adrian Hartanto explained, the perennial challenges of the layered value chain, low productivity, and lack of financing hinder the growth of the Indonesian shrimp industry which has not been fully utilised, even though it accounts for 77 percent of the total value of aquaculture products.
"DELOS's technology-based solutions have succeeded in immersing technology and operations into the culture and infrastructure of local farmers while bridging them with existing stakeholders. This leads to a higher FCR (feed conversion ratio), SR (survival rate), and harvest, making it a highly efficient tool," he concluded.
*Alune Aqua is part of Hatch's investment portfolio, but The Fish Site retains editorial independence.