What were Aker BioMarine's main achievements in 2019?
One of the biggest and most significant scientific projects in 2019 was the large-scale Antarctic krill survey, confirming the healthy krill biomass. Several governments came together to prepare a systematic measurement of how much krill there is. This international survey of the krill biomass around the Antarctic Peninsula found more krill today than was found in the last large-scale krill survey, conducted in 2000. This proves that the krill stock is in a healthy condition, and remains one of the best-managed marine resources in the world. Having these results is a very important testament to our business.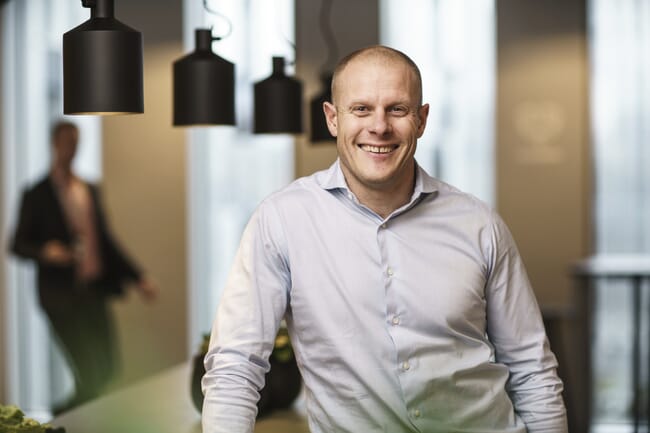 Another highlight is the recent collaboration with Greenpeace and other environmental NGOs and the krill-industry players. Nearly all krill companies operating in the Antarctic have agreed to voluntarily stop fishing in large areas around the Antarctic Peninsula to protect Antarctic wildlife. The companies have also pledged to support the scientific and political process for the creation of a network of large-scale marine protected areas in the Antarctic. We have been in dialogue for many years with several of the environmental NGOs to explore how we can best support the process of establishing a network of marine protected areas, and when every krill-fishing company in the Antarctic jumped on board to become part of this project, it helped demonstrate the unity of our industry. When you have industry players and non-governmental organisations, as well as government officials and scientists, working together, you can actually achieve great results very quickly, and this is a huge step forward for all of us.

Finally, we debuted our new krill-harvesting vessel, Antarctic Endurance, in early 2019 and it became operational in April. The world's first purpose-built krill-harvesting vessel, it reduces the CO2 footprint by 30 percent and will positively change the way we harvest krill in years to come.
What are your key ambitions for 2020?
We anticipate 2020 will be a standout year for the company. We are investing a lot in new technology and work with analysing data to take further steps in a new data-driven era of sustainable fishery and fishery management. For example, we have invested in a solar-powered unmanned sailbuoy in order to collect detailed data on the krill biomass in real-time. The data the sailbuoy is collecting are enabling us to make our operations even more sustainable and more focused, further lowering our impact.
How do you think Aker BioMarine can help drive the overall development of the global aquaculture industry?

Science plays an important part in our industry and will help drive our business, but will also help drive the global aquaculture market. Investing more in scientific work and R&D will allow our products reach new markets in Asia and South America, while helping to position our company in our existing core markets as well. We are ready to increase demand, communicate the new science and data out to our customers, and potential customers, and take the industry to new heights.
How much Antarctic krill do you think there is scope to sustainably harvest?
At Aker BioMarine, we harvest far below the catch limits. Compared to other fisheries, where precautionary catch limits are set to 10 percent or more, the total allowable krill catch is limited to 1 percent of the stock biomass, leaving 99 percent of the biomass for other predators.
For the fifth year in a row, Aker BioMarine has received an A rating from the Sustainable Fisheries Partnership, meaning the krill fishery is in very good condition. SFP is an independent non-profit organisation that evaluates the sustainability of global fisheries and we have an ambitious sustainability strategy to keep the A rating.
What are the main obstacles to overcome before you're able to increase your harvest?

I see two challenges we need to solve.

The first is about applying big data to our harvesting operations and making sure that industry monitoring capabilities and technology can be incorporated into a modernised international Antarctic krill-management regime. Today there is no doubt that the Antarctic krill harvest is precautionary, but it is also a harvesting activity that is limited by strict and static conservation regulations. Krill is a very dynamic resource that moves and fluctuates: like harvesting from a river, not a pond. In this day and age, we have the know-how and capability to monitor krill biomass on a smaller scale, check the fluctuations of biomass across years and seasons and adapt harvesting rules accordingly. In the long run this will lead to more data- and science-based harvesting.
The second challenge is about broadening the geographical scope. We are only in the beginning of discovering areas where a viable Antarctic krill fishery can take place. There is lots of scope to broaden the horizons, to go to "new" areas where fisheries are allowed but not conducted. Here of course the logistics and geographical distances come into the equation: setting up support around harvesting operations that makes it viable to go further away from our current stomping grounds will be key.
Are there any particular tools you're looking to deploy or develop to improve the efficiency and sustainability of your operations?
Technology is definitely helping shape Aker BioMarine's business and the krill market, in general. We are currently investing in technology and big data and see this as the future of sustainable fisheries management. We are continually aligning technology and sustainability to help us reduce our industrial footprint while strengthening our positive handprint.
Last year, we launched a platform to help digitalise our harvesting and manufacturing operations to further improve the upon our sustainability efforts. These AI applications, developed together with Cognite and NextBridge analytics, will allow us to reduce fuel consumption. And by using live data and machine learning, the company will optimise and better manage harvesting patterns, production flow and maintenance.
If you could solve one major issue in the aquaculture sector what would it be?
Sustainability and fish welfare are areas that we stand behind as a company. On the ecosystem side and the climate side, Aker BioMarine's position from day one has been to ensure sustainable practices. Part of our mission is to improve planetary health and something that we take very seriously. We also care about the wellbeing of the fish. That is not only an economic factor, but also a mission of ours.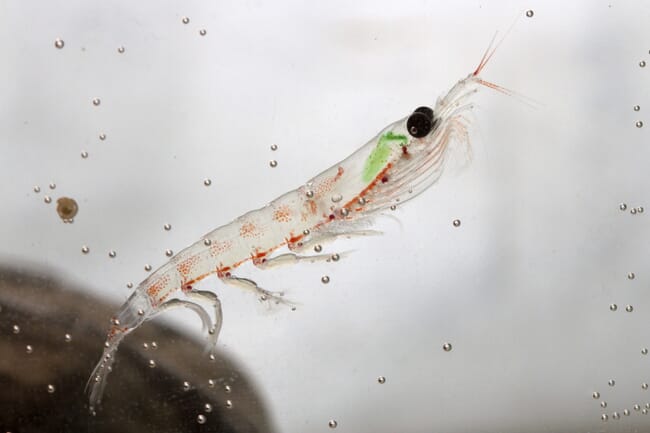 Are there any particular geographies or species where you'd like to see the sector grow?
Continued growth of shrimp farming and a change from low-intensity, small-scale to high-intensity, commercial farming has increased the need for sustainable protein and cost-effective sources in shrimp feed. We are seeing that krill is highly beneficial for shrimp and this is an area in which we are hoping to see growth.
Where would you like to see the company in a decade from now?
As a unique and diverse system, the ocean plays a critical role in the world's future. Around 70 percent of the planet is covered by oceans, but only 2 percent of the food consumption comes from the ocean. The human population has increased considerably and will continue to do so. In fact, by 2050, there will be 9.7 billion people in the world; that will require a 69 percent increase in the world's food production. And while this puts a strain on human food production, krill in aquafeed can be part of the solution. Due to fish being a good source of protein and omega-3, fish farming is one of the focuses of the increase in food production worldwide. The need for a sustainably sourced marine ingredient for aquafeed has never been higher and we believe krill is the answer.
To that end, it is our intention to always do our part to contribute to the solutions. In the next 10 years, we aim to provide the best ingredients to farmers across the globe and to continue harvesting in the most sustainable way. We are not just harvesting krill in the Antarctic in a sustainable way — we are improving human and planetary health. That has been our mission since day one and will continue to be our goal over the next decade, and as our business continues to grow and evolve to meet the needs of our partners around the world.