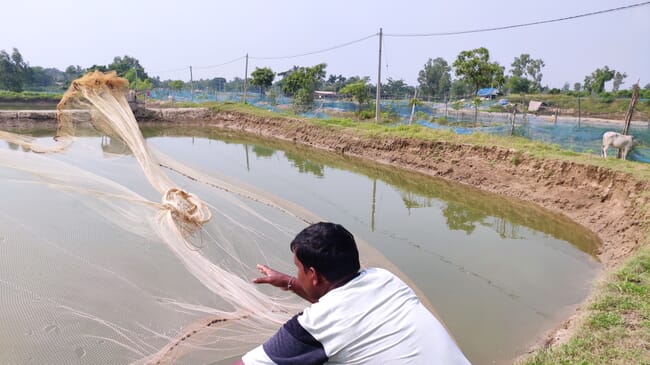 Speaking at a webinar organised by Adisseo this week, Paresh Kumar Shetty from Avanti Feeds outlined that India's shrimp sector may have had a rough six months, but stressed that farmers who were still solvent should be able to bounce back, as long as they didn't cut corners.
Farming strategy
Shetty outlined some practical short-term advice for Indian shrimp farmers, recommending that they concentrate on harvesting their shrimp at 15-20 g – as the market for larger sizes (in restaurants and exports to the likes of Japan, the US and the EU) was less strong that the Chinese market, which favours smaller shrimp.
In the longer term he warned against the dangers of buying lower quality seed or stocking in peak whitespot (WSSV) period. He also suggested the use of the full range of tools to improve water quality, including the use of probiotics and immuno-modulators, as well as the addition of salt to ponds when needed.
Finally he advised farmers who noted a drop in feed consumption of more than 20 percent per week, or growth less than 1 g per week, for consecutive weeks to harvest their crops immediately, in order to safeguard against possible disease outbreaks.
The impact of Covid-19
India's shrimp sector has increased production by an average of 21 percent a year over the last decade. And if this trend was to continue then production was on track to reach between 900,000 and 1 million tonnes during 2020, according to Shetty. However, the outbreak of the Covid-19 pandemic made a 20 percent reduction on the 800,000 tonnes harvested in 2019 more likely, with experts now predicting an annual harvest closer to 680,000 tonnes for the year.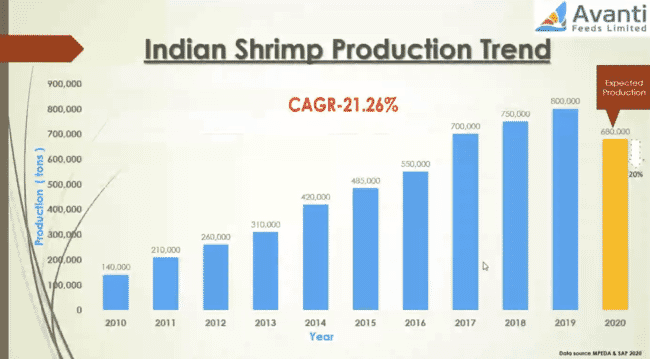 The pandemic had also, he pointed out, led to a 40 percent reduction in price during its peak, with a reduction of 50,000 tonnes of production in April and May alone, costing the production sector around US $67 million. It also resulted in a 30-35 percent reduction in stocking numbers between March and June – normally peak stocking season – which is likely prolong the impact of the outbreak. It also cost hatcheries around $10 million, as they were forced to discard surplus stock.

Cautious optimism
Despite the widespread negative impacts, Shetty remained optimistic that the sector will be able to rebound from August onwards, not least due to an increase in domestic demand for shrimp.
"We are optimistic that within six months demand will return, due to the healthy nature of shrimp as a food. And production will be bigger than last year, at least in the next six months. Maybe demand will be more than supply for the next three months, but supply will meet demand for following three months. There's not much inventory left in the US, they need to buy more," he predicted.
"People are looking to shrimp as an alternative to chicken, as chicken prices have shot up. At least 5-6 percent of Indian shrimp production is domestically consumed – if only 10 percent of the Indian population eat shrimp the market is huge. All the processors are looking to promote shrimp to the domestic market," he added.
Shetty also pointed to a number of areas that might give India the edge over other shrimp producers – noting that global shrimp harvests could be reduced by 15-20 percent in 2020 compared to 2019 - and argued that India could be well-placed to capitalise on this during the second half of the year.
"The major beneficiary of the demand-supply gap could be India due to it's wide geographical and climactic conditions, coupled with its inland farming areas," he argued.
Other benefits he pointed to are the country's vast processing capacity, which is 30 percent over production capacity at the moment, and a depreciation of the rupee against the dollar.