The coronavirus pandemic has adversely impacted aquaculture production across the globe. The economic fallout from nationwide stay-at-home orders and slowed export flows affected all segments of the aquaculture value chain. For farmed shrimp, lockdowns and closed food services have been catastrophic, especially in India. According to a paper published in Aquaculture, researchers with India's Central Institute of Brackishwater Aquaculture (CIBA) estimate that the sector will face a $1.5 billion loss for 2020-2021 due to the pandemic.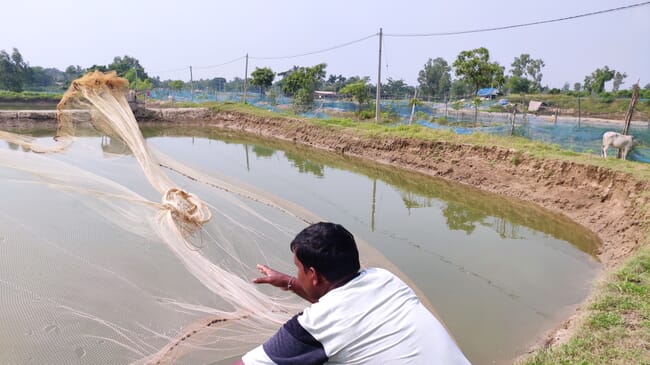 After conducting multiple surveys and interviews with key stakeholders, the research team at CIBA mapped the pandemic's economic shocks to the farmed shrimp sector. The study found that Covid-19 outbreaks and restrictions negatively impacted each link of the industry's supply chain. Shrimp hatcheries, farms, processors, retailers and exporters lost an estimated 30 to 40 percent of their business in the wake of India's lockdown.
After conducting multiple surveys and interviews with key stakeholders, the research team at CIBA mapped the pandemic's economic shocks to the farmed shrimp sector. The study found that Covid-19 outbreaks and restrictions negatively impacted each link of the industry's supply chain. Shrimp hatcheries, farms, processors, retailers and exporters lost an estimated 30 to 40 percent of their business in the wake of India's lockdown.
Though the initial assessment is dire, the researchers note that targeted policy protections for the sector could keep businesses afloat through the first wave of the pandemic. Officially classing aquaculture as an "essential activity", enforcing economic protection measures like price controls and allowing producers to keep workers on the payroll during future lockdowns could keep firms solvent through the winter season.
India's coronavirus outbreak and the shrimp sector
At the end of September 2020, India has confirmed more than 6.22 million positive cases of Covid-19 and recorded more than 97,000 deaths. Its lockdown, which began on 25 March, included movement restrictions and mothballed multiple sectors of the economy. Most of India's workforce had to stay at home for the duration of lockdown. Though it is currently undergoing a phased reopening, the economic impacts of the stay-at-home orders caused a multi-faceted shock to India's food value chain that is still ongoing.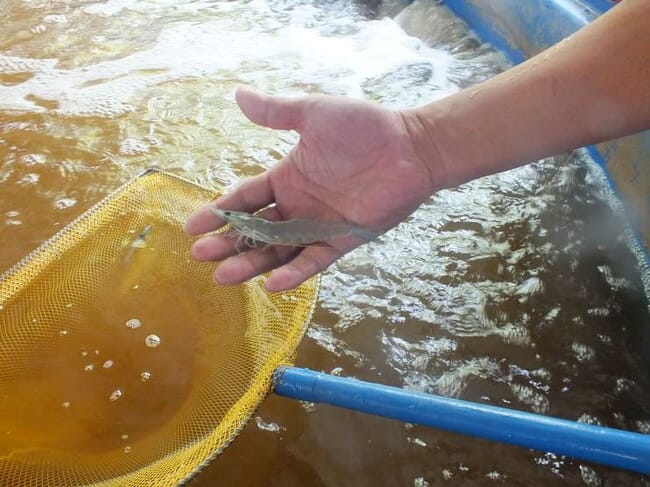 India is the world's third largest shrimp producer and the industry brings in an estimated $5 billion of foreign exchange earnings every year. The country exports 90 percent of its shrimp, with the United States, European Union, China and Japan receiving most of the shipments. Economists estimate that the sector employs 1.2 million people across the value chain – from farming, processing, retailing and exporting.
For India's shrimp farmers, the lockdown was announced at the beginning of its summer farming season (between March and July). This period usually yields 60 percent of India's annual shrimp production, with the winter crop (between August and December) making up the remainder.
Inter-state and intra-state movement are key to India's shrimp sector. Farming, processing, feed production and research activities are concentrated in different regions. The industry's structure meant that lockdown restrictions left it vulnerable to labour shortages and market shocks. To say the sector was unprepared for Covid-19 is an understatement.
Value chain analysis: from seed to sale
Seed production and supply
The biggest impact on shrimp hatcheries came from manpower shortages – especially for skilled technicians. Though many sectors across India complained of reduced labour availability between March and June of this year, agriculture and aquaculture are particularly vulnerable to labour squeezes. Shrimp production cycles are inflexible and time-dependent. A sudden dearth of skilled labour meant that hatcheries struggled to fulfil their contracts.
A second-order impact of the lockdown was seen in the precipitous drop of consumer and export demand for shrimp. Since hatchery owners couldn't be sure there would be future buyers for shrimp larvae, holding on to unsold post-larval shrimp meant taking a steep loss. The researchers reported that most shrimp hatcheries discarded their available seed stock due to economic uncertainty.
An additional constraint for shrimp hatcheries is their dependence on specific pathogen-free (SPF) broodstock. Like most international cargo, imports of SPF broodstock were temporarily suspended during lockdown. Hatchery operators told the researchers that India's existing broodstock supply couldn't meet their needs – they typically make up the shortfall with imports.
This caused a stoppage at the first link in the shrimp aquaculture value chain. The subsequent weakness caused a ripple effect through the rest of the sector.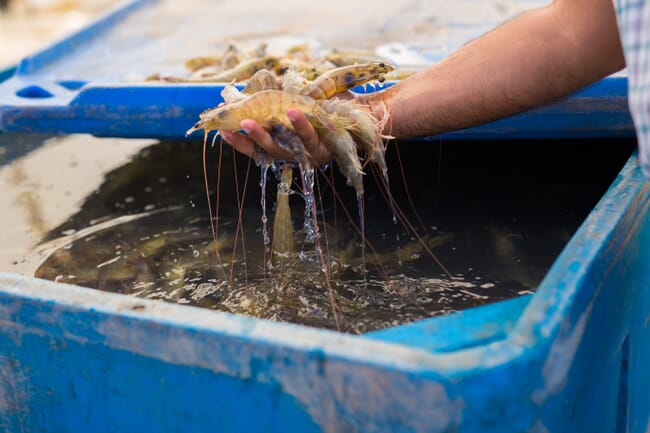 Lockdown's impact on shrimp farmers and shrimp farming
India's lockdown came into force at the end of the first month of the summer season. Researchers found that 27 percent of farmers who had prepared shrimp ponds for stocking didn't finish the three-phase production cycle. When speaking to farmers, the researchers noted that producers had difficulty obtaining production inputs like feed and seed and demand for finished shrimp was unpredictable.
25 percent of farms were in phase one (less than 30 days into the culture period) when lockdown began. 34 percent were in phase two (their shrimp had had between 30 and 80 days of growth) and 14 percent were in phase three (in which their shrimp had spent more than 80 days in the pond environment). Farms in phase three told researchers that they were able to make a small profit or break even, but others weren't as lucky. Some producers reported "panic harvesting" small shrimp to sell at a discount to avoid bigger losses in the future.
However, these "distress sales" weren't always effective: producers couldn't access insulated trucks or labour to harvest and transport the shrimp. Even when a contract was agreed, movement restrictions meant that producers couldn't access processors or market their goods. Many farmers were forced to take a loss for the summer crop.

Farmers listed closed diagnostic labs as an additional challenge during lockdown. Farmers often rely on these labs to monitor water quality and shrimp health during the production cycle. Losing access to that data and monitoring capacity meant that farmers couldn't easily manage their water quality or identify disease outbreaks during the culture period.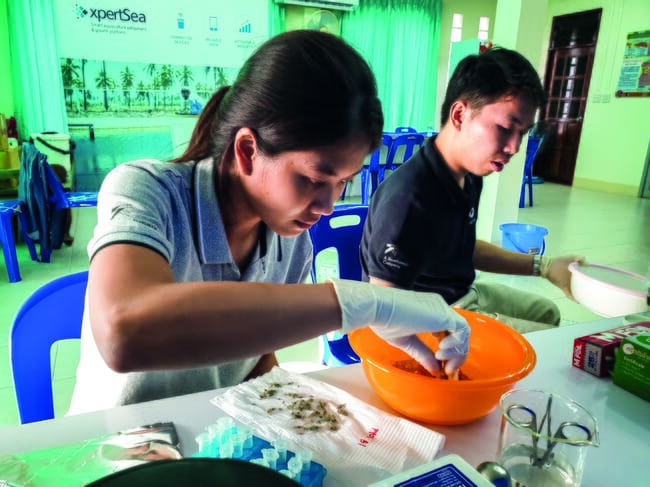 Like hatchery operators, farmers had difficulty recruiting and retaining labourers during lockdown. Official movement restrictions and farmers' inability to guarantee wages or job security caused a severe labour shortage. Production slowed as a result.
Processing and marketing
Seafood processors told researchers that manpower shortages were their primary constraint. Migrant workers – who make up the bulk of India's skilled labourers at processing plants – returned home during lockdown. This not only slowed processing times, but also decreased shrimp quality after they were processed. Requirements for social distancing and securing personal protective equipment (PPE) for labourers were further challenges for seafood processors.
Many of the other constraints facing processors were knock-on effects from the first two links in the shrimp value chain. Some processors told the research team that many shrimp orders weren't large enough to justify running the processing equipment. The fact that many farmers "panic harvested" shrimp that were too small to be mechanically processed compounded the issue.
Processors also said that the sudden nosedive in export orders put a strain on India's cold storage facilities. Unsold inventory began accumulating in key ports as buyers for Indian shrimp closed their food service sectors. Further procurement couldn't take place.
Though researchers noted that the state government of Andhra Pradesh enacted a minimum procurement price for difference sizes of harvested shrimps to stabilise the market, study participants said the policy wasn't strictly enforced. Processors often refused to pay the fixed prices, telling farmers that the shrimp was poor quality.
The estimated impact of Covid-19
The researchers estimate that pandemic-related disruptions caused a 30 to 40 percent drop in each component of the shrimp aquaculture value chain. In economic terms, this could amount to $1.5 billion loss for 2020. The biggest decline was attributed to shrimp exports – projected export volumes for 2020 are almost 40 percent lower than they were in 2019. The decline in exports is putting pressure on shrimp prices – researchers expect a 35 percent reduction before 2021.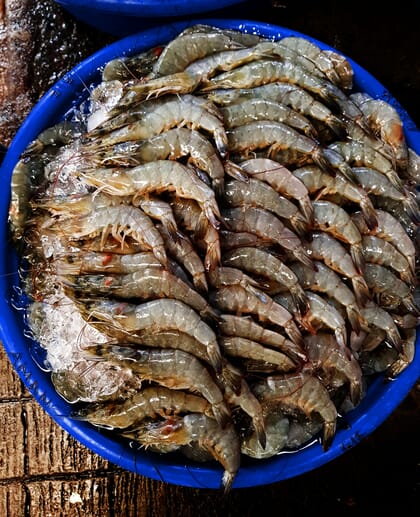 The research team also expects a 30 to 40 percent reduction in labour resources in the sector due to supressed farming and processing activities. Their analysis also warns that these effects could be compounded if India experiences a second wave of Covid-19 and must contend with another lockdown during the winter shrimp season.
Rebuilding after the shock
The researchers note that Indian government attempted to mitigate the worst effects of the pandemic. Shortly after locking down, fish farming and processing were categorised as "essential activities", allowing some businesses to keep operating, even if it was at reduced capacity. Officially designating key points of the aquaculture value chain as "essential" will insulate the industry from the economic shock of lockdowns. However, governments should consider other protections for shrimp aquaculture.
Though initial efforts to set minimum prices for farmed shrimp saw limited success, additional enforcement efforts could turn this into a key protection for shrimp farmers and improve forecasting for processors.
The research team highlighted the Fisheries Development Scheme as a potential way to make the sector more resilient. The programme is part of a five-year blue development initiative that wants to ramp up investment in India's aquaculture value chain and provide incentives for sustainable fish farming.
If this policy intervention focuses on employment generation as well as economic security for producers, many of the losses stemming from labour shortages could be mitigated. Increasing protections for labourers in the sector would also go a long way to prevent the manpower shortages seen in the first lockdown. If hatchery, farming and processing labour becomes more formal and stable, the businesses will be able to keep workers and potentially stay afloat if a different crisis emerges.