In the quest to boost seafood sales, price has always been King. And for good reason: market studies have shown that for a majority of consumers, price is one of the primary considerations when it comes to buying seafood.
Yet, consumers bring other values to the table when it comes to their purchasing decisions, especially around food. The rise of organic and of "locally sourced" products are but two examples.
In an increasingly competitive marketplace, seafood companies that promote these values might gain competitive advantage. That possibility leads to the question: Besides price, what factors are most important to consumers when it comes to decisionmaking around seafood?
This question becomes especially interesting given that the seafood supply chain tends to transfer only the minimal amount of information. A lack of detailed data also masks harmful practices, including illegal, unregulated and unreported fish (IUU), fraud, and human rights abuse, which currently pose regulatory and reputational risks to seafood companies and undermine sustainable fisheries.
But what if there were a stronger business case for capturing the information needed to drive increased consumer purchasing and root out environmental and social ills?
As part of an on-going effort to identify the business benefits of data-rich supply chains, Future of Fish set out to explore the power of story to sell more fish and to determine what elements of that story most influence consumer purchasing behavior. Working in collaboration with marketing firm i4
Partners, Future of Fish conducted a quantitative online consumer research study in 2015 with 1,300 US adult consumers who reported having purchased seafood within the previous six months.
Key Findings
Consumers find Storied Fish appealing
Consumers find Storied Fish appealing (63 percent), but cannot readily find it for purchase. After being given the definition, only one-third reported ever encountering Storied seafood in retail or restaurant settings. When they do find storied fish, a large percentage of respondents reported that they bought it (71 percent).
The data can be represented in a marketing model known as a "purchase funnel," which illustrates the typical consumer's journey toward purchasing a product. The purchase funnel for Storied Fish indicates that increasing opportunities for encountering Storied Fish in the marketplace (as opposed
to increasing awareness through mass marketing campaigns) could increase sales of Storied Fish products.
Fish sellers who invest in gathering, preserving, and sharing story could tap into the larger, appealing, and potentially more lucrative category of "Storied Fish" to gain market traction and increase sales.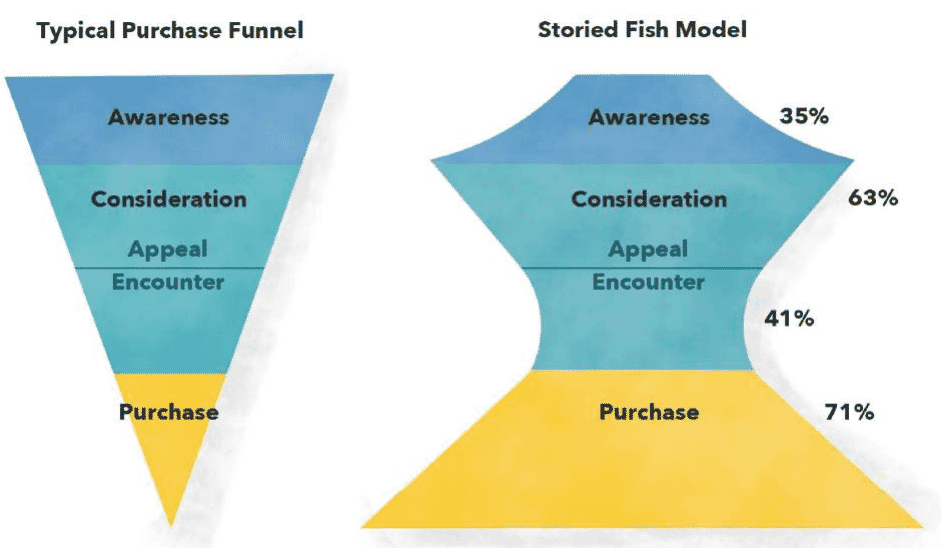 FIGURE 1. Illustrations depicting the three stages of a typical purchase funnel and the data for the Storied Fish model.
Just as some seafood products are more broadly appealing than others, some elements of story resonate more with consumers than others.
Consumers preferred those stories that implied fresher, more local, healthier, and higher quality fish. Not surprisingly, they care more about how a meal affects them personally than they do about more global or abstract issues.
Elements of story that resonated with personal values also ranked as highly important.
More abstract concepts, such as "information about the journey of my seafood" or very specific information provided without context, such as gear type, did not resonate much at all.
The survey also compared preferences between retail and restaurant shoppers. One key difference emerged: Diners care much less about health information when they sit down to order than do shoppers in the grocery store.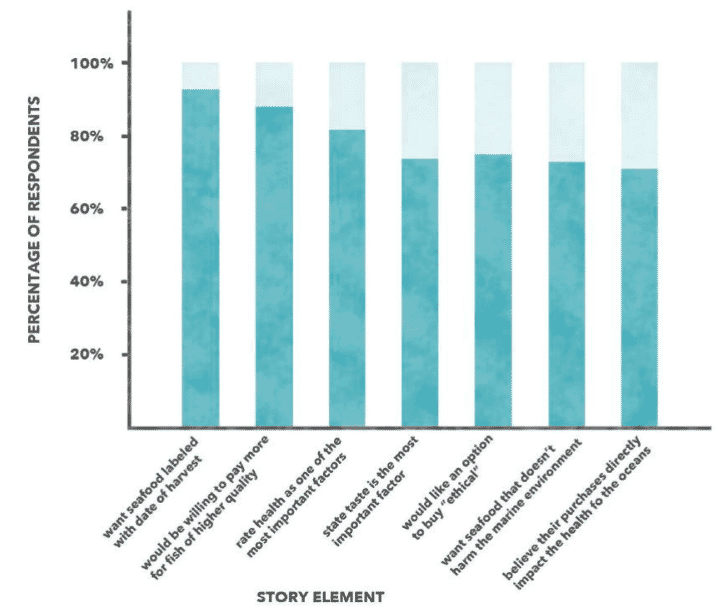 FIGURE 2. The different elements of story that resonate more or less with consumers. Results based on percentage of consumers who find storied fish appealing and "agreed" or "strongly agreed" with statements.
Consumers trust friends and family... and retailers
Surprisingly, consumers say that they trust and rely on information from the grocery store environment almost as much as they value information from family and friends when it comes to their seafood selections. This reliance on retailers for information reinforces the promise of the opportunity to increase sales through increasing access to Storied fish. Together, the findings suggest a significant opportunity for stores to influence purchasing patterns by packaging stories that matter to consumers, either at point of sale or locations throughout the store.
A pattern that predicts profit
While price will no doubt remain a critical factor, 21st Century seafood sales will likely depend on more than just dollars per pound. Companies that leverage the other values that consumers bring to the table or fish counter stand to gain a significant competitive advantage. Storied Fish provides an intriguing pathway for realizing this potential.
However, concepts tested in an online survey can only be interpreted so far—what people state as preferences may not always translate into how they behave and act in the purchasing environment.
Future of Fish is actively pursuing additional market research that examines: 1) how consumers react to story within the retail and restaurant environment; and 2) the manner with which story can most successfully be conveyed, including design of packaging, labels, menus, and point-of-purchase displays is needed. This information will provide valuable insights to seafood companies looking to harness the power of story to drive more sustainable seafood through global supply chains.
Further Reading
You can view the full report by clicking here.