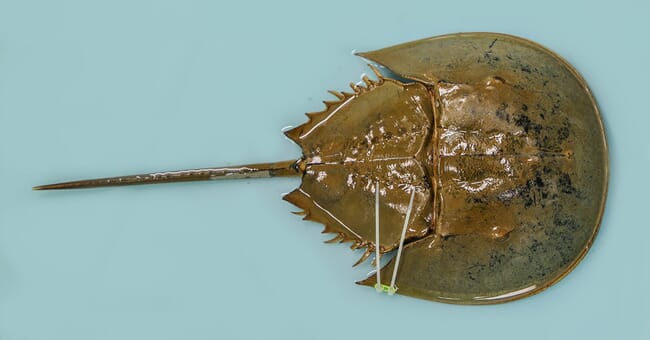 The arthropods – they are technically neither crabs nor crustaceans – are hugely valued by the medical and pharmaceutical sectors, as the limulus amebocyte lysate (LAL) isolated from their haemolymph is a critical resource for global biomedical and pharmaceutical quality control and sterility testing.
In North America around 600,000 of the horseshoe crabs are currently harvested from the wild each year for their LAL. After about a third of the fluid is extracted, the horseshoe crabs are released back into the wild, but there are considerable concerns about the impact that the haemolymph extraction has on viability.
Concerned parties include researchers from Kepley BioSystems, in North Carolina, who have been looking into ways to keep enough horseshoe crabs in captivity to ensure an adequate supply of LAL, thus reducing the impact on wild stocks, for over 18 months.
Kepley scientists have been leading the research on two separate trials involving horseshoe crabs. One has focused on developing feeds to support the immune health and long-term maintenance of the arthropods, while the other is looking into the most practicable aquaculture system in which to husband the horseshoe crabs.
"Given the necessity of and limitations associated with wild capture, a conservational approach to LAL harvesting would benefit the medical community that relies on the raw material while helping ensure species viability. We posited that aquaculture and year-round collection of haemolymph represented a sustainable alternative for the production of LAL from a finite HSC cohort, thereby averting the impact of current practices on wild populations," they explain.
Feed trials
The first study focused on developing feeds in order to stave off some of the health issues – such as panhypoproteinemia – associated with previous attempts to keep the horseshoe crabs in RAS for LAL extraction.
"In the wild, most aquatic animals are opportunistic and consume a diverse array of prey. However, captive diets are typically limited in complexity due to species availability and consist of a limited selection of frozen and thawed bivalves, cephalopods, or pelagic fish, often exposed to prolonged storage. Freezing and thawing natural feeds can also cause water-soluble vitamin loss through diffusion at erratic, nonlinear rates," they explain.
As a result, they looked into formulating a feed containing ingredients that matched the sort of diets that the horseshoe crabs are likely to consume in the wild. The researchers developed proprietary feedstocks designed to provide the nutritional requirements that matched or exceeded the natural scavenging diet using readily available and scalable sources.
"Our efforts concentrated on developing feed formulations enriched with natural sources of vitamins, minerals, and probiotics to support long-term horseshoe crab aquaculture management and establish a new, sustainable supply paradigm for a critical industrial raw material," they explain.
The study consisted of three, 8-week feeding trials, using six different feed formulations – including commercial pelleted diets that were reformed to be suitable for the horseshoe crabs. These demonstrated a seven-fold LAL reactivity range among the different feeds tested, suggesting that – with the right diet – captive horseshoe crabs could play a key role in LAL provision.
"This study demonstrated that protein-dense amaebocytes, optimal hemocyanin levels, and high-quality LAL derived from HSCs in aquaculture can be produced with functional nutrient-rich feed. Aquaculture LAL contained higher amounts of clotting factors per μg of total protein compared to commercial LAL preparations and could thus yield higher reactivity and therefore more tests per volume of harvested haemolymph. HSC sustentation and reproductive activities also continued during captivity, such that all aspects of natural behaviour were observed without apparent stress or decline in wellbeing," explain the authors.
"Ultimately, this work has shown that nutrition imparts an effect on the LAL derived from an aquaculture cohort. The research further suggests that highly reactive LAL can be reproducibly prepared from aquaculture HSCs on a year-round basis if a properly defined dietary regime is established and economical. As such, aquaculture and an enriched feeding strategy for a finite cohort of HSCs representing a fraction of the current annual wild catch could satisfy the global demand for LAL biomedical testing over the long term. Thus, enduring HSC aquaculture and the resulting raw material quality represent a promising, sustainable new supply paradigm for the biomedical industry," they conclude.
Culture systems for horseshoe crabs
The second study looked into ways of enhancing LAL content in the haemolymph of the horseshoe crabs, in order to enhance the possibility of an industrial scale harvest from captive specimens. Two rearing systems – one using a recirculating aquaculture system (RAS) and the other an outdoor on-bottom pen culture system (PCS) – were used over a 6-month period.
The researchers then monitored a variety of metrics including body weight, haemocyanin (Hc) concentration, amoebocyte density, and LAL reactivity. In addition, a simulated biomedical bleeding event in which 30 percent of the total haemolymph volume, was extracted – akin to the percentage currently extracted from wild-harvested horseshoe crabs – was performed to assess physiochemical properties of the haemolymph and amoebocytes after a one-week recovery period.
The researchers found that the horseshoe crabs in the RAS fared better than those in the outdoor pens, with higher rebound kinetics with respect to Hc concentrations, amoebocyte density, LAL reactivity, and with 100 percent survival.
Furthermore, haemolymph reinfusion (after amaebocyte removal) was shown to improve their recovery time.
Summarising their research, the authors conclude that: "Outcomes of this research show that an RAS, coupled with adequate nutrition and care, can provide horseshoe crabs with a suitable environment for sustainable haemolymph extraction and year-round LAL production. The result is a superior and reliable product with batch-to-batch consistency and a three-fold higher reactivity than current LAL products on the market. Through aquaculture, LAL production could standardise the $600 million endotoxin testing market globally, to the satisfaction of all regulators and drug authorities."
The group is in a unique position to be the only company in the world to produce a renewable LAL product to prevent supply gap shortages, especially during epidemic crises, as evident by the need for LAL to test the billions of doses of Covid-19 candidate vaccines currently coming onto the market. With the recent publication of this work in Frontiers in Marine Science, the Kepley team envisions scaling-up their current operating system.
Funding drive
The researchers are currently looking to raise enough capital to allow for the completion of a facility that could house up to 500 horseshoe crabs for LAL production. The team is also seeking partners or investment to develop and commercialise a LAL-based near-patient diagnostic to detect early onset septicemia, the number one cause of death in hospitals today.

Further information
Click on the following links to read the two studies in full: Effects of Diet on the Biochemical Properties of Limulus Amebocyte Lysate From Horseshoe Crabs in an Aquaculture Setting and Evaluation of Indoor and Outdoor Aquaculture Systems as Alternatives to Harvesting Hemolymph From Random Wild Capture of Horseshoe Crabs.