The large fish farming operations that have been grabbing so many headlines recently take an enormous amount of technical ability and infrastructure and capital to get off the ground. Concerns over broodstock and feed sources, and continuous monitoring of animal health to guard against disease outbreaks require large amounts of specialised knowledge and can be costly to manage. But life a little lower on the food chain is always a bit different, and some innovative companies along the Maine coast have begun to crack the code on profitability from some of our primary producers – seaweed.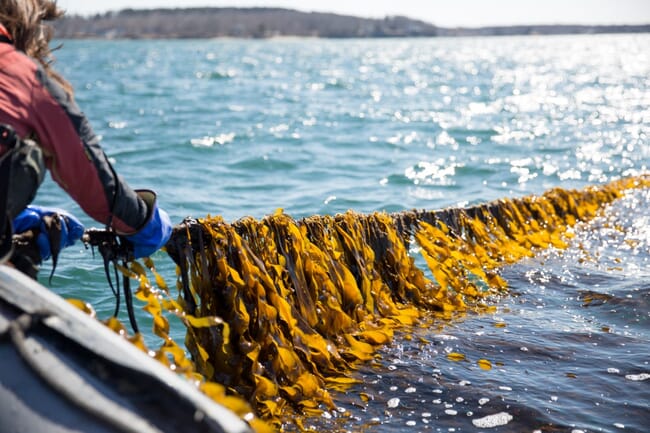 The roots of US seaweed aquaculture

The Asian seaweed aquaculture business is a large, industrial operation that requires huge amounts of manual labour in order to produce the volume of product needed. In much of the rest of the world seaweed aquaculture has lagged behind, however. Ocean Approved started the first seaweed farm in US waters in 2012. They literally wrote the book on the process, publishing the Kelp Farming Manual the following year.
Husband and wife team Katie and Nick Flavin were the co-authors of the manual, working for over three years on the project. Their goal, according to Katie, was to: "Outline cookbook-style instruction that was easy to follow but also provides the technical know-how to be successful". At the start the work there was almost nothing similar that existed. Nick explains that "in the beginning we had to do an extensive literature search, and reached out to various Irish seaweed companies, and groups in California who had already begun this type of work". The focus of their early work on the farm was to create significant biomass and outline a sustainable fishery for the state of Maine.
Maine represents a fantastic location for this industry. The state is home to clean, cold waters along a coastline of nearly 3,500-miles. With one of the lowest population densities in the United States, much of this area is nearly pristine. It is also home to a wealth of working waterfront and research knowledge. Maine has a proud heritage of fishing and thousands of individuals that take to boats every morning to harvest the seas off the coast. The University of Maine received its first grant to study the farming of marine species in 1971 and helped to develop the Maine Aquaculture Innovation Centerin 1988. UMaine later went on to develop the Center for Cooperative Aquaculture Research (CCAR) in 1999. The Downeast Institute began in 1987 and provides a home to a shellfish hatchery and an incubator for innovations in wild and aquacultured marine species.
The social mission
This is where Atlantic Sea Farms (ASF) is currently operating under a new business model. When Briana Warner took over Ocean Approved the farming operation started by her predecessors Tollef Olson and Paul Dobbins was still active in Casco Bay, off the coast of Portland. But expanding the farm and scaling up was not their vision. Instead, they are leveraging the available expertise within the state in order to create social impact while providing high-quality marine products.
Warner, a former diplomat and development economist, took over as CEO and president and rebranded the company as Atlantic Sea Farms. As she explains, "[Maine's lobstermen] make great kelp farmers - they understand the ocean, how to set gear, and they already have most of the equipment needed to farm - and it provides opportunity to earn income during a time when work is slower for that fishery." She also points out the "low capital barrier to entry" which is attractive for independent farmers.
Kelp produces spores from late September to November and begins to grow in the winter months. Growth is slow at the beginning but explodes in the early spring and can have growth rates of up to 17 percent per day. Harvests can take place any time from late March to early June. Precisely when the harvest takes place can affect the quality and size of the kelp. This aligns perfectly to provide a supplemental income for fisherman who don't wish to fish in the more difficult offshore conditions in the winter months to fish lobster when demand is lowest.
There are 5,900 active lobster licences within the state, with all the requisite boats, deck hands and captains needed to fish those licences. The lobster industry accounts for almost 88 percent of the total value of all marine products landed in the state, with an annual value of close to $500 million. During the winter months the lobsters move offshore and the demand declines. This reduces activity during the fishery at precisely the same time that the kelp growing season takes place.
Atlantic Sea Farms takes applications from fishermen and women along the coast in order to grow out product which they pledge to buy at pre-negotiated prices. There are currently 16 independent farmers growing seaweed that they plan to sell to ASF. This allows for diversified income streams for Maine fishermen who are currently almost completely dependent on lobster. As a mission-forward company, Warner believes that "All natural resource industries in the face of climate change are vulnerable, and we don't know what the future will bring. Although the fishery is healthy now, high bait prices, pending regulations, and a warming Gulf of Maine make the coast vulnerable." By sharing the work of Atlantic Sea Farms, they are not only employing skilled workers all along the coast, but are also "Giving these fishermen the opportunity to control their destiny in a significant way. We aren't going to put lobstermen behind a desk. We are continuing to be who we are and doing what we've always done on the Maine coast."
Warner was recently named one of Maine Magazine's '50 people', an elite listing of the top influencers who have made a difference in the state. She arrived here with her husband while she was on a leave of absence from her position as a diplomat to central and west Africa for economic development issues. She started a food business where she only hired refugees before filling her role in the Island Institute and has carried a social conscience with her everywhere she goes. The team also includes James Crimp, a native of Alaska and marine biologist at the institute. He is the supply chain manager and is no stranger to ocean harvests, spending his time in the summer as part of the Alaskan salmon fishery. Jesse Baines, who handles the sales and marketing is the daughter of a fisherman from Maine and has worked extensively in organic and natural foods.

Farming kelp is environmentally positive, as the organism removes carbon from the water column, absorbs solar energy, and provides habitat for other marine species. In many ways growing seaweed in the ocean provides a service to the water body by locally counteracting effects of climate change. Kelp has also been used in integrated multi-trophic aquaculture (IMTA). Wild Ocean Aquaculture, which grows Bangs Island mussels, has been working with kelp in conjunction with his shellfish to improve the growing conditions. A 'halo' effect can take place near the growing seaweed with water that is cooler, richer in oxygen and less acidic, which is favorable to the mussels.
Processing and products
Marketing of macro algae products in the US is not without its challenges. It is not something that fits neatly into the American 'meat & potatoes' dinner plate. The current product offering from ASF includes frozen kelp cubes which are a healthy addition to smoothies, fermented products and a seaweed salad that comes in a ready-to-eat ASF jar. They are excited to promote clean, responsibly harvested seaweed and value-added products to their customers, which Briana believes are superior to many of the dried, adulterated products that are currently on the markets. "Seaweed is having its moment at this time, but we will know that it is a true success when we see it on the menus across the country."
About 20 minutes down the road, in Scarborough, another aquaculturist is using seaweed for products other than food. Abigail Carroll of Nonesuch Oysters and proprietor of the Oyster Lady line of products, uses seaweed from wild sources for a line of soap, lip balm and skin care products. This is also a great way to diversify income for the small farm, which experienced a setback that wiped out its oysters one year.
This venture is also personal for Carroll, who suffers from sensitive skin. For a woman who works on the water this is not ideal, and she is always on the lookout for products that will help without being too thick or heavy. Abigail once lived in France, where seaweed body wraps are very popular, and is now bringing that concept to her customers. She currently uses sugar kelp, oarweed, and bladderwrack in her serums and oils, and is experimenting with new extractive techniques and with microalgae as well.
In 2018 ASF processed 40,000 lbs of seaweed in their facility in Saco and that number jumped to 250,000 lbs in 2019. Production is expected to double or triple in the next few years and they are confident that even this supply will be outstripped by the current demand for their products. By fulfilling their social mission as they expand, Atlantic Sea Farms can feel great about expanding and rising to meet this demand.