The hatchery will deliver high quality, high health Pacific whiteleg shrimp (Litopenaeus vannamei) post larvae to Ecuadorian farmers. The new joint venture will take over the existing Macrobio hatchery and will focus on providing local shrimp production with advanced genetics and breeding technologies, nutritional solutions from the leader in aquaculture feed supply, Skretting, combined with the best farming practices.

Hendrix Genetics, Nutreco (with aquaculture division Skretting), and Ecuacultivos will invest capital in upgrading the Macrobio hatchery to a state-of-the-art production facility and developing a world-class shrimp breeding program locally. Backed up with global leading innovation and R&D and expertise in nutrition and genetics, the joint venture aims to increase the competitiveness of the Ecuadorian shrimp industry in a sustainable manner. The hatchery is located in the western region of the country and currently employs around 50 people.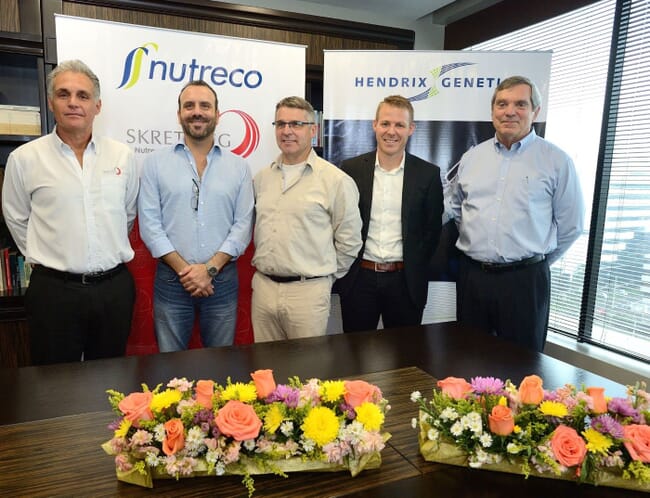 Antoon van den Berg, CEO of Hendrix Genetics, is excited about this new venture, stating, "After our entry into shrimp breeding in 2017, we have put most effort into developing the Kona Bay shrimp breeding program. This is an important development to gain access to one of the main markets."
"Our strategy for the coming years is to invest in innovative projects that support sustainable market growth," explains Nutreco CEO Rob Koremans. "We're delighted that this partnership will promote the sustainable growth of shrimp farming in Ecuador, a key market for our aquaculture division Skretting."
This partnership represents a milestone in the shrimp industry as noted by Neil Manchester, Managing Director Aquaculture of Hendrix Genetics, "We believe that bringing together global leaders in genetics and nutritional technology with first class local production operations is the combination best placed to deliver value and efficiency to the Ecuadorian industry."
Within the aquaculture market in Ecuador, the Pacific whiteleg shrimp is the most important aquatic species produced. The production volumes skyrocketed in recent years, putting Ecuador currently at the third largest producer after China and Indonesia. The market for Ecuadorian shrimp has also changed drastically. In the past, the European Union and the United States were, by far, the largest markets. However, China is now importing about 50 percent of Ecuador's total shrimp output.
According to Skretting Ecuador General Manager Carlos Miranda Illingworth, "The combination of our nutritional knowledge combined with genetic know-how and best farm practices make this joint venture a very exciting one for the shrimp business in Ecuador. Through this partnership, we plan to produce a disease-resistant animal to keep the Ecuadorian shrimp industry antibiotic free and with improved growth so farmers can optimise land use and produce more with less."