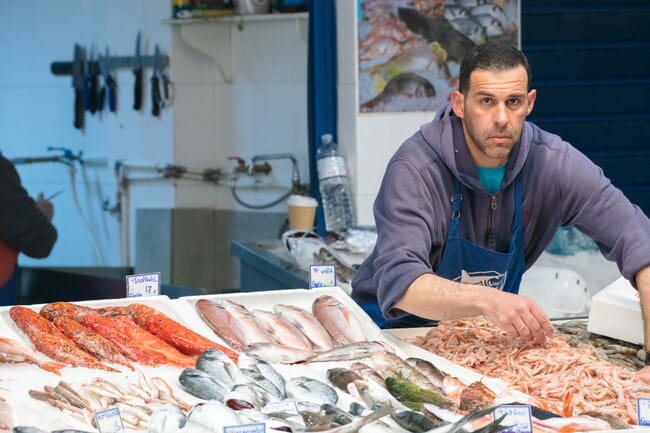 Avramar aims to grow its production of seabass and sea bream from 1,100 to 8,800 tonnes, in the process generating an additional €26 million in annual economic impact, €2.6 million in labour income, and 160 jobs on an annual basis.

However, according to a new economic report commissioned by the Rauch Foundation, the plan "would take over more than a quarter of Poros's coastline and landmass, threatening lives and livelihoods".
The new report suggests that tourism generates three times more maximum economic impact than aquaculture, and an estimated five times more jobs. With 80 percent of Poros's 3,200 residents working in tourism, the sector provides 780 jobs and 200+ businesses across the island, yielding €75 million a year.
As a result the report's authors argue that expanding aquaculture would result in a net economic loss for the island.
Shuprotim Bhaumik, Partner at HR&A, which wrote the report, commented: "When an island has a thriving tourism market, with 2,000 people entering Poros per day by boat in high season, expanding to year-round tourism is a much more sustainable form of growth. In economic terms, tourism generates three times more economic impact, five times more labour income, and five times the number of full time equivalent jobs than aquaculture. If fish farms continue to increase efficiency, and therefore require fewer workers – as is happening throughout the industry – we can anticipate that jobs and income will be lower in the future."
Fay Orfanidou, executive director of Katheti, a non-profit culture and education centre on Poros, added: "Poros is an island with exceptional natural beauty, and a quaint, authentic atmosphere. Over 300,000 people came by boat in 2022 to experience this little piece of heaven... But if the fish farming industry takes over 25 percent of our island's coastline, these goals would be impossible. The idyllic atmosphere we have so carefully guarded and protected would be destroyed."
Environmental concerns
In addition to the economic report new evidence casts doubt on the safety of the expansion plan from an environmental perspective. This comes via a new independent analysis of the strategic environmental impact assessment performed in 2015 by Ambio SA. This new analysis by UK-based Poseidon Aquatic Resource Management reveals several "critical" or "major" weaknesses, including the fact that a serious error was made with the modelling technique used to determine the safety of the plan: this error deemed the expansion 'safe', whereas it should have been classed as 'moderate to severe'.
Eva Douzinas, president of the US-based Rauch Foundation, which commissioned the analysis in a bid to protect the island where her family has lived for centuries. She explained: "The Poseidon analysis of the Poros EIA is enormously significant in the questions it raises. One has to wonder about the contents of other EIA reports and whether they, too, left citizens out of the process. The willingness to promote expansion while the analysis shows that these farms will cause severe environmental impact is frankly unconscionable."
Lacking social licence
A recent poll of 600 residents of Poros and nearby Methana, found 87 percent disagreed with plans to expand fish farms on Poros. Residents fear the ecological consequences of fish farming: 84 percent estimated the possible expansion of fish farms will negatively affect the situation in most sectors it "touches": seawater quality (84 percent), the local natural environment (86 percent), tourism (86 percent), the local economy (71 percent) and jobs (62 percent). The Poll was initiated by the Rauch Foundation and Katheti, and conducted in July by Athens-based Kapa Research.
It is unknown when the Greek government will make its final decision about the plan for Poros, but Orfanidou remains hopeful.
As she explained: "With 87 percent of locals opposed to the expansion of fish farming, I hope the government will terminate this devastating plan. It presents a net loss for livelihoods, the environment and the character of our treasured island. Perhaps there'll be room to celebrate on next year's World Tourism Day if we manage to #SavePoros. For now, we are united by our mission, and we call on others to help stop this 'net loss' plan."