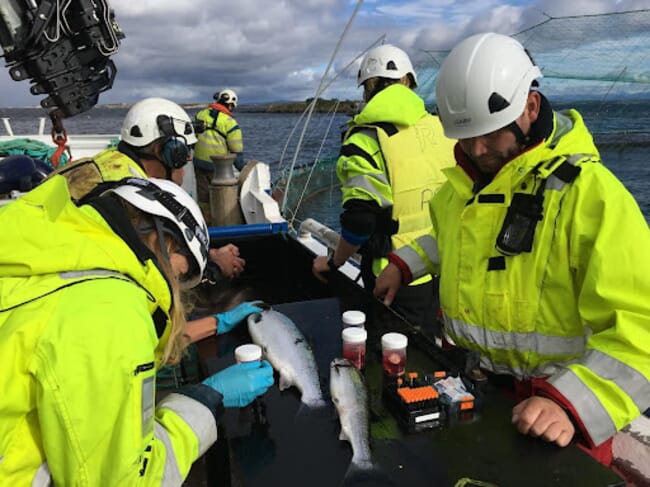 Gill disease is now one of the most prevalent health challenges facing the global salmon farming sector in the northern hemisphere, having impacts on control of sea lice, loss of growth, increased susceptibility to other diseases and contributing directly to mortality.
Information sharing across the industry is necessary to combat the problem, and to find ways to prevent these complex challenges. The GHI was established to bring together industry and researchers to streamline and disseminate research results that can contribute to best practice for the management of gill disease. The ultimate goal of the initiative is to improve fish health and welfare.
Hamish Rodger, chief fish health officer at PatoGen, was part of the initial group that started the forum in 2012, responding to the appearance of amoebic gill disease in Ireland and Scotland in 2011, which then worsened in 2012 with other regions and countries also affected. Modelled on the successful pancreas disease tri-nation initiative, the idea was to enable stakeholders to come together to share experiences and prioritise areas for research and funding.
The agenda includes lectures by industry and research professionals and often has side meetings and diagnostic workshops. Session themes include international sector updates, health management interventions, nutrition, genetics, host-pathogen interactions, monitoring and prevention, epidemiology, diagnostics, treatment, and immunology.
The event also provides an important platform for networking between researchers, salmon farmers, and all other members of the industry. Dr Iain Berrill, head of technical at Salmon Scotland and member of the GHI steering committee, commented on the networking opportunities at the event.
"At Salmon Scotland part of our role is to support bringing people together, to network, discuss challenges and to find solutions. Although networking is always good, it's well understood that GHI must remain focused on outcomes and solutions to the challenges of gill health," he said.
Looking to the future, Berrill believes that the complexity of gill health challenges remains a concern.
"We are getting increasingly good at monitoring gill health challenges, but we still have limited options to intervene to support fish health. In recent years, the challenges associated with harmful algae and jellyfish blooms have become an increasing problem that also need consideration," he explained.
Christine Huynh, chair of the GHI steering committee, would like to welcome new participants to this year's GHI, whether they are an experienced researcher, industry professional, or student.
"Gill health is an area of global economic importance. The complex nature of gill disease makes it particularly tricky to solve. We are fortunate at the GHI, to have some of the most talented scientists and producers gathered in one room to discuss this topic. We look forward to bringing together everyone's collective perspectives, knowledge, and experience in October 2023," she said.
If you are interested in attending this year's Gill Health Initiative event, registration can be found here.