producing market weight salmon in half the time of conventional salmon.

The AquAdvantage salmon is transgenic, or genetically modified. Whilst there are plenty of GM plants, which are sold on the US and global markets, there are no GM animal food products available.

Approval must be sought from the US Food and Drug Administration (FDA) before the product is sold. AquaBounty sent in an original application in 1995, however, it was not until 2009 that the company had completed all outstanding FDA submissions and requests for information.

Now they are sitting, waiting for approval.

How does it work?
Naturally, salmon are slow growers, in the first year of life they may achieve a weight of between 20-30 grams. Transgenic salmon could change that.

Dr Stotish explained that taking the growth hormone from Chinook salmon, and putting it into fertilised Atlantic salmon eggs, allows the Atlantic salmon to grow more like a trout, reaching desired market weight in a much faster time.

The Chinook salmon's growth promoting gene allows it to grow in less hospitable environments. By transferring this gene, which uses the same growth promoting hormone in both species, AquAdvantage salmon has the ability to grow in warmer waters.
The final product is AquAdvantage salmon, all of which are sterile females.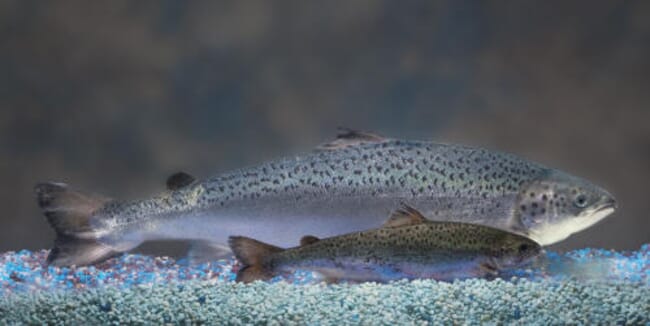 AquAdvantage salmon and Atlantic salmon at the same age
The benefits
With AquAdvantage salmon, market weight of around 2-3kgs can be achieved in 18 - 24 months, as opposed to three years.
However faster growth is not the only benefit, says Dr Stotish.

AquAdvantage salmon can be grown domestically, in containment close to land and populations. This provides a number of benefits.

The first would be that producing the fish in captivity, in closed systems, would dramatically reduce transport costs and improve the whole supply chain. Dr Stotish explained that this would have a huge environmental impact, reducing the industry's carbon footprint.

Secondly, producing more salmon in containment will reduce pressure on wild fish stocks. Improved fishing methods and overfishing has resulted in a major decline in many fish stocks. There are huge concerns for wild stocks of Atlantic salmon which can reach closer to 5-6kgs in weight.

Thirdly, allowing production of salmon close to populations will mean that a fresh supply of fish is available at all times. On top of this, Dr Stotish says that with the Food and Agriculture Organisation (FAO) predicting that world food production must increase by 70 per cent between now and 2050, aquaculture could play a major role.

FDA approval
Saying how the first application to the FDA was in 1995, Dr Stotish says that it wasn't until 2009, that AquaBounty had submitted all the information that the FDA required.

He says that it was also last year that the FDA published a guidance document to regulate transgenic animals, he says it is similar to that which regulates veterinary drugs.

Every case is reviewed completely separately, on risk based status. Food safety, the environment and a number of other factors are considered.

AquaBounty has a vast amount of information on Atlantic salmon, having studied them for the last 20 years.

With all the materials finally submitted to the FDA, he hopes a decision will be reached by the end of the year.
Concerns
A recent article, written by Wenonah Hauter, Chairman of Food and Water Watch, highlighted a number of concerns surrounding the approval of GM salmon.

She raised valid points, questioning environmental issues as well as consumer health.

Ms Hauter was concerned that the AquAdvantage salmon may escape from captivity. This would present two problems: the first that they would breed with wild salmon, and the second that they would compete and breed with wild salmon, and that the GM salmon, if they did escape, would outcompete wild salmon for natural resources.

Dr Stotish said that as all AquAdvantage salmon are sterile females, there is no chance of them breeding with wild salmon.

He also said that AquaBounty has provided AquAdvantage salmon for a three-year study carried out by the University of Newfoundland.

The study, which is coming to an end, looked at the species ability to compete in the wild. Although the conclusions are only preliminary, researcher Dr Eric Hallerman says that he does not believe the AquAdvantage salmon to be able to compete in the wild, as they are domesticated. Preliminary results also say that AquAdvantage salmon struggle when feed is limited, making them less competitive than their close relations, the Atlantic salmon.

Dr Stotish say that a number of other independent studies have confirmed that AquAdvantage salmon are no threat to the environment.

Dr Stotish guaranteed that the end product is 100 per cent safe for the consumer to eat. However, if approved, it will be two years until GM salmon is for sale.
Production
These salmon would be produced in captivity. Dr Stotish says that the breed is slightly more feed efficient, he reckons by about 10 per cent. "With more studying and experience, this could be improved."

Animal health and safety studies have confirmed that are no welfare issues which effect the fish produced from the eggs.
Marketing
The cost, at which the eggs will be marketed, is still unknown. However, Dr Stotish says that due to the faster growth, and therefore improved economics, they will undoubtedly be higher than their Atlantic salmon counterparts.

The other benefits, such as being able to supply fresh seafood, cut transport costs etc will all be factored into the final price.

Without giving too much away, Dr Stotish said that they did have a number potential clients who were interested in purchasing the salmon eggs.

Asked how he thinks the availability of transgenic salmon will affect market prices, Dr Stotish says that this is unknown.

Eventually, Dr Stotish is aware that other companies will start selling similar products. However, for now, he believes that the regulatory hurdle is a barrier to competition.

Has AquaBounty considered what the final consumer wants? Whilst the company has carried out no official research, the International Food Information Council has carried out a number of surveys asking consumers whether they would eat FDA approved GM food.

The most recent of these surveys suggest that the public are becoming more favourable towards the benefits of biotechnology. 41 per cent of respondents were 'very favourable' or 'somewhat favourable' towards genetic modification of animals.

Lack of information appears to be the primary reason why consumers are not favourable towards animal biotechnology.

"There are no differences in flavour, nutritional values or flesh colour. The two fish are undistinguishable," says Dr Stotish, talking about AquAdvantage salmon and Atlantic salmon.

In fact, he pointed out that in one tasting session, AquAdvantage salmon had been referred to as the tastier fish. AquAdvantage salmon is an environmentally friendly product, he said.

Dr Stotish also pointed out that if AquAdvantage salmon was cheaper, it may be more appealing to consumers.
What's next?
Transgenic salmon is just one of many things that AquaBounty are involved in. They have transferred the technology to other species, looking at faster growing rainbow trout and tilapia - although neither of these are close to becoming approved by the FDA.

The possibilities are vast, says Dr Stotish, explaining how the company is currently looking at developing a technology that treats virus infections in shrimp.

The technology can be used to evolve disease resistance traits, or enhance taste, he continues.

Dr Stotish says he wants to make a sustainable food supply, but at what cost?

If and when finally approved, Aqua Bounty will have paved the way for genetically modified food from animals. Its scope is endless.

The question is, which is more important to the consumer - the benefits of AquAdvantage salmon, or the ideas and phobia that exist surrounding GM food?