The appointment makes Soutar the Scottish SPCA's first chairperson to specialise in fish health and welfare, as well as the first in-house company veterinarian to take up the role.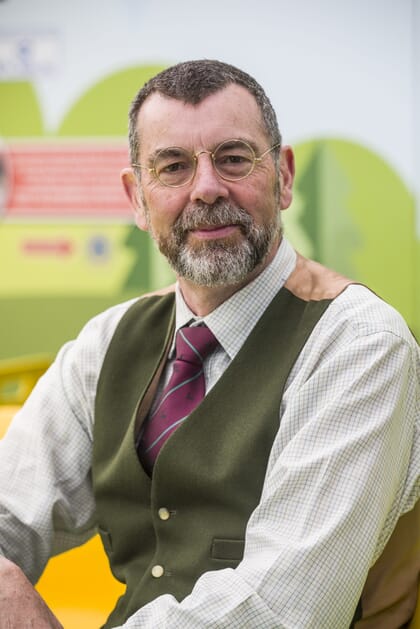 With a degree in Veterinary Medicine & Surgery gained at The Royal (Dick) School of Veterinary Studies at the University of Edinburgh, Soutar worked at a variety of veterinary practices for several years before returning to study for an MSc in Aquatic Veterinary Studies at the University of Stirling's Institute of Aquaculture.
In the years since he has gone on to become one of the country's most respected fish veterinarians, working with salmon farmers at home and abroad to advance health and welfare. This includes two terms as president of the Fish Veterinary Society and a key advisory role on the recently announced Farmed Fish Health Framework.
Commenting on his new appointment, Soutar said: "To be elected chairperson of the Scottish SPCA is a huge honour. The charity provides a lifeline service to vulnerable animals the length and breadth of Scotland – domestic, farm and wildlife – all of which is only made possible through charitable donations. I look forward to playing my part in ensuring those donations are put to the very best use, helping the society achieve its core purpose of improving animal welfare in Scotland."
Soutar, who takes over the role from Harry Haworth, previously served as a Scottish SPCA board member from 2013 and Vice-Chairperson from 2015.
Scottish SPCA Chief Executive Kirsteen Campbell said: "Everyone at the Scottish SPCA is delighted to welcome Ronnie as our new chairperson. While serving as a board member for the past five years, Ronnie's expert animal welfare knowledge, business acumen and strategic thinking has been of real benefit to our team. We look forward to continuing to work together to help animals and people across Scotland."
The unremunerated role is expected to be for four years, during which time Soutar will continue both his role as Head of Veterinary Services at Scottish Sea Farms and in small animal practice management.
"Small animal practice is similar to human medicine in that it focuses on what can be done to improve the health of that one individual," said Soutar. "Salmon farming, in contrast, is about food production; it's part of a drive to feed the world in a way that is as responsible as it is sustainable in terms of animal welfare and the environment.
"It's a new and expanding sector, and there are still lessons being learned about dealing with animals on such a scale. However, the focus is very firmly on how to keep the salmon happy and healthy throughout their lifecycle – something I'm proud to play a role in."
Scottish Sea Farms' Head of Fish Health, Ralph Bickerdike, said: "Ronnie's appointment speaks volumes about his knowledge, expertise and long-standing commitment to animal welfare, whether he's working with someone's much-loved pet or ensuring that farmed salmon are raised in the best conditions with the best care. We're extremely lucky to have him as part of our team and congratulate him on this latest accolade."