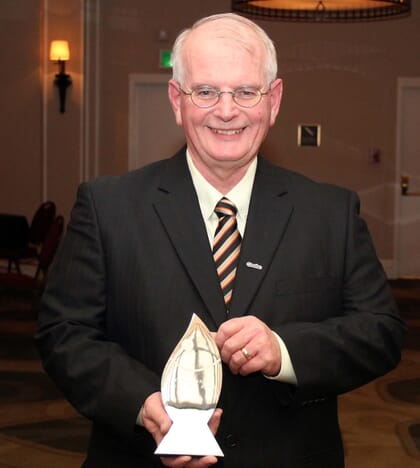 "Alan Donkin is one of the unsung heroes of our region's aquaculture industry. He's helped drive significant innovations in fish nutrition since the industry began 40 years ago," says Tom Taylor, Chair of the ACFFA. "His professionalism, commitment, loyalty, integrity and passion for this industry truly deserve to be recognized and we're proud that he is the 2018 recipient of this award."
Originally from Truro, Donkin graduated from the Nova Scotia Agricultural College and McGill University (animal science). He started with Shur-Gain in 1978 and was part of the team tasked with developing salmon feed in 1985 when the industry was just getting started. Donkin worked for Shur-Grain for 30 years. He joined Cooke Aquaculture in 2008 as nutrition manager.
"Alan has been an integral part of the innovation in fish nutrition since this industry began. He's a humble man of few words, but his impact on the aquaculture sector has been significant and important," says David Seeley, ACFFA board member.
Approximately 170 salmon farmers, industry stakeholders, scientists, researchers, provincial and federal government representatives, and community members gathered in St Andrews last week for ACFFA's 2018 Aquaculture, Research, Science and Technology Forum at the Huntsman Fundy Discovery Centre. Conference participants heard presentations on a wide range of topics, including offshore farming, engaging youth in salmon farming, Fundy Salmon Recovery, fish health, green alternative technology and the role of eDNA in aquaculture.
"It's such a pleasure and an honour to be part of such an impressive, vibrant and evolving industry," said Donkin. "The aquaculture industry is and continues to be the most exciting industry for me to work in with all the advancements in salmon feed, nutrition and production.
"Like all other parts of our industry, progress in fish nutrition has been rapid and science-based. Our feed is sustainably sourced, nutritionally sound and widely diversified. We should take great pride in the wide variety of feed ingredients we use that are sourced from byproducts of other human food industries."