Traditional mussel production may take place in sheltered sea lochs and estuaries, but an ambitious new venture off the coast of Devon has found that offshore options offer a range of benefits – both environmental and commercial
As aquaculture continues to grow rapidly, the open ocean is being seen as one of the most likely areas for large-scale expansion. Aquaculture traditionally takes place in intertidal areas, sheltered bays or estuaries, but thanks to advances in technology and culture methods, it's now possible to establish farms further offshore, opening up new expanses of our seas to potential production.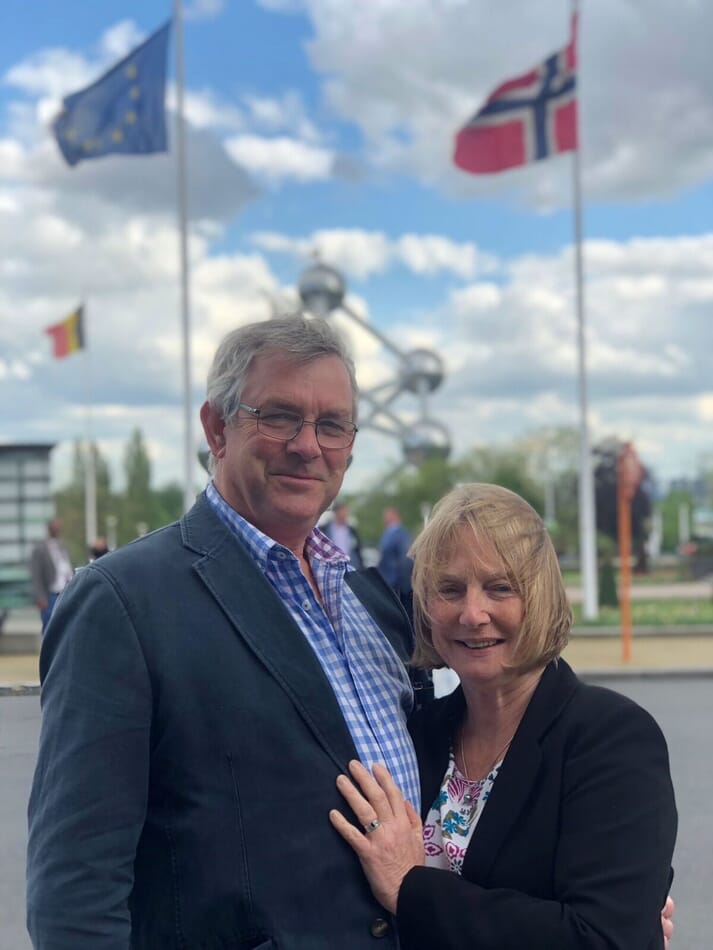 Species such as mussels are particularly promising for offshore aquaculture. They can survive high levels of physical stress in rough conditions, don't require daily maintenance and culturing them offshore has less environmental impact due to strong currents that improve water exchange and rapidly dilute the effects of pseudofaeces production.
Now, one company in the UK is tapping into the potential of both offshore aquaculture and mussel farming. Offshore Shellfish Ltd in Brixham, South Devon, is developing the UK's first large-scale offshore farm for the blue mussel (Mytilus edulis), a species that is native to Lyme Bay, where the mussel farm is based. Once fully developed, three sites will cover nearly six square miles in total and produce up to 10,000 tonnes of mussels each year.
Having moved to England from Taynuilt in Argyll about five years ago, John and Nicki Holmyard, who run Offshore Shellfish, hope that their farm will become the largest of its kind in European waters. Their work goes back to the 1980s, when they began mussel farming in Loch Etive on the west coast of Scotland.
"My interest in mussel farming came while studying for a degree in marine biology and oceanography at Bangor University. After graduating I was a researcher at Imperial College in London but longed to get back to a more rural life. When I found a small mussel farm lease available in Scotland, I couldn't resist taking up the challenge," says John.
Working with rope and equipment suppliers to develop new designs, John built the farm in Scotland from scratch, but always had his eye on the bigger picture, and after 20 years decided to broaden his horizons.
"We sold our farms and spent the next five years travelling the world, learning about alternative mussel farming techniques and looking for the ideal place to develop an offshore mussel farm in the UK," he says.
After becoming inspired by techniques in other countries, John and Nicki relocated to England and chose Lyme Bay off the coast of Devon, to take advantage of good conditions in an area relatively undisturbed by fishing and change the scale of rope-grown mussel farming.
Helical seabed screw anchors and bespoke designed ropes were imported from New Zealand, while John designed two specialist harvesting vessels and a float design concept based on a vertical-axis system. This consists of single headlines buoyed by vertical floats made from high-density polyethylene (HDPE). The floats also have end caps that offer strong rope connection points and can be attached securely to the headlines. Compared to barrel-type surface floats, they move more gently in rough seas and can be submerged to avoid any extreme force on the ropes, preventing the mussels from becoming dislodged.
"One of the advantages of our large site is that it has been designed with wide spacing between headlines and between individual ropes, which ensures that the area is well flushed and has no issues with carrying capacity. This, together with the highly energetic conditions, means that there is no build up of sediment and detritus beneath the ropes," says Nicki.
Because the mussels take all necessary nutrients from the sea, no chemicals or additional processes are needed. Quality and growth rate are also enhanced, as the farm's size and offshore location enable the mussels to be cultivated at low density.
The farm is also having a positive impact on the surrounding ecosystem. A study being conducted by Offshore Shellfish and led by Dr Emma Sheehan, along with her PhD student Danielle Bridger, at Plymouth University has been highlighting the farm's potential ecological value. Video surveys have recorded a wide range of marine life, including queen scallops, cuttlefish, lobsters and large schools of fish under and around the mussel ropes, supporting the theory that aquaculture structures can act as fish-aggregation devices. Juvenile brown crabs also use the ropes as a nursery area for protection and a source of food, while a build-up of mussels are forming reefs on the seabed directly below the mussel lines. Brown crabs and spider crabs have been seen feeding off them, while reef-building polychaete worms have built their tubes there.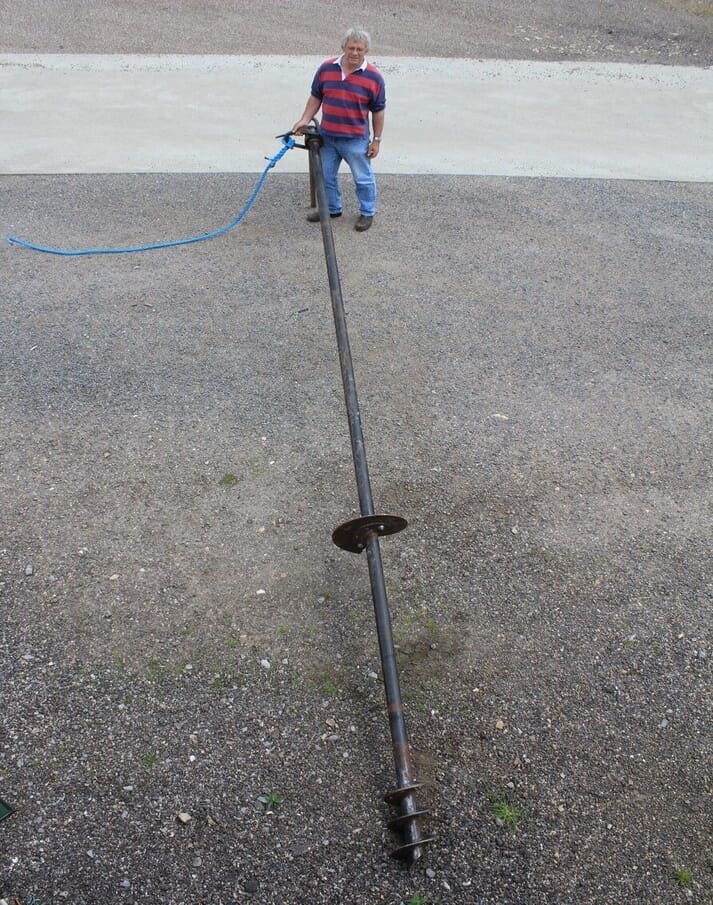 "When we first surveyed the seabed in 2013, it was indicative of a disturbed, fished habitat," says Danielle. "We didn't know what to expect, as this is the first mussel farm of its kind in the UK and scientific studies on offshore farms are scarce. We knew we'd be starting with a heavily towed area of seabed but didn't know how it would react to the addition of hard structures. But since our first survey, we have seen an increasing abundance of mobile species – including fish, crabs and lobster – as the mussel farm has increased production. I wasn't expecting to see commercially important species like brown crabs and lobster in my video samples, so when they started appearing it was great."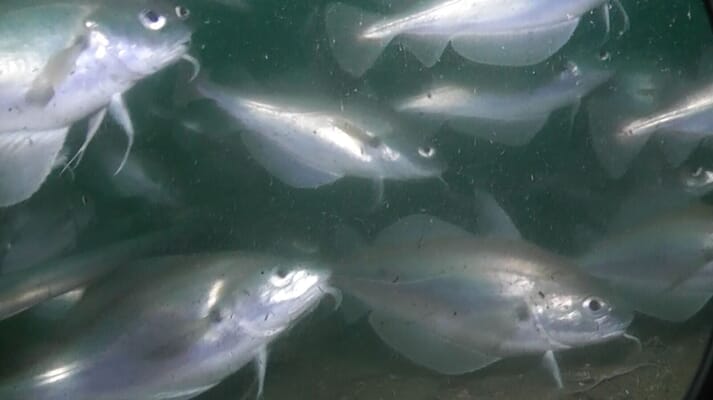 To date, the study hasn't found any harmful build-up of waste or negative effects, presumably due to the strong currents at the site, which provide an effective water exchange. A farm that is helping to increase biodiversity and is less damaging to the environment will strengthen the case for further offshore shellfish production.
The open ocean may have good aquaculture potential, but it's a high-energy environment that's exposed to winds, waves and currents. Access to the farm is occasionally limited by weather conditions, but the farm equipment is all designed and built to cope with rough seas. Vessels are fully equipped to carry processing and harvesting gear, and offer a stable platform for lifting as well as a large load capacity for harvests.
If farming mussels offshore continues to run smoothly, one of the biggest questions is whether a market can be developed. John and Nicki are currently tapping into the European market, but they believe the UK also has potential.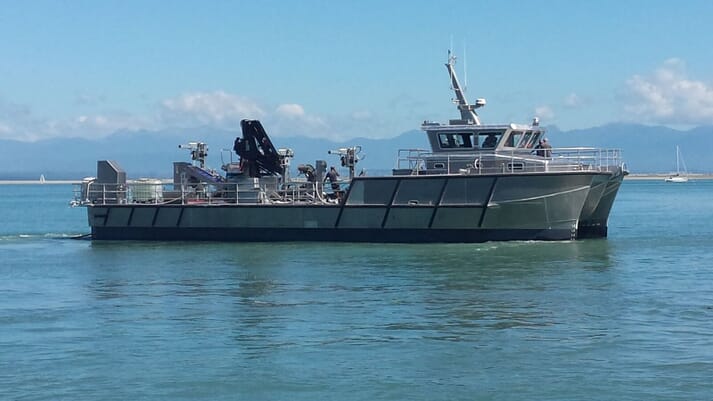 "Our market efforts have been directed towards Europe because consumers there appreciate a top-quality mussel with a high meat content. But we do have plans to start developing the UK market and encourage UK consumers to eat more mussels," says John.
"Consumers always need to be shown the positive attributes of any product and want good quality, good value and good availability, all of which we offer," adds Nicki. "Making consumers aware of the convenience of mussels and the fact that they are easy to prepare and cook will feature heavily in our strategy. We believe that there remains great potential to develop both the domestic and export markets, and there will always be demand for a well-presented, high-quality product."
As part of the aim to harvest and sell 10,000 tonnes of a mussels a year, the farm and business have been designed so that the standard unit of production is a lorry load of mussels, rather than by the pallet load as was more typical at their farm in Scotland.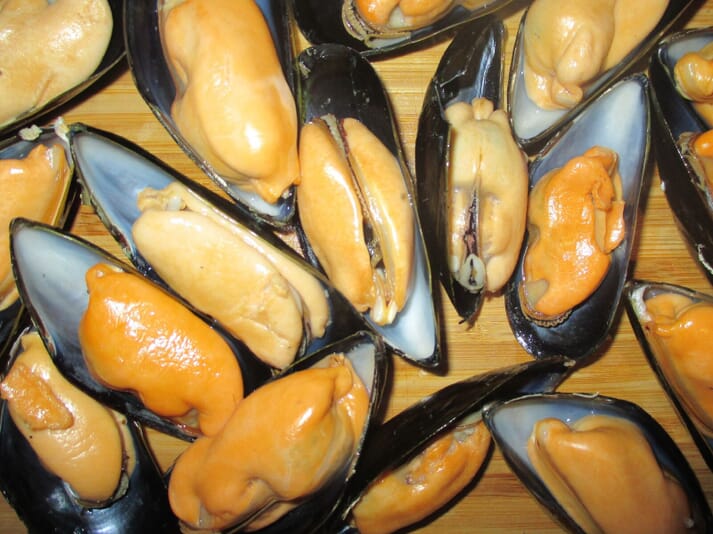 Sustainability is also a key concern. Prior to installing any equipment, Plymouth Marine Institute carried out an independent, comprehensive baseline study into the benthic environment and water column. This work has been continuing each year, as the farm develops and more mussels are grown. Offshore Shellfish has now signed up to undergo Best Aquaculture Practices (BAP) and organic certification to prove the farm's sustainability credentials.
John and Nicki hope that their farm will also be a key employer in Brixham, creating a range of jobs and making significant contributions to the local economy. Family are already involved, with son George heading up the offshore operations, and daughter Sarah working part-time on marketing.
"We provide good-quality, salaried jobs for many former fishermen, who appreciate being able to work at sea, but can still be home with their families at night. We already employ 17 people," says John.
Fitting into a traditional fishing port like Brixham was not initially easy, but as the operation grew and people realised that the business was a serious undertaking, relations have become much easier.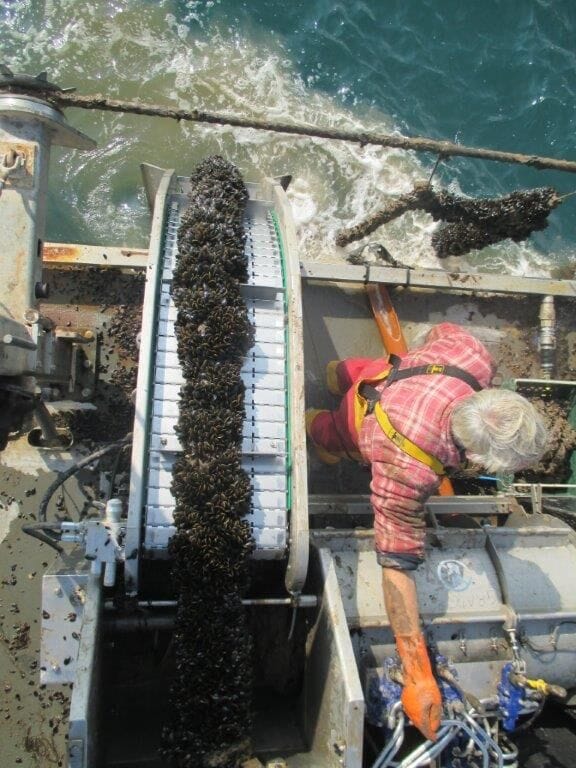 "It is difficult to gauge the general public's feelings towards us as the farms are so far offshore that few people are actually aware of their presence, although our boats are an obvious presence in the harbour," says John.
Danielle's study, meanwhile, has encouraged hopes that local fishermen, who were originally opposed to the idea of offshore mussel farming, will understand its value.
"We are currently conducting interviews with fishermen to see whether their views have changed as Offshore Shellfish develops. It will be interesting to see whether they have observed any increase in their catch if they're fishing in the vicinity of the mussel farm," says Danielle.
"Offshore conditions require a complete rethink of growing equipment, vessels and management techniques. But it's worth it. Growth rates are significantly faster offshore and quality is second to none," says John.
His pioneering work suggests great potential, not just for the marine ecosystem but also for markets and the community. Hopes are high that it could signal the arrival of truly sustainable offshore aquaculture.