Fishmeal prices can be expected to rise, due to Perus lower quotas for anchovy catches in 2012, at a time when demand is high. Peru confirmed its role in 2011 as the major exporter with almost 60 percent of its production going to China. Chile, on the other hand, saw exports stabilize in 2011 as the upsurge in demand from domestic salmon producers took most of the additional output. The EU, still the major player, despite falling purchases from non-European sources, continues to rely on South American sources for a substantial part of its fishmeal needs. However, Norway, Iceland and Morocco are becoming more important with their combined share of EU imports almost doubling from 2009 to 2011, to 22 percent.
Prices of Fish Oil and Soybean Oil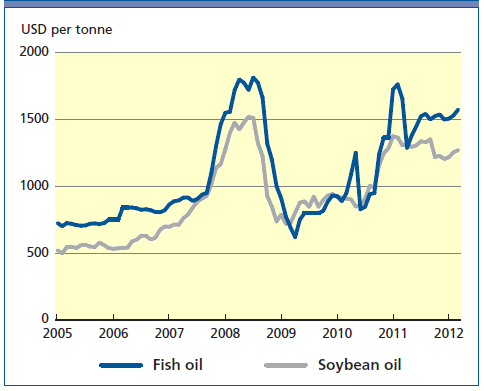 Fish oil market quiet, as sellers hold back in hope of higher prices
The lower-than-expected catch quota for Perus MayJuly season for anchoveta in the North and Central area will lead to a tighter market in the months ahead. A reduction from last years quota of 3.7 million tonnes was anticipated, but the new quota of 2.7 million tonnes took operators by surprise.

During 2011, supply of fish oil increased to almost normal levels as South American production returned to market. Peru and Chile boosted their outputs while northern European producers registered lower levels when more of the catch went for direct human consumption. Chile saw shipments up 24 percent while US exports fell back 15 percent because of lower menhaden shipments.

May 2012