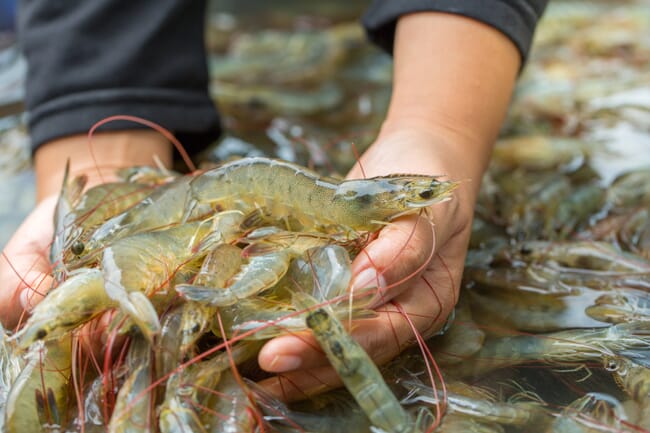 FAI Farms, a global advisor on sustainable food production, announces the launch of its Shrimp Welfare project's new website, myshrimp.farm to showcase the shrimp welfare assessment protocol and debut the first online training course in shrimp welfare. The website will be unveiled by FAI's Chief Technology Officer, Ralf Onken, at the Global Shrimp Forum in Utrecht.
Shrimp farming represents one of the most significant sectors in animal agriculture, with over 167 billion Penaeus vannamei farmed annually worldwide. As consumer and farmer concerns regarding the well-being of these shrimp continue to grow, FAI Farms seeks to address this critical issue through its bottom-up approach to fish welfare. This approach is designed to identify improvement opportunities that benefit both farmer profit and animal welfare.
The welfare assessment website is a user-friendly platform that serves as a resource hub, offering insights, guidelines, and practical solutions for optimizing welfare in shrimp aquaculture. The site features FAI's welfare assessment protocol and an online training course on shrimp welfare, available in English, Spanish and Portuguese. These resources are designed for shrimp farmers, processors, retailers and researchers globally, allowing them to acquire the knowledge and skills needed to implement best practices across the four essential domains of shrimp welfare: nutrition, environment, health, and behaviour.
"We are excited to introduce myshrimp.farm, our pioneering online training course and related digital tools at the Global Shrimp Forum. Shrimp farming plays a crucial role in global food security, and we believe that prioritising shrimp welfare is not only ethical but also essential for the industry's long-term viability. FAI Farms is committed to supporting shrimp farmers in their journey towards sustainable and welfare-conscious practices," said Ralf Onken, chief technology officer at FAI Farms.