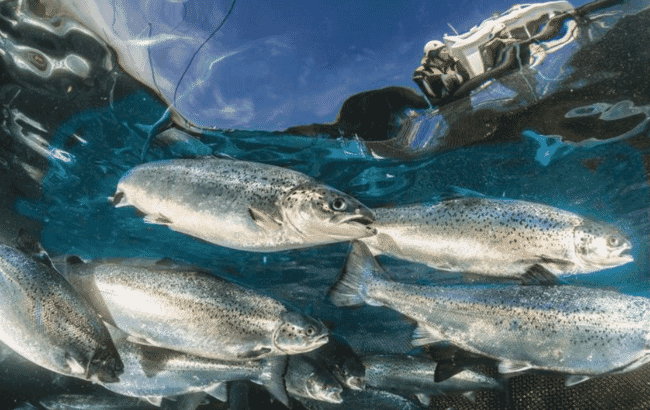 The study, the results of which have just been published in Aquaculture, tested different EPA:DHA ratios (0.1:1, 0.5:1, 1:1) in fish feeds, adjusting them using different oil sources – fish oil, Veramaris' microalgal oil (which contains both EHA and DPA), and DSM-Firmenich's Life's DHA.

The 8-week trial was performed using post-smolt Atlantic salmon at the Institute of Marine Research in Norway. A total of 540 salmon were divided into groups of 45 individuals and distributed over 12,400-L tanks, with an initial stocking density of 22 g / m3).
At the end of the trial the researchers found that a 0.5:1 EPA:DHA ratio led to a significant enhancement of the expression of genes related to fish immunity, and that a ratio of 1:1 showcased a distinct reduction in the number of wounded fish.
According to one of the paper's authors, Ian Carr "these findings suggest that achieving an optimal balance between EPA and DHA in the diet positively influences the fish's ability to recover from injuries and cope with stresses commonly encountered in aquaculture settings".
The significance of the results
It is already common practice for nutritionists to specify the total amount of EPA and DHA in salmon feed, but this new study shows the importance of specifying essential fatty acid (EFA) ratios too.
More specifically, genes related to fish immunity, such as Viperin and Mx, were more expressed in salmon fed the 0.5:1 EPA:DHA ratio diet. When particular genes are expressed at higher levels, this implies that cells are translating specific sections of the genetic code into proteins more frequently than others. Viperin stimulates an innate immune response, whereas Mx inhibits the transcription of viral genomes. In line with previous findings, these results suggest that EFAs such as EPA play a role in anti-inflammatory responses and disease resistance in fish. A higher proportion of EPA in fish diets may therefore improve the ability of fish to respond to infections.
Moreover, fish fed with the 1:1 EPA:DHA ratio diet had fewer wounds than fish fed with the other two diets. Wounds are a general welfare and health issue on aquaculture farms. In Atlantic salmon, in particular, wounds weaken the host's innate and adaptive immunity. The lesions also invite infections, such as from the bacterium Moritella viscosa, which causes winter ulcers.
"Overall, this research offers two important insights for fish nutritionists and feed formulators – a higher EPA:DHA ratio comes with benefits to fish health and welfare; and the 1:1 ratio, which has been used by farmers as a general rule of thumb, has now been scientifically shown in this study to give better results. The fact that optimal EPA:DHA ratios can be achieved by using microalgal oil in salmon farming is especially encouraging and embodies an important step towards increasing the sustainability of the aquaculture sector while simultaneously improving fish health and welfare and product quality," says Carr, who is senior director for global business development at Veramaris.
An alternative to fish oil?
Traditionally, aquafeeds have relied on fish oil to provide DHA and EPA. However, global depletion of fish stocks and high market prices of fish oil mean that reliance and dependence on wild-caught fish is no longer a viable or sustainable option for aquaculture. Switching from fish oil to plant-based alternatives became a solution but also presented its own set of challenges. Namely, vegetable oils lack omega-3 fatty acids. Consequently, the levels of these EFAs have declined by more than 50 percent in farmed salmon, a worrisome trajectory for both fish farmers and consumers.
"Veramaris algal oil is a sustainable, EFA-rich oil, obtained from the microalgae Schizochytrium sp., which produces EPA and DHA in large quantities and can be easily included in fish feed formulations. With this alternative source of EPA and DHA at hand, Veramaris has been dedicated to finding out more about how to optimise feed formulations to improve animal health and welfare and, consequently, product quality," Carr concludes.