From century's old mercury mining to the most complete history on the Minimata disaster, this book includes all the latest casualties from global mercury poisoning. Information is provided describing the latest use of mercury in industry as well as the antiquated mercury amalgam fillings that continue to poison the environment due to mercury's incredible recycling characteristics.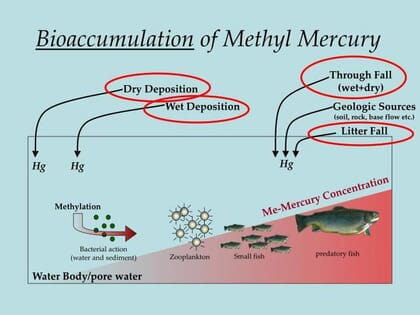 Did you know that about half of all mercury released from industry is stored and emitted from the ocean? Most people are familiar with the fact that high level carnivores such as swordfish have high levels of mercury but where a fish is found in relation to area and depth in the water can have an even bigger effect on the mercury content of fish.
More information from separate chapters provides in depth and complete reviews of mercury in fish and marine mammals as could only be described by an aquaculture and research scientist. Building upon over 500 sources of information from scientific research papers to over 100 books, all of the relevant current information on mercury is discussed.
All chronic disease related to symptoms of anxiety, chronic fatigue, and insomnia, as well as the devastating Alzheimer's and even depression, can all be linked directly to mercury toxicity in the human body. Readers will appreciate the 45 maps, graphs, tables and diagrams that detail the full story of mercury from start to finish that guide and facilitate learning a true bottom line for chronic disease in all life, the heavy metal mercury. This is the ultimate truth about mercury that no one can afford to miss.