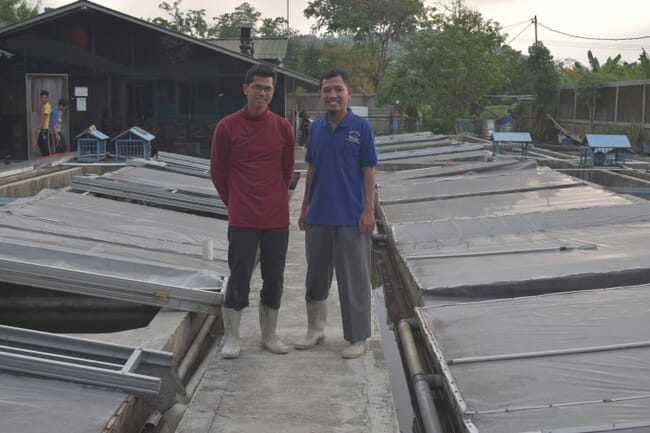 Eel has long been popular on the menus at Japanese restaurants, where it is known as unagi and is a premium dish. While popular, demand is limited, due to technical issues relating to eel production, and due to the premium prices they fetch.
Eels were traditionally caught by a handful of fishermen in rural rivers – far away from the sea where they were spawned. However, due to their popularity as a premium commodity, some entrepreneurs and companies are now trying to cultivate this enigmatic fish. Eel has a high value compared to other freshwater commodities. The cost of eel production typically ranges from 90,000 – 120,000 IDR/kg.
farm-gate price of these species ranges from 150,000 – 160,000 IDR/kg, while in retail, the price can reach up to IDR 300,000/kg – this means that the margins for eel farmers can equal shrimp farming levels.
One of the Indonesian companies which has focused on research into, and production of, eels is PT Laju Banyu Semesta (Labas), which is located at Bogor, in West Java. The general manager, Angga Kurniawan, says that the company has been focusing on eel farming for over 10 years. Apart from the value of the species, he was also attracted to farming eels because they are endemic to Indonesia – unlike other popular aquaculture species like vannamei shrimp, tilapia or catfish. In addition, he says that he also aims to provide an alternative good quality seafood for local people.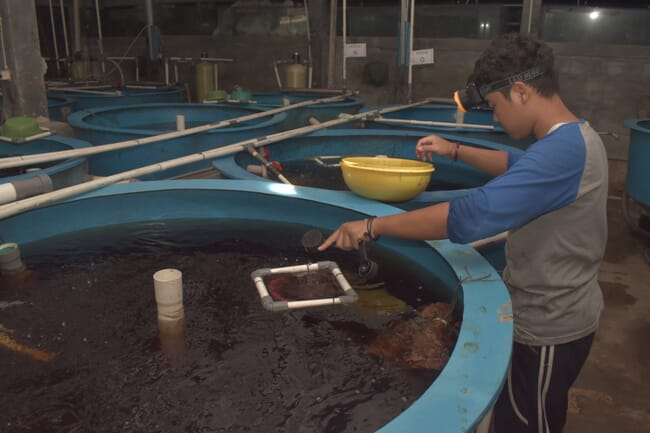 Three phases of farming

The farming process starts at the glass eel phase, after they have hatched in the sea. The glass eels are usually caught by fishermen in estuaries, in areas such as Sukabumi (West Java), Cilacap (Central Java), Banyuwangi (East Java) and Sulawesi.
Kurniawan explains that it takes about 18 months to grow these glass eels to market size of 250 - 400 grams. However, he notes that eel cultivation is still risky, especially in the early stages. There are at least three challenges in eel culture: namely survival rate, feed conversion ratio (FCR) and daily growth rate (DGR). Based on his research, Kurniawan has split the risk by dividing it into three phases of cultivation: phase 1, phase 2, and the grow-out phase. This policy had not yet been formed when Kurniawan and his company began to focus on eel production.
The first and second phases have a similar system. Both require strict aquaculture practices, especially in water management. The water should be free from potential pathogens by using UV disinfection prior to stocking. Once the eels are stocked, the water quality is maintained by using recirculating aquaculture systems (RAS) and aeration.
"We use all the filter tools in the RAS: biological, physical and chemical. We also add nitrifying bacteria, such as Nitrosomonas and Nitrobacter, directly to the farming tank. We need these to reduce ammonia levels, which can rise due to the high protein feed needed by the eels. With this system, we only add water to replace that lost by evaporation," he explains.
Phase 1
The first phase is carried out for approximately four months, stretching from glass eel to elver stage (3 grams). In this phase, Kurniawan says that it's like caring for a baby. Cultivation takes place indoors to maintain temperature stability and reduce light levels, in line with the nocturnal nature of eels. The eels are housed in 1.25 m diameter fibreglass tanks in phase 1, with each tank containing 600 – 1,000 grams of eels.
Beside water management, feed management also plays a very important role. Glass eels still depend on natural feed, such as sludge worms (Tubifex sp.) and these should be mixed with very high protein (60 percent) paste feed.
"Principally, eels eat by relying on their sense of smell. Paste feed dissolves more quickly in the water and the texture is soft, making it easy for eels to adapt to eating," he explains.
According to Kurniawan, feed management was previously a difficult issue, and he used to formulate his own feeds, but he now has access to new eel feeds developed by Japfa Comfeed Indonesia. "That's good, some problems have been solved," he adds.
Using a system like Kurniawan's means that the survival rate could reach 60 percent in the first phase, while the FCR should be around 2 [ie two kilos of feed for every kilo of eel produced]. He says that these figures make his operation financially successful – it's now just a matter of how to improve the system further.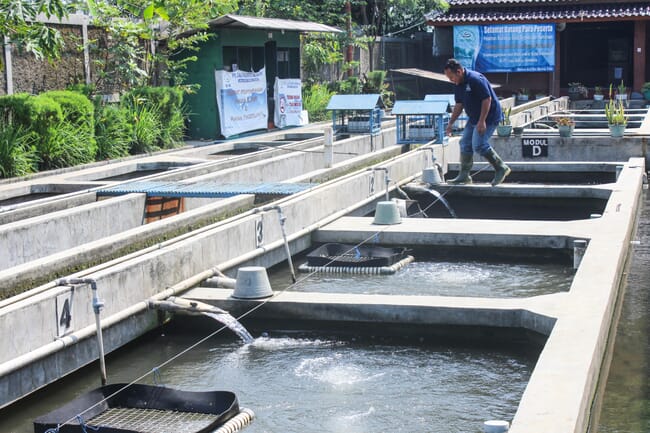 Phase 2
The cultivation system is relatively similar in the second nursery phase, although the diameter of the tanks used are larger, ranging from 1.5 to 2 metres in diameter and the stocking density is increased to 4-5 kg/tank. The main difference is that the eels can now be fed a full paste feed with a protein content of 50-55 percent.
The second phase lasts for approximately 7 months, by which time the eels should be around 25 grams each. Kurniawan said that the survival rate in this phase should be higher, ideally 80 - 90 percent.
After reaching 25 grams, the eels then enter the grow-out phase. At this last stage the eels are already stronger and can adapt well to a wider range of farming systems. These include flow-through systems, recirculation systems (RAS), green water systems and biofloc – either outdoors or indoors. According to him, the main focus of the grow-out phase is ensuring good feed management, using feeds with a protein content of 40-45 percent.
Kurniawan says that the eels typically require around 8 months in this final stage, by which time they should have reached 250-400 grams – the most popular size range for consumers. Survival rates for the grow-out phase are typically 90-95 percent and he uses stocking densities of 20 - 25 kg, in 22.5 m3 ponds.
As well as dividing the production phases, Kurniawan reduces his risks by creating partnerships with many farmers and he typically sells 70-80 percent of his eels to other farmers for on-growing, providing advice and assistance to them when required.
Building a business ecosystem
Based on his experience in the last ten years, Kurniawan believes such a cultivation system can be developed and duplicated by other farmers to increase local production and offer farmers a chance to diversify. The key thing, says Kurniawan, is building a supportive ecosystem, covering factors including research, marketing, logistics, infrastructure, regulation and consumer education.
In 2019, Indonesia's eel production – from both capture fisheries and aquaculture – was recorded at a comparatively modest 500 tonnes. Meanwhile, global eel production from aquaculture was 269,000 tonnes in 2018, suggesting that there's scope to increase production.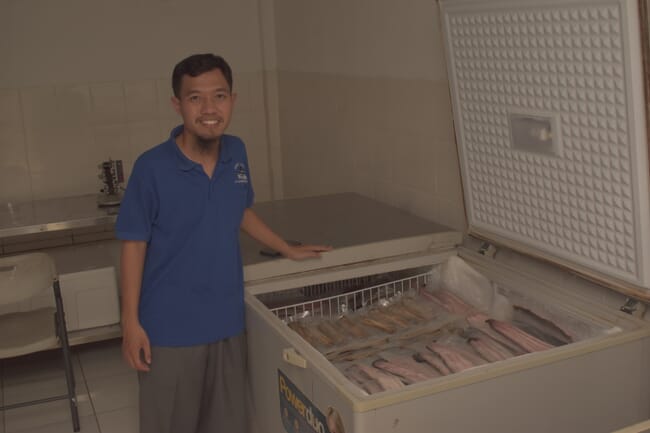 The global authority on the status of the natural world, the International Union for Conservation of Nature (IUCN) noted that the global status of Anguilla bicolor and A. marmorata, which are farmed by Kirniawan are NT (Near Threatened) and LC (Least Concern) respectively. However, Kirniawan believes that stocks of both are still abundant in Indonesia. There are still many fishermen, he notes, who offer glass eels, which he doesn't have the capacity to on-grow.
However, while waiting for the emergence of a well-formed business ecosystem, the company has also been developing various trials to make eels accepted by a wider market. As a result, Labas now also develops processed products, such as kabayaki (grilled), shirayaki (grilled with seasoning) and frozen fillets.
"Another goal is to see what the market response is like," Kirniawan adds.
In Indonesia, eels have traditionally been associated with Japanese, Chinese, or Korean food. However, looking ahead, Kirniawan hopes that eels can be processed into various types of products so that they can be consumed more in his homeland. He also wishes to make eels more affordable. During the Covid-19 pandemic, he says that domestic consumers became a very important market, following trade restrictions abroad.