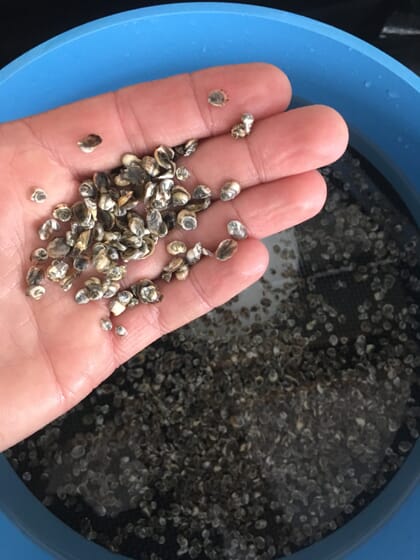 The Supporting Oyster Aquaculture and Restoration (SOAR) oyster purchase programme has been launched by The Nature Conservancy (TNC) and Pew and aims to transplant 5 million hatchery-grown oysters to help to reform reefs. It will initially be deployed in Maine, New Hampshire, Massachusetts, New York, New Jersey, Maryland and Washington State.
The states were chosen, according to TNC, for a "mix of grower need, restoration opportunity, gaps unaddressed by other similar programs and available funding in these states".
According to TNC: "oyster aquaculture provides jobs in coastal communities, provides a sustainable source of seafood and can help improve ocean health by providing habitat for fish and improving water quality. But, Covid-19 and the resulting restaurant closures have led to a dramatic decrease in demand for farmed shellfish, leaving oyster farmers across the country struggling to market their products.
"This lack of demand has caused a growing surplus of oysters that are becoming oversized for the traditional 'raw bar' market. This accumulating supply could lead to a potential collapse in oyster prices. Combined with growers' loss of income from restaurant sales since March 2020, this puts more than 3,000 jobs in the oyster aquaculture industry at risk."
"Oysters are more than just a niche, higher-end food. A healthy adult oyster can filter up to 50 gallons of water daily, removing excess nutrients and other pollutants in coastal waters, often caused by runoff of land-based agriculture. Multiply that by the hundreds of thousands of oysters forming a reef and the living water filtration service they provide can be significant. The reefs also help protect shorelines from erosion by serving as natural buffers against rising tides and hurricanes. But despite the many benefits they provide, oyster reefs are the most imperiled marine habitat on Earth. Globally, over 85 percent of oyster reefs have disappeared due to overharvesting, diseases and habitat modification.
"But there's a way to protect oysters and the benefits they provide and help oyster farmers impacted by the economic downturn. The Nature Conservancy is working with its partners to purchase more than 5 million surplus farmed oysters and use them in nearby oyster restoration projects—a win-win for these environmentally friendly businesses and for our ocean ecosystems."
The aim of SOAR is to extend funding to at least 100 shellfish growers in these states.
"We would like to make the program available to as many growers as possible in our target states; however, regulations reflecting biosecurity considerations will limit the shellfish growers that are able to move oysters to the permitted and 'shovel-ready' restoration sites," explain TNC.
The two conservation organisations have pledged to work with state regulators and restoration practitioners to identify the growing areas that will be eligible for participation in each state to make this process as transparent as possible.
"Recognizing that not all growers may participate, we will aim to ensure that growers ineligible for the shellfish purchase program will be considered for the Shellfish Resiliency Grant program, including those located in the Southeast and Gulf of Mexico," TNC explain.
Applications from growers in Maine, New Hampshire and Massachusetts opened on 1 October. New York, New Jersey and Maryland growers are expected to be able to apply in November, and those in Washington State by January 2021.
For the first East Coast phase, TNC and Pew are consulting with the East Coast Shellfish Growers Association, state growers' associations and/or aquaculture extension agents and state agencies to agree on appropriate prices for growers to receive.
"A price will be set on a state-by-state basis to reflect regional differences. Different prices for different growing methods may be set," according to TNC.
When practical and cost effective, TNC and Pew ay that they "would prefer to extend funding to shellfish growers to transport product to the restoration site or specified drop-off area to provide additional cash flow to growers. Where this is not possible TNC/Pew will assist in arranging transport. Funding for transport is in addition to the $2 million allocated for oyster purchase."
Pew and TNC add that they plan to work to leverage additional funds to address the greater impacts of Covid and extend the programme into the future.