The epicenter of the earthquake was located off Chile's coast in the Pacific Ocean causing 15 ft. tsunami waves to hit the coastal town of Coquimbo.
Within 30 minutes of the earthquake there were four further aftershocks of magnitude 6.0 and greater and these were followed by more aftershocks later in the night.
Smaller tsunami waves were reported in California and Hawaii and tsunami warnings were put in place in New Zealand, Peru and some Pacific Islands.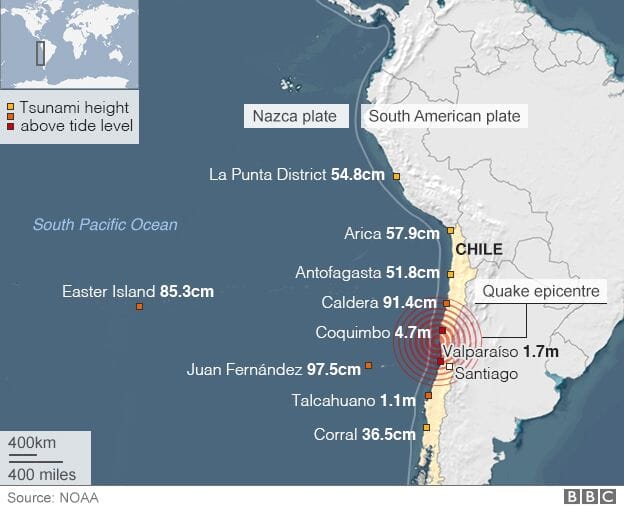 Picture Credit: BBC
Undertaking the first survey of damage, the Undersecretary of Fisheries and Aquaculture, Raul Súnico, and the National Director of Sernapesca, José Miguel Burgos, announced that around 71 fishing boats had varying degrees of damage.
Electrical and mechanical damage has been caused to processing plants and around 90 per cent of cultured oyster lines have been destroyed.
With Coquimbo hardest hit, the authorities are also contacting leaders of artisanal fishing fleets located in coves in Coquimbo and Valparaiso to have an idea of further damage.
The authorities assured that they will provide aid to effected fishermen and workers.
In this regard, the authorities recalled that they are still working to reverse the effects of the storm that damaged fisheries in August.