Speaking at last week's Association of Scottish Shellfish Growers' annual conference, Roseanna Cunningham, Scotland's Cabinet Secretary for Environment, Climate Change and Land Reform, voiced her staunch support for the sector.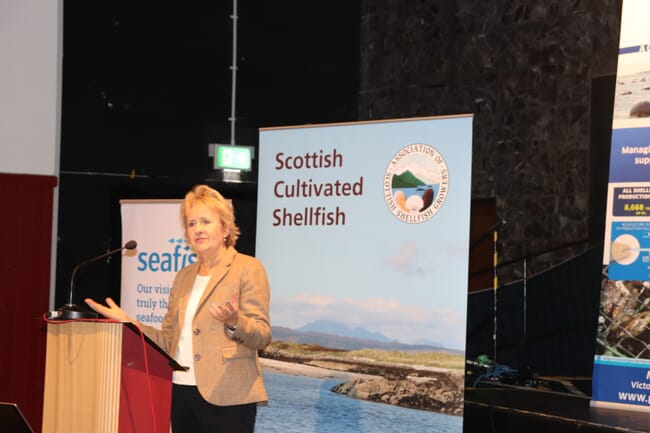 "The shellfish farming industry is very important to Scotland, and the Scottish Government is fully committed to its sustainable growth," she said.
"I very much support the opportunities that a sustainable and developing shellfish growing sector can bring to Scotland, particularly in areas where young people need good quality employment with solid career prospects," she added.
She pointed to the increase in the value of the sector, which rose by 6 percent to reach £12.4 million at first sale value in 2017, and backed the industry's plans to increase mussel production to 21,000 tonnes by 2030. In order to help achieve this, she pointed out that the Scottish government has allocated £6.5 million of EMFF funding towards 30 shellfish projects since 2016. However, she added, a number of challenges still need to be overcome.
"Just because we're successful doesn't mean that we should be content with that. We all know that shellfish growing sector has a tremendous capacity to develop and grow. We need to keep up with new developments to make sustainable growth happen," she said.
"I know that all of you here today are determined to make your businesses a success, but I appreciate the shellfish growing industry, like a lot of others, has its challenges, which include access to finance, marketing and product innovation, proportionate regulation, and that all-important consumer confidence," she added.
Rounding off the opening address, Cunningham concluded: "The Scottish shellfish growing sector has real potential for sustainable growth and I would urge you to take that opportunity, not just for your own business, but for Scotland's benefit. This industry has a global reputation to uphold, and one that we can be justly proud of.
"I know that we can do this together through our continued innovation, cooperation, and partnership, and the Scottish Government is fully committed to working with you to achieve that ambition."