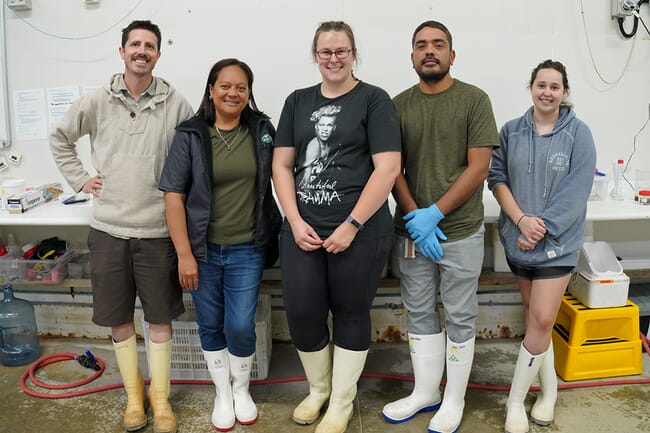 Tuaine (Tutu) Turua, from the Ministry of Marine Resources in Rarotonga, Cook Islands, and Rennie Reymond, from the Ministry of Fisheries and Mineral Resources Development in Kiribati were recently hosted at the Cawthron Aquaculture Park in Glenduan, Nelson, for four weeks.

They both have backgrounds in mariculture and hatchery production of various native species of commercial and cultural interest for the Pacific communities - including pearl oysters, sea-cucumbers, giant clams, seaweed and freshwater prawns.
"The aim of our visit was to learn from Cawthron researchers' shellfish hatchery expertise and take that knowledge back home to support our local shellfish industries," they said in a press release.
"We also learned about standard operating procedures and good biosecurity practices used at the Cawthron Aquaculture Park as well as New Zealand health and safety protocols, and how they might be applied in a local context at home," they added.
Julien Vignier, a senior aquaculture scientist at Cawthron Institute who hosted Tutu and Rennie says the visit was funded by the Secretariat Pacific Community Fisheries, Aquaculture and Marine Ecosystems (SP FAME), which has 22 member countries throughout the Pacific Islands.
"This project is a great example of the valuable work SPC FAME do to provide Pacific communities with the knowledge, skills and resources they need to manage their aquatic resources. Supporting the development of Pacific aquaculture is a huge part of that because it not only enables and secures a sustainable food production system but also creates economic opportunities," he said.
One specific focus of the project was to assist Tutu and Rennie in comparing alternative sources of microalgal food to standard live fresh microalgae, an essential component in marine hatcheries for successfully producing shellfish spat.
"Growing live microalgae is expensive, skill-intensive, unreliable and difficult in remote areas of the Pacific, and having access to a preserved formulation of microalgae with a longer shelf-life and ease of storage would be a game changer for these hatcheries," said Vignier.
Cawthron researchers assisted Tutu and Rennie to conduct a two-week long replicated trial where they tested different commercially available freeze-dried and preserved microalgae against a routine hatchery-grown live microalgae to feed larvae of greenshell mussels.
"We found that mussel larvae preferred the live microalgae and grew better than when fed the preserved formulations. However, this scoping trial showed us that the freeze-dried algae product was easy to prepare and that larvae were able to ingest it. The use of freeze-dried microalgae holds promise provided further refinement around feeding regime and delivery modes are worked out," said Vignier
"This project recognises Cawthron's highly valued expertise in the fields of shellfish hatchery production, microalgal production and bivalve nutrition. This training opportunity further strengthens an enduring collaboration between SPC, the Pacific Island communities and Cawthron that will benefit the development of aquaculture for local food production in the Pacific region," he added.