Seafood dealers stocked up their tanks and shelves as usual as before the recent Spring Festival, the most important festival for Chinese and the busiest season across the whole year.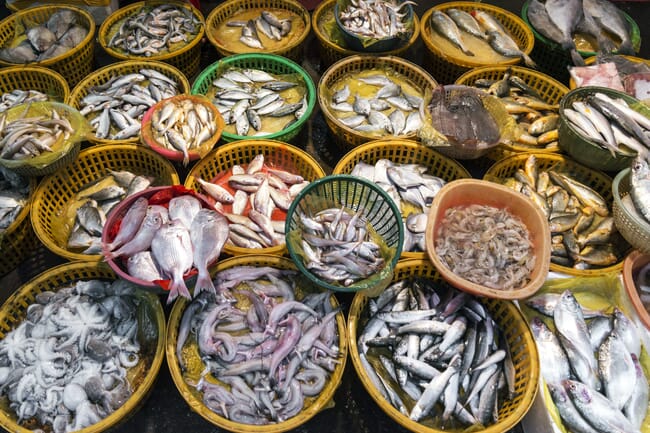 Boston lobster, brown crab, king crab, these precious animals travel from thousands of miles away and are supposed to be wrapped in red for the festive feast.

However, following the discovery of an unknown form of pneumonia among seafood dealers in Wuhan in early December, luxury seafood has lost much of its appeal.
Hua-nan Seafood market was officially shut down due to the epidemic on 1 January. Transmission of the condition from humans to humans was confirmed afterwards and Wuhan city was sealed off. However, due to the spring festival travel season, millions of potential virus carriers were found to have already gone back to their home towns for their family reunions.
Soon any type of gathering was discouraged. Although the virus has since been found to originate from bats rather than seafood, seafood dealers suffered as people stopped eating in restaurants and they had to watch many aquatic animals die in their tanks.
"I began to stock up three days before the Spring Festival and had it fully stocked for the eve dinner but many customers cancelled the day before and I suffered a great loss. However, the situation is now improving because I received quite a few online orders – customer tend to order food at home since they fear to go outside," said Mr Ma, a seafood seller in Guangzhou.
Fish farmers have also suffered for a similar reason. Transport restrictions meant that feed and medicine deliveries weren't possible, and employees couldn't travel to work without going through quarantine for 10 days. Thankfully a governmental order has since permitted transport associated with agricultural supplies.
Fish farmer Mr Li in Nanning, explains: "Normally we prepared seven days fish feed for the festival because the feed mill will be operational after the festival. But now I have run out of feed. My fish will starve for some time if I can't buy the feed on time. Hopefully the situation passes soon and normal life returns."
Aquatic animals survived temporarily but an inevitable price drop has taken place. China is usually the biggest importer of shrimp from Ecuador and Canadian lobster so the impact has also reached the other side of the globe.
Supermarkets are open as normal and some restaurants have opened their doors but very few people go in. We are told it's wiser to stay home, although we are permitted to go anywhere we want to. Personally I tend to stay home because the virus can spread without symptoms. You never know if the one who passes by is healthy or infected. That's a terrible feeling.
Businesses and schools have postponed reopening so the peak period of outbreak could be avoided. My own projects have to be delayed and nobody knows when to restart.

The whole country was supposed to return to work on 10 February, ten days later than normal. However, employees and student are being encouraged to work from home and have meetings using online software.
Online retailers such as Hema Fresh, a subsidiary of Alibaba, have seen online orders skyrocket, with orders for frozen and processed fish replacing the live fish often favoured in seafood markets.
If the virus is similar to SARS it will vanish when the weather gets warmer. But, either way, there's no doubt that the disaster will change many aspects of China's economy, including aquaculture.