The aquaculture health, nutrition and genetics business, has announced this morning that it has conditionally raised £36.4 million by way of a placing at an issue price of 40p per ordinary share and intends to raise up to a further £6.6 million by way of an open offer to qualifying shareholders at an issue price of 40p per ordinary share.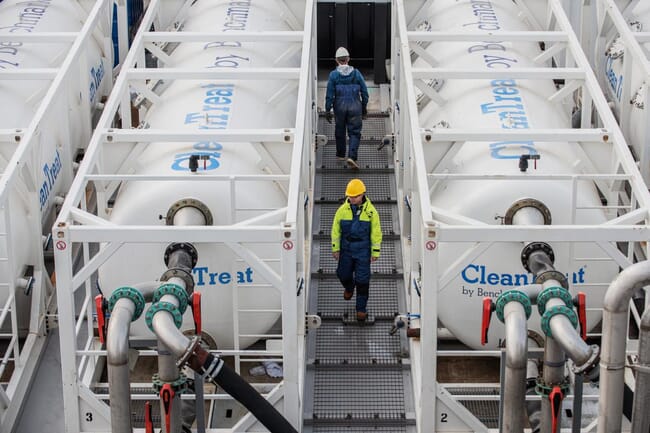 The company has earmarked £19 million to fund the commercial development of CleanTreat, which removes medicinal residues from treatment water, in order to support the launch of the its novel sea lice medication, which is currently known as BMK08. The group is preparing to launch the two systems in the first half of 2021, subject to receipt of regulatory approval for the treatment product.

Over the last 24 months, over 35,000 tonnes of salmon in Norway have been treated with BMK08 in combination with CleanTreat - with the former achieving approximately 99 percent efficacy,
Benchmark's directors believe there is demonstrable and growing interest from customers for the product and estimates that the BMK08 / CleanTreat solution could reach peak annual sales of £50 million in Norway alone and £75 million globally.
The directors have said that they "strongly believe" that raising the extra funds "represents the optimal scale-up strategy for CleanTreat ahead of the anticipated BMK08 regulatory approval" by increasing its speed to market, delivering a higher expected return-on-investment and maximising value for Benchmark shareholders by retaining full ownership of CleanTreat.
Meanwhile £16 million will be set aside to for working capital "to fund the continuing business and strategy" until it has disposed of its non-core assets - namely its subsidiaries within its knowledge services division - from which it hopes to raise £30-£35 million.
According to today's statement the group expects the sale of Improve, its veterinary training business, and the Fish Vet Group in the first half of the year, for a combined total of up to £29 million.
"Capital will then be released to fund the company's SPR [specific pathogen resistant] shrimp roll-out and new species programmes," the company adds.
Peter George, executive chairman of Benchmark, commented: "We are preparing to launch BMK08, our novel medicinal treatment to combat sea lice, one of the main biological challenges in salmon farming. This requires scaling up CleanTreat, our proprietary system that removes medicinal residues from treatment water, and which is integral to the delivery of BMK08. Having reviewed a number of funding options, we strongly believe that an equity raise is the optimal funding strategy to deliver this scale."
"I am pleased that existing and new shareholders have placed their confidence in us to drive Benchmark to finally deliver on its enormous potential. The actions we will take in 2020 will deliver a profitable business, leading the future direction in key areas of sustainable aquaculture."