The classification means that the 76,000 tonnes of Atlantic salmon produced by the province each year joins those from Maine and Scotland's Orkney Islands on the "good alternative" list.
Previously on the "avoid" list, Seafood Watch has indicated that the upgrade "is due to an increase in independent, transparent, peer reviewed data on the subject of disease transfer between farmed Atlantic salmon and wild salmon populations in British Columbia. There were also improvements to the effluent, habitat, escapes and introduced species criteria."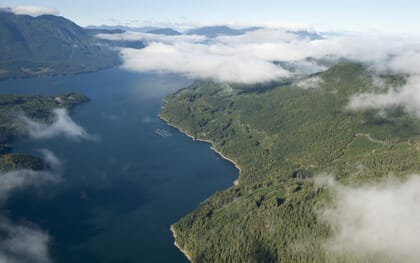 "BC's farming practices have been singled out by Seafood Watch as world leading," said Jeremy Dunn, executive director of the BC Salmon Farmers Association. This is an important acknowledgement of the work salmon farmers in BC have done to increase their environmental performance and increase the transparency of their operations. There remains work to be done, and our members are committed to leading the world in environmental practices, evidenced by their record in achieving the standards of audited third-party certifications."
The British Columbia Farmed Atlantic Salmon Seafood Watch Report highlighted the initial results from the Pacific Salmon Foundation's Strategic Salmon Health Initiative and other research noting that, while although a level of concern is warranted, there is currently no evidence that there is any impact from salmon farms to wild salmon. More than 20 independent experts provided an exhaustive review of this report.
The only marine net pen production of salmon classified as "best choice" by the conservation organization involves farming Chinook (king) salmon in New Zealand. Meanwhile salmon farmed by Chilean producers other than Verlasso, Norwegian producers other than Blue Circle, as well as those farmed in Atlantic Canada and the rest of Scotland other than Orkney are still on the "avoid" list.