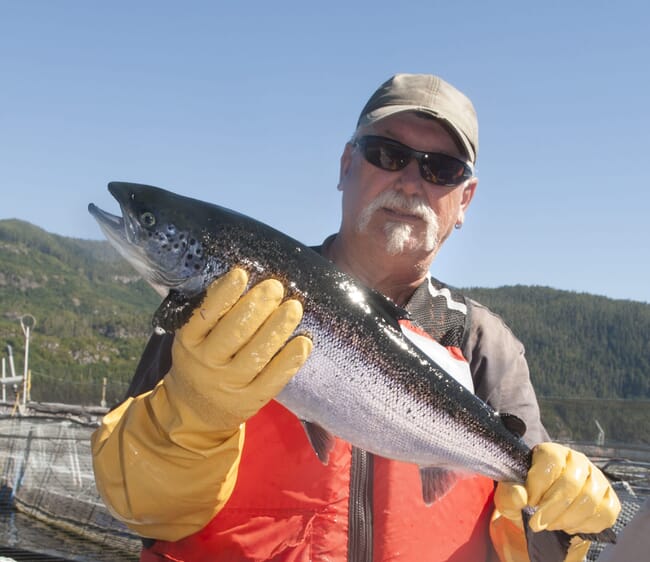 According to the Canadian Aquaculture Industry Alliance (CAIA), spot prices for west coast fresh Atlantic salmon are at record highs for this time of year, up 20 per cent over the last few years, with the price jump being driven by reduced supply of BC-grown farm-raised salmon. Grocers looking for more Canadian-grown product in response to consumer demand are being forced to import salmon from other countries.
In December 2020, the Minister of Fisheries and Oceans announced a decision to shut down sustainable salmon farming in the Discovery Islands region of BC. The decision was subsequently overturned by the federal court. In response to the original federal decision, salmon farmers closed down farm sites, thus reducing production levels. The Minister of Fisheries and Oceans is expected to imminently make new decisions regarding the same farms in follow up to the federal court's ruling. Numerous First Nations in the area are demanding the federal government support their right to oversee and host salmon farming in their territories.
An already constrained global supply market for salmon and increasing demand for salmon is resulting in the highest prices ever. Further reduction of supply will exacerbate this situation. The supply from the Discovery Islands region was approximately 20,000 tonnes of salmon, the equivalent of 120 million meals and approximately one-quarter of the production of BC. CAIA says that replacing this Canadian salmon with product from other nations will result in 163,000 tonnes of additional carbon emissions due to the increased use of air freight to import salmon – the same impact as adding 35,000 cars to the road.
"At a time of major food inflation resulting in higher prices for consumers, recent government decisions to shut down sustainable salmon farms, without scientific basis, and reduce supply to consumers is having a major price impact on this healthy, fresh and sustainable supply from Canada," said Timothy Kennedy, president & CEO of CAIA in a press release. "When the supply of farm-raised salmon drops, and demand continues, prices go up for Canadian families – it's Economics 101."

"These salmon farming licensing decisions also impact Canada's economy. Less Canadian farm-raised salmon for Canadian domestic consumption and export means lost jobs in rural, coastal and Indigenous communities, and higher GHG emissions as the Canadian salmon is replaced by product flown in from elsewhere around the world. It doesn't make sense to have a policy to reduce production of a sustainable, healthy, affordable, food product like Canadian farm-raised salmon, and these past licensing decisions must be corrected by the federal government," added Kennedy.