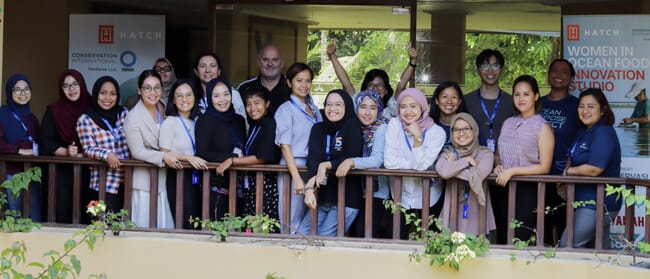 Organised by Hatch and Conservation International Ventures, the event aims to further the development of these young companies and help secure the future of an emerging generation of female talent across the blue economy in Southeast Asia. It follows on from the success of the the Women in Aquaculture Innovation Studio that the two organisations held in 2021.

As Gracie White, lead of global oceans investments at CI Ventures, explains: "The mission of this programme really is something we are proud to support. CI Ventures was founded on a core tenet: providing sustainable economic opportunities must be at the core of successful conservation strategies. And I think it's become abundantly clear as we learn more about both venture funding and the seafood industry, that we'd be remiss to leave gender equality out of that mission, especially when we work predominantly in emerging markets across the global south."
The startups taking part in the programme cover a range of applications across Southeast Asia's blue economy and the organisers have been impressed by the breadth and depth of talent.
"We were surprised and extremely pleased to receive at the volume and quality of applications. Ultimately we selected 11 teams at different stages of development, with clear synergies and areas of collaboration," reflects Benedict Tan, programme manager at Hatch.
The 11 participants are:
Banoo (Indonesia) – helps farmers maintain pond water quality by using an automated microbubble aeration system and real-time data analysis software.
Greenovator (Myanmar) – its free app, Green Way, connects farmers, technicians, agri-inputs businesses, traders and contract farming businesses. Moreover, it is now able to connect farmers with consumers too.
CrabTech (Philippines) – an app that helps to identify and differentiate between different juvenile mangrove crab species to ensure farmers grow the right ones.
Ocean Purpose Project (Singapore) - a social enterprise which is developing the BLOO dashboard, which combines deep tech with nature-based solutions to protect the ocean environment for all aquaculture players.
Aruna (Indonesia) - serves as a supply chain aggregator, connecting small-scale fishers to the global market through technology.
Komodo Water (Indonesia) - a social enterprise that provides integrated water management solutions for communities in small islands and remote areas. They also produce drinking water and sustainable ice to support fisheries in coastal-rural areas.
SEADLING (Malaysia) - a pioneering seaweed biotechnology company that uses a community-based distributed farming model and bio-manufacturing technology to produce functional ingredients, additives and supplements for feed manufacturers.
GOFISH-PRO (Indonesia) – transforms by-products from fish processing industries into hydrolysed protein powder which can be used for seasoning and fortification products to enhance the taste and nutrition of food.
Red Barn Group (Thailand) - Develops innovative, effective and clean treatments for the principal diseases in shrimp and other aquatic species. It has just launched a treatment based on seaweed extracts and organic acids that control EHP, WFS and EMS.
Sahabat Laut Lestari (Indonesia) - aims to mitigate seafood fraud by developing TraceTales, traceability technology that records and reveals data throughout the supply process, from catching, to shipping to the distribution of fish.
Rote Karaginan Nusantara (Indonesia) - produces tailor-made innovative ingredients from seaweed that's both traceable and sustainably sourced.
The event is sponsored by the Aquaculture Stewardship Council (ASC), as they feel it aligns well with the organisation's own goals.
"We envision a world in which all women can reach their full potential and female leadership is not only recognised but strongly valued. At ASC, we have gender equality at heart and we are therefore proud to be sponsoring a programme that connects ambitious and talented women while providing the tools to successfully develop their ideas and companies," reflects Desirée Pesci, ASC's reputation and stakeholder engagement manager.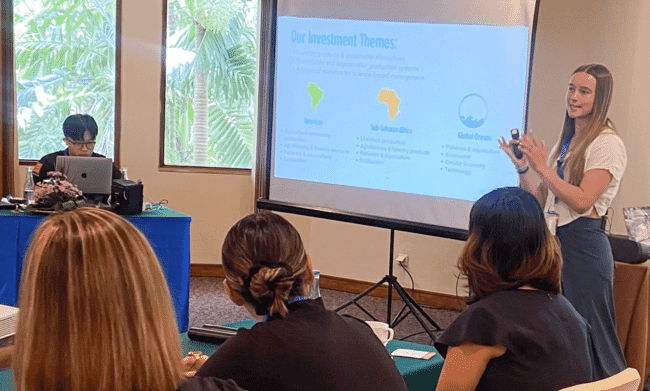 Early impact
The two-week programme will cover a wide range of topics, with presentations from a diverse line-up of blue economy luminaries – from venture capitalists, to corporate social responsibility gurus to global aquaculture experts. Investors and founders of successful, more established startups will also feature prominently.
According to those present, the event is already shaping up nicely.
"After day one, I feel incredibly thankful to be a part of the journey with this cohort of ocean-enthusiast founders and leaders. Over the next two weeks, I hope to support these enterprises with their investment-readiness and hone their messaging around environmental and social impact – though I have just as much to learn from them and their work as well," notes White.
"I am delighted to meet such brilliant and intelligent people, it's good to share thoughts with people within aquaculture, especially in seaweed. The information, knowledge, experience sharing, and connection is something that's really valuable. The two weeks is going to be a boon, especially for my personal leadership and development," adds Al Jeria Abdul, head of sustainability at Seadling.
Further information
Hatch's next innovation studio will take place in Singapore applications close on 4 November. Apply here now.