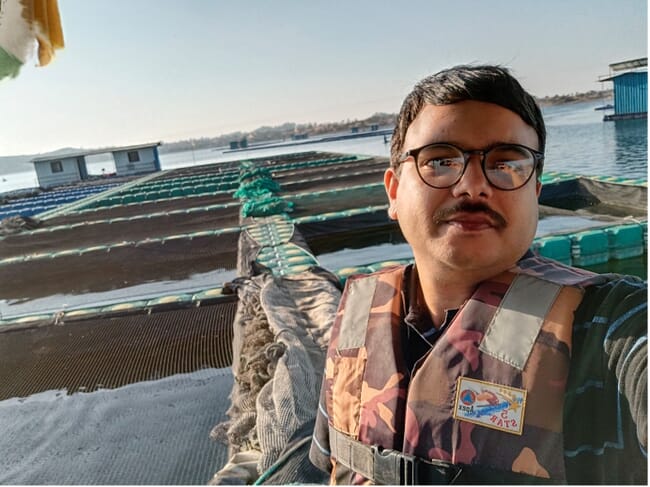 Can you provide a brief summary of your fisheries and aquaculture career?
I started in roles involving the trading and procurement of quality seafood and aquaculture products with corporates such as Reliance Retail, Bharti Walmart, Metro Cash & Carry India and HyperCity Retail. Later, as a board member of Friend of the Sea, I was able to visit various aquaculture farms in India, Asia and Europe. Shrimp is the major commodity from India although I focused on tilapia. My own startup A2S2 Enterprises mainly focuses on trade in tilapia and pangasius.
What inspired you to join the sector?
Land is limited but the oceans are vast and still largely unexplored. The ocean economy is huge and the potential for innovative offshore aquaculture is considerable. The challenge of exploring new avenues each day in fisheries and aquaculture inspires me.
What does your current role involve?
Through my own startup I'm mostly involved in trade, training, and business development prospects. I have some engagements in the emerging alternative seafood space and am sure that this segment will help support the existing fisheries and aquaculture industry in time. I'm also an executive in a couple of organisations, as well as engaged with international seafood media in different capacities.
What is India's position in global seafood market?
In 2022, India was the fifth largest exporter of seafood in the world, with exports worth $7.7 billion, as per FAO data. The latest export data from the government's Department of Commerce shows that the country exported seafood worth $8.07 billion for the period of April 2022-March 2023.
What is the most important emerging trend in Indian aquaculture?
India is known for its export of shrimp which makes me feel proud and USA is a biggest trade market for Indian shrimp. In January-December 2022 period, India exported 303,577 tonnes of shrimp to USA, worth of $2.7 billion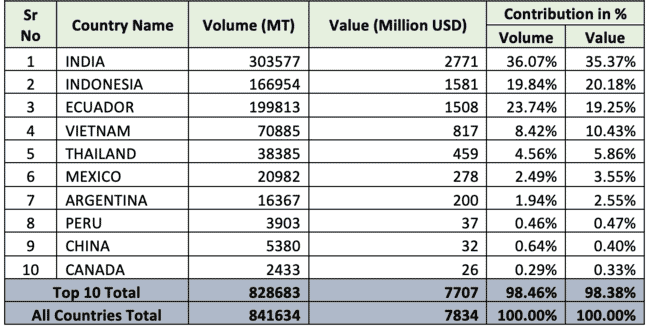 I also think farmed Indian tilapia have huge potential on the international market, although presently they are on the niche side. As per the FAO data, India's overall tilapia export in 2018 was 2,666 tonnes, with value of $3.269 million. A WFC-CII joint study "A business case for scaling the production of tilapia in India" (April 2022) estimates that the total tilapia production is now about 70,000 tonnes, of which 30,000 tonnes comes from aquaculture. There are now a number of tilapia cage culture projects running, such as Dhruv Fisheries, which is based in Maharashtra. India could be an excellent source of good quality tilapia and coupling them with international certification schemes can help this be a success, especially if buy-back arrangements are made.
Are there any events that you're particularly looking forward to this year?
Yes – the third edition of the World Aquaculture & Fisheries Conference between 24-25 May in Tokyo, Japan, where I am a chair for some sessions and delivering a keynote talk: Can tilapia become the main fish animal protein to feed billions in global scenarios amid crisis.
How do you see the prospects of novel / emerging markets and species such as seaweeds and alt seafoods?
Alt seafood is picking up slowly if we consider the global market. Plant-based seafood is now available for most consumers, fermentation-derived seafood is becoming widespread, but cell-based seafood is not yet widely available for consumption. In my opinion, the segment can support the existing industry in time but will need to improve its taste and price. Various stakeholders are working on certain novel aspects, the cost of production will go down and fermentation, as well as cell-based seafood, will gain larger attention in years to come.
Seaweed has an established market but it can also play a vital role as an alt-seafood ingredient. SeaSpire is one of the startups working consistently in the alt-seafood segment in India and there are few more, but it is at very niche level presently.
What are your own personal ambitions in the sector?
I want to be the support system for overall business development of the fisheries and aquaculture segment in the world. I know my strengths and am heading in right directions. In my opinion the sector will see the increased adoption of AI in day-to-day operations, notable developments in cell-based / fermentation-derived seafood, growth of financial tools like sustainability linked bonds, incorporation of ESG, usage of carbon credits / carbon capture systems for businesses etc.
Amod Ashok Salgaonkar can be contacted by email or through LinkedIn.