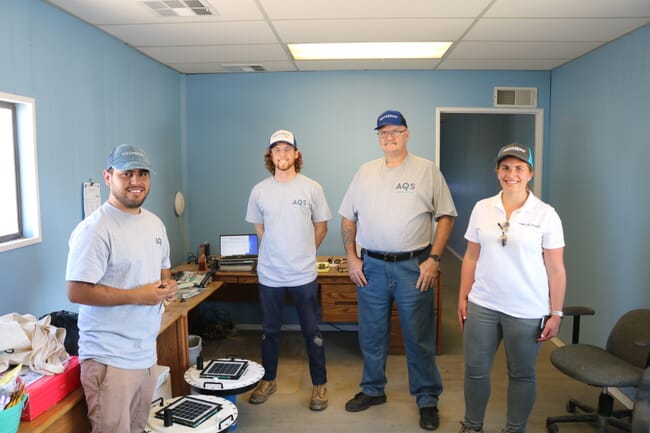 Aquasend is spin-out from Precision Measurement Engineering (PME), which focuses on oxygen-sensing and water quality equipment. Aquasend and PME together provide instruments and software that measure, collect and analyse water properties for both fresh and saltwater research. Their latest product, the Aquasend Beacon, provides aquaculture farmers with tools and continuous reporting in order to instantly manage dissolved oxygen and temperature levels.
The 14-week accelerator 6.0 programme is designed to scale sustainable solutions in the blue economy for US based companies. Founders work with world-leading experts and connect with industry investors, farmers, and talent with stops in Norway, Hawaii, Vietnam and Singapore. From aquaculture to alternative seafood, marine biotechnology to blue carbon sectors, Hatch Blue brings participants on 12 farm and site visits across the globe to connect them with industry experts.
As a result of their acceptance into the cohort, Aquasend and PME have already secured a $300,000 pre-seed investment from Hatch Blue, with the potential for future follow-on investment.
Founded in 2017, Hatch Blue has funded 43 companies through its programmes to date, with 60 percent raising further funding, leading to Hatch Blue's portfolio totalling a net worth of more than $100 million.
Kristin Elliott, Aquasend CEO and PME President and CEO stated in the press release: "The Aquasend and PME teams are ecstatic to partner with Hatch Blue and join the accelerator 6.0 programme. We look forward to better understanding the international needs of aqua farmers and collaborating to define innovative technologies. Our synergistic goal of providing this industry with real-time water quality monitoring devices and forecasted data analysis is aligned to propel value to our customers and beyond."
"Aquasend and PME teams are eager to begin this programme and make a lasting impact through innovative and sustainable solutions that solve real problems in the industry. The possibilities are endless with this mentorship programme and Aquasend and PME are greatly looking forward to engaging with industry experts and increasing knowledge of international aquaculture needs," they added.