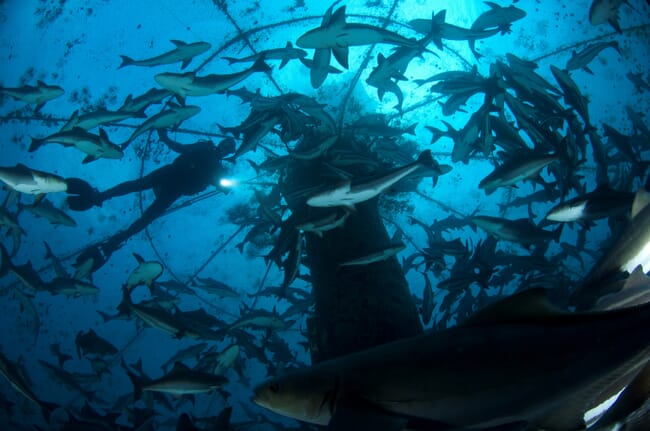 On the final day of the GOAL 2020 Virtual Conference, delegates tuned in to a virtual panel discussion on the future trajectory of the aquaculture industry. For panellists Dick Jones from Blue Ocean Mariculture, Neil Sims from Ocean Era and Philip Schreven from De Maas SMC, aquaculture's future lies in the open ocean.
Why move fish farms offshore?
Neil Sims explained that by moving farming activities offshore, producers can take advantage of swifter and safer waters. The additional currents mean that sediments and effluents don't accumulate near farm sites, making aquaculture more environmentally friendly. In Sim's view, offshoring can positively shift the public perception of aquaculture.
Though this seems like wishful thinking at the outset, there is some evidence for Sims' opinion. Policymakers and NGOs like the Nature Conservancy and WWF see enormous potential in offshore aquaculture. The move could shore up global food security without harming the environment.
Despite the positive indicators on paper, offshore farm operations tend to be the exception instead of the rule. Ocean geographies and water depths are diverse, and aquaculture isn't suitable for every environment. In addition, the gear and technology needed to run offshore farms are expensive – farms need to invest millions before they turn a profit. Offshore farms also need significant onshore infrastructure in terms of hatcheries and broodstock supply to run. Offshoring isn't feasible without onshore facilities.
Scalability versus sustainability
The panel told delegates that offshore farming faces an uphill battle if it wants to become standard industry practice. Like nearshore and land-based farms, offshore operations must balance competing needs to keep businesses solvent. This tension was clear when the panel discussed the importance of scaling production while keeping an eye on sustainability.
Neil Sims stressed that offshore producers can't have one without the other. In his view, the scale of offshore aquaculture suffers if producers don't account for sustainability. Neglecting this has health and welfare ramifications for the fish and risks losing public buy-in. Likewise, placing an undue emphasis on sustainability without giving producers the ability to scale up means that producers won't gain a foothold in the market. In many cases, it means they won't stay in business long-term.
How the United States is approaching offshore opportunities
Though the White House issued an Executive Order (EO) in May 2020 to spur the growth of the US fisheries and aquaculture sector, the panellists didn't think the order was the best way to develop offshore farms. Despite giving additional resources to sector, Sims said that it doesn't give business owners a lot of long-term confidence. Executive Orders can be easily revoked by forthcoming administrations. For offshore aquaculture to make its mark, it needs a more long-term solution.
The panel mentioned the bipartisan Aquaculture Act as a key avenue for expanding offshore aquaculture. The new law establishes pre-permitted "opportunity zones" in federal waters for aquaculture producers. When farms begin operating in an opportunity zone, they can take advantage of a streamlined application and licensing process, allowing production to expand quickly.
The Aquaculture Act also gives an explicit regulatory framework and designates NOAA as the oversight agency for producers. The panel also stressed that the bill includes environmental protections, addressing a key concern of sustainability advocates.
What's next?
The main question in the Q&A session focused on potential technological breakthroughs for offshore systems. From Dick Jones' perspective, any technological breakthroughs in offshoring will be piecemeal. There won't be a single innovation that revolutionises the industry.
Phil Schreven told delegates that the next major step for offshore systems will be reducing the cost of sea cages. Any breakthroughs in that segment of production will change offshore farming dramatically. In his experience, though existing offshore units are well designed, transporting and installing a single cage can cost more than $10 million.
"We have to get costs down," Schreven explained, "that's difficult to do when we're working with giant steel structures."
The panellists concluded that offshore aquaculture could help change the public perception of fish farming. Moving sea cages into the open ocean diminishes many of the environmental and safety criticisms that are levelled at near-shore farms. If the farms can become more feasible, offshore aquaculture could become the new industry standard.
The GOAL 2020 Virtual Conference took place from 6 to 8 October. Click here to view the conference programme.