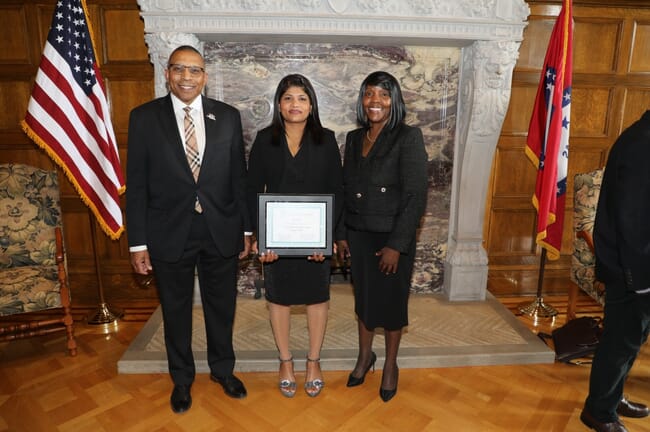 Dr. Ramena, who received the recognition earlier this year, has a doctorate in medical microbiology, immunology and cell biology from Southern Illinois University, a master's degree in biology from the University of Illinois at Springfield, and a master's degree in aquaculture from Acharya Nagarjuna University in Guntur, India. Prior to her career at the University of Arkansas at Pine Bluff (UAPB), Dr. Ramena also worked at a fish and shrimp health clinic at Charoen Pokphand Aquaculture in India, where she analysed fish and shrimp health, and provided technical assistance to commercial fish farmers.
"I am humbled to be recognized as [an] Arkansas Research Alliance fellow, and I express my deep gratitude to Chancellor Laurence B. Alexander, Dean McGowan, and my colleagues, collaborators, students, as well as my husband, daughter and family who made this possible," said Ramena, in an announcement from UAPB.
Dr. Ramena, whose current research includes the development of ways to replace antibiotics in fish production to combat drug-resistant streptococcal strains, and investigations into safe alternatives such as peptidoglycan hydrolases (PGHs) for treating Streptococcosis in nearly 30 fish species, received a $75,000 grant along with her recognition as a research fellow, and plans to use it to develop her research into zebrafish and shrimp health.
Specifically, Dr. Ramena aims to use $50,000 of her grant to develop a state-of-the-art recirculating aquaculture system (RAS) to provide the facilities for training students and to further her studies into zebrafish, shrimp, baitfish, and human health projects. The remaining funds will be used to fund scholarships for students interested in research.
"The research on using immuno-stimulant micro and live feeds for increased baitfish and white shrimp production holds a significant economic impact on aquaculture," said Ramena.
"Above all, I am passionate about serving fish producers and training high school, undergraduate, graduate, and Ph.D. students to become next-generation professionals in STEM fields," she added.
"[Dr. Ramena's] work and passion for discovery and learning has branded her as one of the prolific researchers throughout Arkansas and the country, particularly considering her collaboration with the ARA, University of Arkansas for Medical Sciences, and numerous U.S. Department of Agriculture research initiatives. Her innovative research is unique not only to the aquaculture and fisheries community, but also has clinical applications that have caught the attention of the medical profession," said Dr. Bruce McGowan, interim dean for the UAPB School of Agriculture, Fisheries and Human Sciences.