The six awards, which were won by emerging companies from four countries, were presented at the close of Fish 2.0 's 2019 Global Innovators Forum in Palo Alto this week.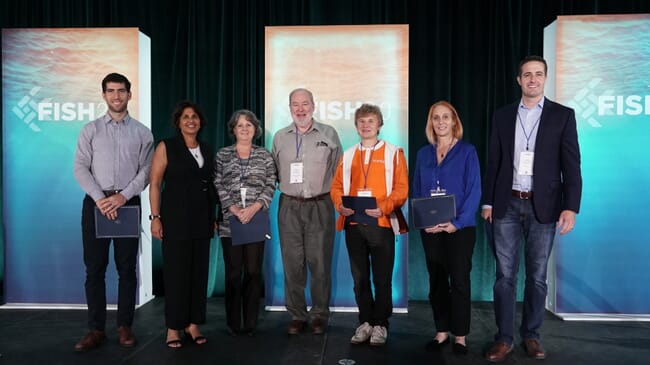 A packed house of over 200 investors, entrepreneurs and ocean and seafood experts chose the winners by voting on presentations from the Fish 2.0 Forty - the most highly ranked businesses from a pool of 150 entries reviewed throughout the 2018–19 Fish 2.0 cycle. Getting into that select group was tough: most companies that made the cut are operational and growing fast.

The Fish 2.0 Top Innovators by category are:
"Winning this award from a seafood industry audience is a validation as well as an honor," said Liane Thompson, CEO of Aquaai. "The years of hard work by the team, after being told that a robotic fish was too radical to succeed, have paid off. And we made a unit that can swim in rough seas near the Arctic Circle, so we'll have no problem swimming anywhere else."
Anton Trantin, CEO of Yorso, credited Fish 2.0 with bringing together visionary innovators and investors who are open to new things. "Digital transformation is finally starting to enter an old-school industry, and this award is recognition that what we do is valuable," he said. "We won't just increase the efficiency of businesses, but also the food safety and quality for end consumers."
Fish 2.0's latest 18-month cycle included regional workshops for seafood businesses as well as the online readiness assessment that qualified applicants for the Fish 2.0 Forty. Participating businesses received feedback from investors, business and impact advisors, and peers that helped them develop their strategies, integrate positive impacts and metrics, and position their enterprise for investment. At least five investor judges scored each competitor to reach the finals.
"I've seen more high-quality companies and presentations at this year's Fish 2.0 Forum than at any previous one," said Mitchell Presser of Freshfields Bruckhaus Deringer. Presser, an investor who has participated in every cycle of Fish 2.0 and invested in several companies, including 2017 Fish 2.0 award winner NovoNutrients, added, "You get to understand the dynamics of the market here and you see a lot of opportunities, so you can evaluate the best and move forward."
The final Fish 2.0
This is the fourth and final biennial Global Innovators Forum. Since its start in 2013, Fish 2.0 has worked with 588 entrepreneurs from more than 40 countries, built a network of over 700 investors, produced 27 investor briefings on topics ranging from algae products and aquaculture technology to traceability and tuna, and inspired 388 investors and experts to volunteer as advisors or judges to help sustainable seafood entrepreneurs develop their businesses.
"When we launched Fish 2.0, few people saw seafood as an exciting sector for sustainable business innovation," said Fish 2.0 founder and executive director Monica Jain. "And we believed progress would accelerate if we could help investors and entrepreneurs build the knowledge and connections they needed to get promising ideas off the ground and move capital into the sector.
"That proved true, and as the 2019 Fish 2.0 winners demonstrate, innovation in the sector continues to grow," she added. "We thank everyone who has supported us over the years in filling the gaps, and we are grateful to the increasing number of innovators and investors who are making our oceans and plates healthier."