Fragile fish stocks cannot support current industrial fishing practices. And 90 per cent of marine fisheries are fully or over exploited, according to the FAO, resulting in plateaued capture production despite efficiency improvements.
By 2050, when the global population is estimated to reach 9 billion, we will need to catch over 187 million tons of fish. Current capture rates fall below this figure at 129 million tons. So how will we feed a hungry world with fewer fish available in our oceans?
Bringing together the minds of scientists, seafood enthusiasts, food producers and chefs, Sustainable Seafood Week's Industry Lab assembled in New York in hopes of stirring conversation to address these pressing questions.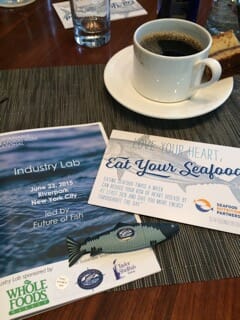 The Industry Lab featured panelists Carrie Brownstein, the Seafood Quality Standards Coordinator for Whole Foods Market, and Andrew Lively, President of Global Marketing for True North Salmon.
While the solution to filling a 58 million ton gap in our fisheries will not be straightforward, or easy, both agree that aquaculture will play an increasingly important role in addressing food security and environmental issues affecting our oceans.
Aquaculture, or fish farming, is the cultivation of aquatic species including fish, mollusks or seaweed under controlled conditions. In the minds of many, aquaculture conjures images of crowded, antibiotic-laden pools filled with unhealthy and unappetizing fish.
Once plagued by inefficiencies and environmentally unsound practices, aquaculture has truly transformed.
Today, "aquaculture is the most efficient way to produce high quality protein," according to Mr Lively.
A greater understanding of how to keep fish healthy, productive and affordable has lead to systems that cultivate fish without the environmental costs. This increased efficiency is responsible for aquaculture's presence as one of the "fastest growing industries for food," said Ms Brownstein.
Despite the production of over 90.4 million tons of fish in 2012, further integrating aquaculture operations into our food system is not without challenges.
To start, farmed fish need food, but the ingredients in their food is often other fish.
Aquaculturalists call this the "FIFO" problem, an acronym for the "fish in, fish out" ratio of small oily forage fish required to feed farmed fish.
So, how do we feed more fish with fewer fish? Take the work at Australis Aquaculture for example. Their vegetarian fish pellets are a step toward a sustainable feed that provide farmed fish with the omega-3s found naturally in their diets in the wild.
This feed is expensive today, but the rising prices of fish oil and an increased demand for food that makes more FIFO sense will make vegetarian feed a feasible and sensible option for all aquaculture operations.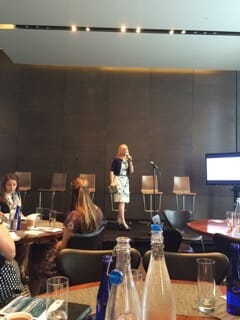 Maintaining fish health without the use of harmful antibiotics that concern consumers and damage the environment proves to be another challenge for aquaculture operations.
Ms Brownstein offered an example of progressive thinking through the use of biological controls to keep fish healthy. Instead of medicated de-lousing agents to prevent sealice, Ms Brownstein spoke about the success Norwegian salmon farms have seen with lumpsucker fish.
A small fish that thrives in cold waters and eats sealice, lumpsuckers offer an effective alternative to medications. More farms are catching on said Ms Brownstein, as demand for these cleaners has risen from 100,000 fish to an astounding 14 million today.
Recent aquaculture innovation doesn't stop with lumpsuckers. Mr Lively spoke about progress at True North in developing Integrated Multi-Trophic Aquaculture systems, known as IMTAs.
IMTAs "are the right thing to do," said Mr Lively as IMTAs allow farmers to "use their territory in a more efficient and ecological way."
Fish farms can be places of diverse life. The environmental, and economic, benefits of an IMTA, which cultivates different species of molluscs, fish, and plants on one aquaculture farm, are endless.
More food can be grown with a smaller footprint. A sensible business decision for both large and small scale aquaculture farms, IMTAs diversify product ranges, making farms less susceptible to uncertainties associated with climate change.
While IMTAs remain in research and development stages, it is clear that great opportunity and reward exists for innovative thinking.
"Overall, the conversation about aquaculture is changing," said Ms Brownstein, as consumers have a growing appetite for convenient, local and sustainable seafood.
"People are looking for products produced closer to home," said Mr Lively, and aquaculture provides opportunities for local businesses to satiate that demand. By improving the variety, efficiency and feasibility of aquaculture operations, seafood will continue to play a vital role in ensuring future food security and will contribute to the long-term success of both the global and local economies dependent on fish.