The 2017 Highland Business Awards, which aim to recognise and celebrate the achievements of companies and individuals across the whole region, were presented at a ceremony on 29 September at the Drumossie Hotel, Inverness.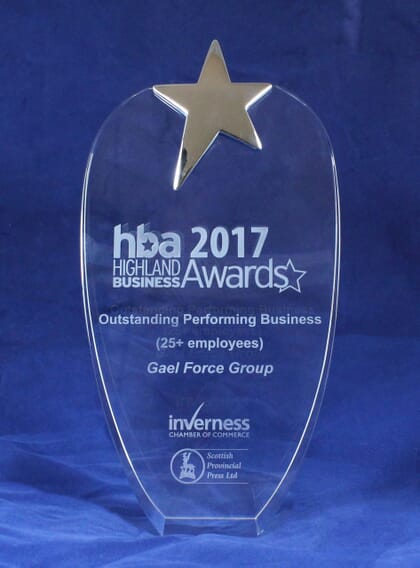 Gael Force won the Outstanding Performing Business prize, after a year that has seen their turnover grow by over 30 percent, the recruitment of over 50 new employees, the successful launch of the SeaFeed Offshore Feeding System and the confirmation of their biggest ever single order for feed barges. The success follows a period of management and corporate organisational change in 2016 which has led to a re-focusing of strategy and an almost immediate improvement in business activitie
Collecting the award on behalf of the Gael Force team was owner and MD Stewart Graham, who said: "This is a fantastic acknowledgement and appreciation of the hard work and commitment by everyone at Gael Force which is delivering phenomenal success to all our stakeholders. Our highly accomplished and committed team are a great credit to us, and we are very proud to serve the many customers we deal with on a day-to-day basis, without which we could not have won this award."
Fellow aquaculture business Marine Harvest Scotland won three awards at the event – Highland Business of the Year, Exporter of the Year and Developing the Young Workforce – and Stewart was quick to point out the strong showing from the sector.
"Our congratulations also go to Marine Harvest Scotland for their tremendous effort in winning a trio of awards," he said. "It is very satisfying to see representations from the Scottish aquaculture industry, including ourselves, being recognised for the social and economic contribution the industry is making to the Highlands and Islands and the wider Scottish economy."