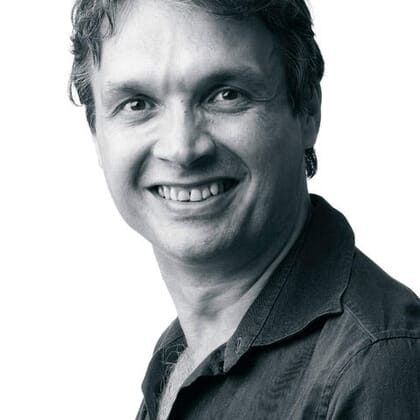 Corsin has spent more than two decades working in responsible aquaculture globally for non-profit, intergovernmental and commercial organisations. He will be joining Aqua-Spark from IDH, The Sustainable Trade Initiative, which brings together governments, companies, CSOs, and financiers around sustainable production and trade. While at IDH, Corsin oversaw the aquaculture programme, steering projects on sustainable aquaculture in Asia, Africa and Latin America.
Aqua-Spark's goal is to transform aquaculture into a healthier, more sustainable, and more accessible industry – all while securing financial returns that match today's traditional industry, ensuring real change. In his new role at Aqua-Spark, Corsin will be responsible for driving the development and execution of a robust partner ecosystem that aligns all stakeholders behind a core vision while supporting Aqua-Spark's portfolio, network, and goals. Corsin will also take the lead on a few yet-to-be-announced strategic projects.
"Flavio Corsin has been a partner since Aqua-Spark's early days, urging us toward more ambitious goals and helping to expand our reach," said Mike Velings and Amy Novogratz, Co-founders of Aqua-Spark. "Both his vast technical know-how and passion for optimising the industry will be a great asset as Aqua-Spark continues to grow its portfolio and usher in change. He will also strengthen the link between us and our sector partner, IDH."
IDH and Aqua-Spark work as allies in the aquaculture industry through co-investments and Invest Aqua, a co-led international gathering of stakeholders who recognise the industry's potential for sustainable development through innovation. As industry leaders, IDH and Aqua-Spark are moving the global aquaculture industry towards more sustainable and responsible practices and share an aligned vision for the future of aquaculture.
"Flavio Corsin has been instrumental for IDH in many ways," said Joost Oorthuizen, CEO at IDH. "He set up the first country office for IDH in Vietnam and has shaped our aquaculture strategy for many years. We are happy to see Dr Corsin stay in the sector, with an organisation we work with closely."
Corsin also brings extensive experience in Asia. Prior to running the aquaculture programme at IDH, he was IDH Vietnam Country Director, establishing groundbreaking public-private partnerships in coffee, tea, and apparel. He founded and ran the sustainability arm of the Vietnam association of farmers and fishers (VINAFIS). He has worked as an expert for several intergovernmental organisations such as the Food and Agriculture Organization of the United Nations (FAO), the International Fund for Agricultural Development (IFAD), and the World Organization for Animal Health (OIE). He was also an advisor to the World Wide Fund for Nature (WWF). Notably, while there, Corsin coordinated the aquaculture portfolio of WWF Vietnam to address social and environmental issues in Vietnam and contributed to the development and implementation of sustainability standards for aquaculture.
"IDH and Aqua-Spark share a vision and complementary approaches—and I'm eager to reinforce the ties between them," said Corsin. "Joining a global leader like Aqua-Spark is, therefore, the natural next step in my journey to develop systems that can feed a growing population while benefitting society and nature."
Corsin holds an M.Sc. in aquaculture from the University of Stirling and a PhD in epidemiology from the University of Liverpool.