Sponsor message
New 100% online training course from FishVet Group and Benchmark Knowledge Services on The Health and Welfare of Atlantic Salmon
Algae is chief suspect in mass salmon mortality
An outbreak of algae – possibly caused by agricultural run-off – is suspected as the cause of 750,000 mortalities at a salmon farm in the Faroe Islands last week.

Bakkafrost reported the mortalities at farming site A-81 Kolbanagjógv on 20 September. The fish had an average weight of 500 grams and died within a couple of hours, having been released into the sea in June - August 2018.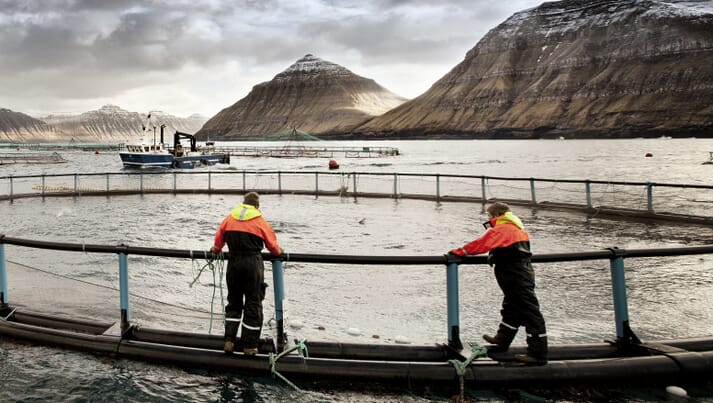 A statement from Bakkafrost, which is the largest salmon producer in the archipelago, said: "It has not been possible to confirm the cause of the incident, but algae phaeocystis, pseudo-nitzscia and heterosigma were registered in the sea at farming site A-81 Kolbanagjógv on 20 September 2018, and the algae are suspected to have caused the mortality incident on 20 September 2018. It has also been confirmed that prior to and while the incident occurred, manure has been sprayed as fertilizer onto the infield only 200 meters from the farming site A-81 Kolbanagjógv. Continuous examinations are being done to confirm the cause of the sudden and short mortality incident."
It's the first time the company has experienced anything like it at the site, which has been farmed for 30 years. The fish were covered by insurance.
The Health and Welfare of Atlantic Salmon course
It is vital that fish farm operatives who are responsible for farmed fish are trained in their health and welfare. This will help to ensure that fish are free from disease and suffering whilst at the same time promote good productivity and comply with legislation.
Find out more
The company plan to have finished removing all the morts by tomorrow and have registered nothing abnormal in the sea since the incident.