That's according to the National Fisheries Institute which compiles the list each year based on data from the government's US Fisheries Report.
Following the top three are tilapia, Alaska pollock, Pangasius, crab, cod, catfish and clams.
Looking more closely at the numbers shows that for the first time in five years, crab consumption began to increase again after a steady decline since 2007. Perhaps the biggest trend revealed in the top 10 list is that "whitefish" surpassed shrimp as the largest single seafood category, said market expert John Sackton. Whitefish consists of cod, pollock, tilapia, Pangasius and domestic catfish. Combined consumption of those fish soared 6.2 per cent, while shrimp fell 9.5 per cent.
As a result, whitefish as a category now is higher than shrimp in terms of US per capita consumption. The growth in whitefish is driven by farmed tilapia and Pangasius. Cod saw a small increase, while pollock and domestic catfish declined.
Also declining – Americans ate slightly less seafood overall last year at 14.6 pounds per person, compared to 15 pounds in 2011. One bright note: Each person ate just over two pounds of salmon, a 3.5 per cent increase.
Tilapia tattle - Americans eat close to 500 million pounds of farmed tilapia a year, according to the USDA, more than four times the amount they ate a decade ago. More than 80 percent of the bland tasting fish comes from China, with Thailand also exporting significant tonnage to the US. What most Americans don't know is that farmed tilapia from those countries are given large amounts of antibiotics to ward off infections from manure, which is used as a cheap alternative to fish feed.
According to the Center for Food Safety, it is a common practice to use untreated chicken manure as the primary nutrition. In some farms, coops are placed over the water and the chickens poop directly into the fish ponds.
Similarly, an October article in Bloomberg's titled "Asian seafood raised on pig feces approved for U.S. consumers," 27 per cent of seafood consumed in the US comes from China, yet the FDA only inspects 2.7 per cent of the imports. With that in mind, it's a good idea to follow the advice of the Monterey Bay Aquarium's Seafood Watch program and consider the source of tilapia before buying it. Tilapia raised in the US. Canada and Ecuador all get passing grades, while those from China and Taiwan are "iffy alternatives."
Pangasius is a better pick – This whitefish is a type of Asian catfish, and is usually seen on supermarket shelves as basa. Roughly 90 per cent of the fish is farmed in Viet Nam, and is the most monitored of all farmed fish, according to SeafoodSource.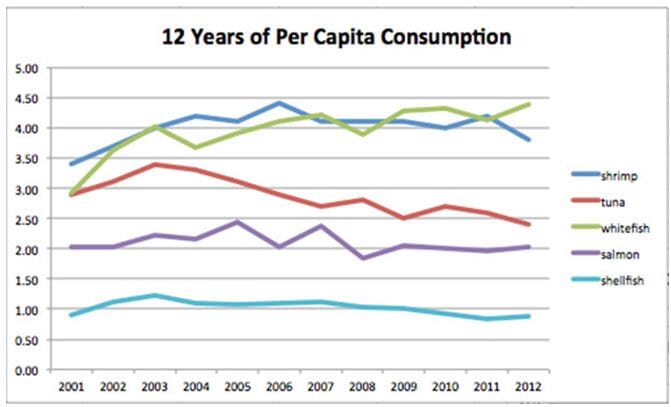 Marine debris cleanup projects across Alaska are wrapping up for the year. One of the largest program is operated by the Alaska Marine Stewardship Foundation (AMSF) which estimates removals at between 160,000 to 200,000 pounds this year from projects around the state.
"It seems that wherever we look, there is a great deal of marine debris to be found" said Dave Gaudet, AMSF director, adding that it is becoming more difficult to recycle the debris.
"Once it is collected, we like to get the debris out of the community because many of the landfills in rural Alaska cannot handle the additional material. And some simply do not want debris that they had no part in creating to remain in their community," Gaudet explained.
AMSF had been working with a recycler in Washington State for many years, but they are not currently accepting shipments due to poor markets for the materials. Gaudet said AMSF is conducting a pilot project with another recycling non-profit this fall.
"Hopefully, this will provide a long term solution to the problem of disposing of plastic marine debris," he said.
Reports of debris arriving from the March 2011 Japanese tsunami decreased this season. However, at one cleanup at Cape Suckling the contractor reported a large influx of debris following the storms the week of October 21.
He reported that a large amount of what appeared to be household items with Japanese writing on them appeared on the beach that just been cleared of approximately 55,000 pounds of marine debris.
All kinds of debris from the Japan tsunami will continue to arrive on Alaska's shores for years to come, and experts predict 2014 will be the year that deep water, current driven debris really starts hitting US shores. Contact Dave Gaudet at marinedebris@ak.net